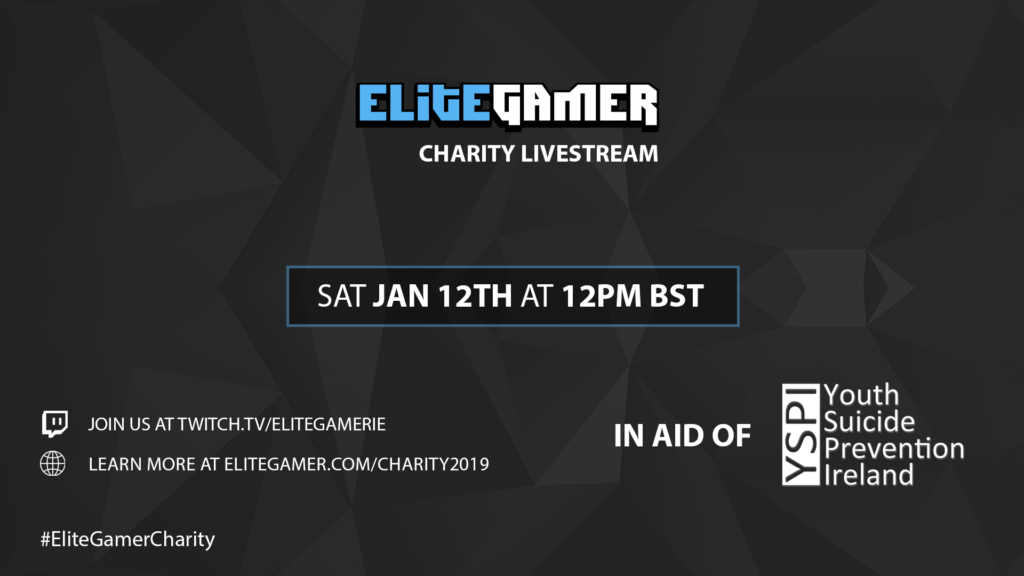 This years EliteGamer Charity LiveStream is in aid of YSPI (Youth Suicide Prevention Ireland). The 24 hour livestream will run from 12pm Saturday 12th to 12pm Sunday 13th January. There will be many different games played by those who are involved and will be a great time for both those streaming and viewing.
The Charity marathon is taking place on Twitch and Mixer and will be suitable for all ages. We also have several partnered live streamers from the UK, the US and Australia who are taking part as well.
Throughout the entire livestream we will be explaining what the stream is in aid of, who YSPI is and how to donate. We will be using Go Fund Me to collect donations as it presents the greatest level of transparency and donations will appear in real time so we can track them during the livestream. The goal for the livestream is €2000, however this is not capped so if we hit it before the end of the stream we can still collect donations.
| | |
| --- | --- |
| 3pm | Dishonored 2 |
| 5pm | Dead by Daylight |
| 6pm | Battlefield V |
| 7pm | Super Smash Bros |
| 8pm | Sea of Thieves |
| 10pm | Mario Kart 8 Deluxe |
| 11pm | PlayStation Classic |
| 12am | Dreadnought |
| 1am | Fortnite |
| 2am | 7 Days to Die |
| 3am | Forza Horizon 4 |
| 5am | Crash N-Sane Trilogy |
| 6am | Darkside Detective |
| 7am | Yet to be decided |
| | *timetable is subject to change |