Home
Tags
Nintendo Switch
The period of bad remakes is, for the most part, behind us. Games like Resident Evil 2 and Pokémon Pikachu Let's Go make us...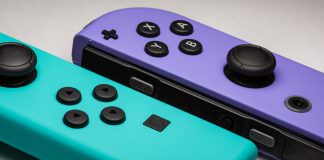 The Nintendo Switch is an amazing console, the wide variety of games available and the ability to take your console on the go are...
Last year, Bethesda celebrated 25 years since the release of id Software's DOOM; this year sees DOOM become playable on as many platforms. The...
Sundered: Eldritch Edition is a cross between a Metroidvania and a rogue-lite. Combining exploration and combat, the title does not hide its true nature...
Perhaps Pode will be up someone's alley, but there are more interesting puzzle adventures out there.
Steamworld Dig 2 ticks all the boxes for sound platformers whilst providing seasons RPG players with a rewarding grind fest
Earthlock offers nothing new within the JRPG genre but delivers an authentic RPG experience that is worth a play-through
Although Milanoirs' aiming system is a ball ache, this game is too much fun and nostalgia to miss. The script dances on the line of acceptable and blatant shock value, the pixel art is amazing and the soundtrack makes me want to start handing out offers people can't refuse.
For Switch users the remaster of the Crash Bandicoot N Sane Trilogy is out at the end of June, don't spend your money on Legend of Kay, buy that instead.
ALL THE HYPE, JUST LOOK!!! https://youtu.be/TYyg5tNQnM8 I THINK MY REACTION SAYS IT ALL!!! https://youtu.be/TKfOBqXd2yM https://youtu.be/iDkbdiJRQr0 Packshots!!! Screenshots!!!