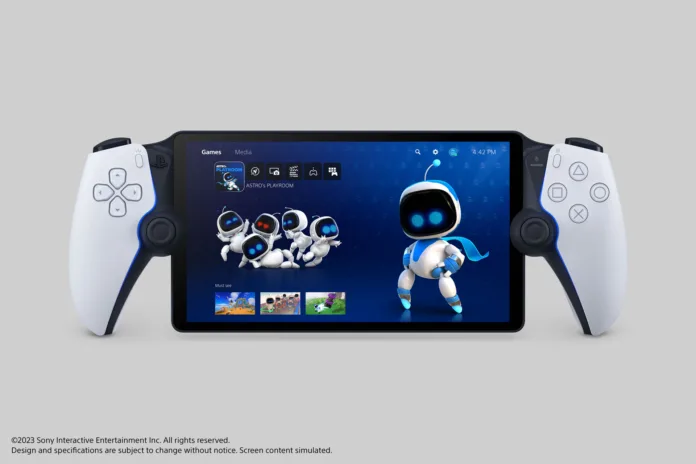 Project Q, the handheld to which PlayStation 5 games can be streamed, is now called PlayStation Portal. The device will appear sometime later this year and will cost 219.99 euros.
Sony announced this via PlayStation Blog . People can stream games directly to the handheld via Wi-Fi from their PlayStation 5. The 8-inch LCD screen can display games at 1080p and 60 fps as long as the games support it.
The idea behind the device is that people can still play their PS5 games when the television in the house is in use, for example. Although the official description does not make this clear yet, an article on IGN claims that via remote play it is also possible to stream games via the PS5 on the other side of the world, so to speak, as long as both devices are connected to WiFi. The condition is that the games are installed on the PS5 console and that these games support the DualSense controller. PS VR2 games and games streamed via the PlayStation Plus Premium cloud service are not supported.
An exact release date is not yet known, but the device will appear sometime later this year and will cost 219.99 euros. Sony will soon announce details about reservations.
Sony also gave more details about the Pulse Elite wireless headset and Pulse Explore wireless earbuds for the PlayStation 5. The Elite has a microphone and filters outside noise. This also applies to the Explore earplugs. Both display 'lossless audio' for the best sound quality. The release dates are not yet known, but the Pulse Elite will cost 149.99 euros and the Pulse Explore 219.99 euros.
Both the Elite and Explore connect directly to the PlayStation Portal via new wireless audio technology called PlayStation Link. This enables lossless audio with little delay. It also makes it easy to switch between the Portal and PS5. PlayStation Link uses a USB adapter that comes with every headset and set of earbuds to make this possible. The Link can also be purchased separately and connected to PC and Mac.