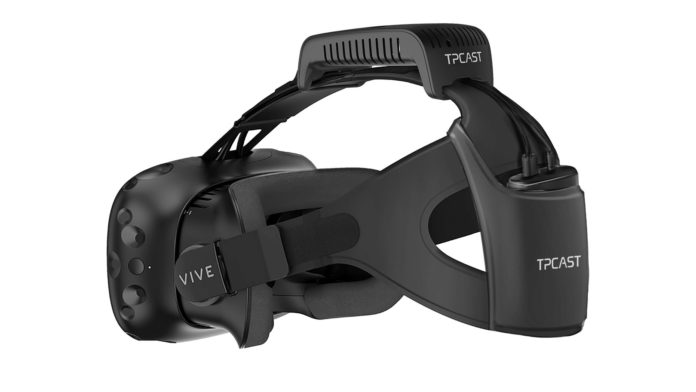 At this years Alibaba 11/11 shopping festival in China HTC was showing off a cool upgrade kit that is expected to be available early next year for the Vive VR headset. The upgrade kit is made by TPCAST, a company which HTC bought into as part of its 'Vive X' investment program, and cuts the tether from the headset. The TPCAST device cuts the wires that would normally run between the Vive headset and the monitor of the PC. This is huge for VR fans that worry about being tangled up and pulling their PC off a desk or table or damaging the Vive itself. Alvin W. Graylin, China Regional President of Vive at HTC said that the TPCAST accessory would "greatly improve" the Vive experience and that it introduces no noticeable lag compared to the wired solution. This adapter could open the door for arcades to begin using the Vive headsets in multiple numbers at the same time since the wires wouldn't be a trip hazard.
The TPCAST wireless Vive upgrade kit mounts to the existing Vive head strap with a pocket in the back which holds a small battery that powers the headset and a top transmission module which communicates with the host computer to send tracking data and receive the resulting image; it isn't clear yet if the device will be able to transmit the full 90 FPS framerate that the Vive natively runs at, or if the headset would operate at a lower frequency to fit into the available bandwidth.
The battery on the back can last around 1.5 hours of gameplay, though there are plans to sell a bigger battery at a later date which would be stored in the user's pocket rather than mounted on the head. According to Alvin W. Graylin, China Regional President of Vive at HTC, the TCPAST wireless Vive accessory "greatly improve[s]" the overall Vive experience by eliminating the cable with no "noticeable difference" in visual performance and gameplay, UploadVR reports.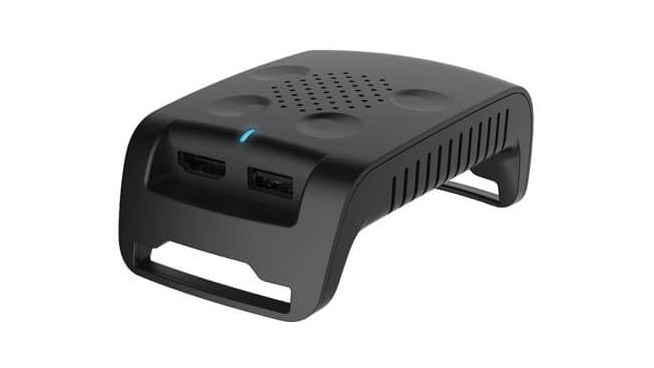 The TPCAST accessory will be available to pre-order directly from the Vive Chinese website in a limited number for 1499 RMB, which is about €220 starting on Friday at 7am and can ship internationally. Shipments are expected to start in Q1 2017. You can order the accessory without a Vive serial number, however, orders will be prioritised for those who do have a valid serial number.
It is still unknown if  the TPCAST can be used with the Oculus Rift or other PC-based VR headsets, but if it can this will be a big moment for VR. Last month Oculus demonstrated a different approach to tether-free VR; instead of transmitting information wirelessly to and from a host PC, the headset did all of the computing on-board and used an integrated camera array for positional tracking.