1. Overview
One of the main problems in the gaming headset market is that you can't exactly wear them outside listening to your music without getting some strange looks. Thankfully, Plantronics have hit the right note for making a headset that's good for gaming but can also be used to listen to music and not be obvious that it's a gaming headset. During my time with the Plantronics 500 series, I've listened to copious amounts of music on my iPod, watched movies on Netflix and of course gamed quite a bit. The 500 is just a good all-around headset with no glaring weaknesses. What more could you want for a headset that costs less than €100?
Wirelessly connect your headset to your laptop or iPod couldn't be simpler. All the buttons are located on the headset itself and the cushion under the headband and in the ear pads almost makes you forget that you're wearing them. It comes in numerous colours, but the one I received was the white edition. It also comes with a nifty little carrier bag for the headset.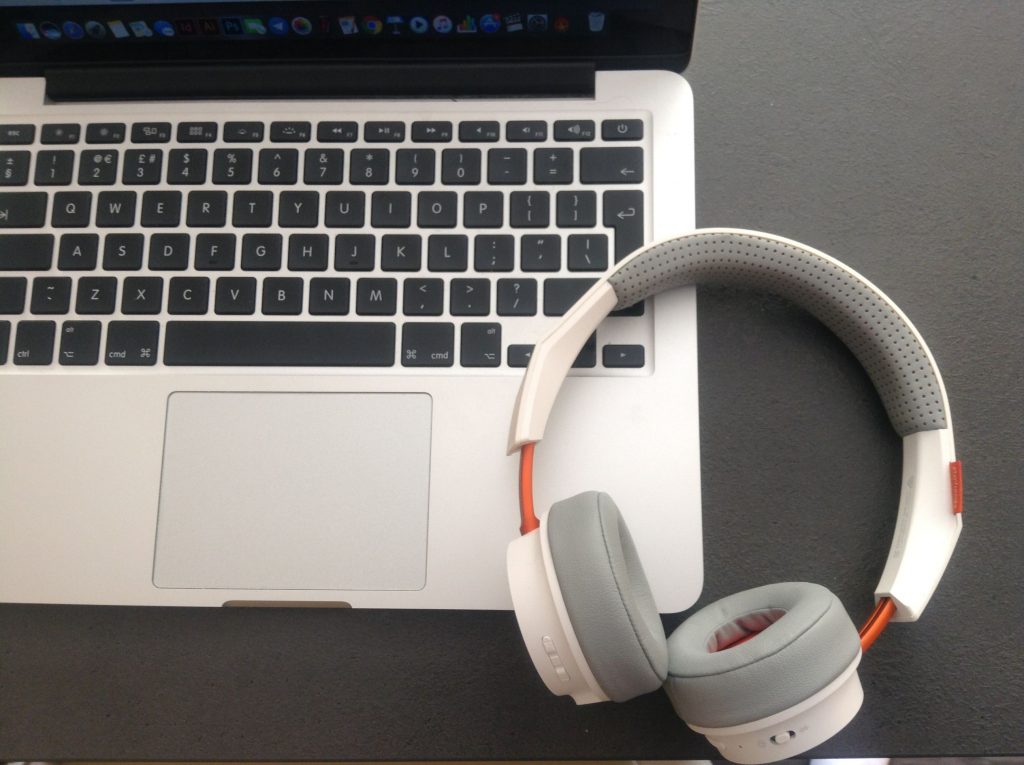 2. Design
Let's start from the top of the headset. The headband is made of a leather-like material with a generous amount of foam to keep it nice and comfy on top of your head.covering the padding is a leather-like material that is punctuated with little holes which allow the padding to breathe. Plantronics have really gone for a less-is-more type of design and it works a treat with the 500 series.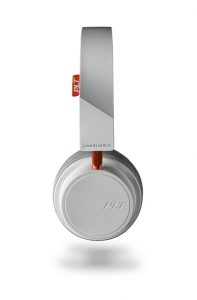 The ear pads are made with the same leather-like material used in the headband. The padding used in the ear pads is similar to a memory foam which over time will create a groove to fit the shape of your head. Like the BackBeat Pro 2, the inner ear pad is branded with an "L" and "R" to tell you which pad belongs to which ear.
Like most headphones, sweat can be a big problem for the material. Thankfully, Plantronics seems to have gotten a handle on this. Even when I was walking through the city centre, I didn't notice any significant build-up of sweat on the ear pads.
The outer casing of the headphones is covered in a high-quality white plastic. On the right ear pad, you'll find the on/off switch for the Bluetooth. Connecting it to devices couldn't be easier, just push the button towards the Bluetooth symbol until the headphones appear on your device screen and you're good to go. There's also a dedicated button just below that which will access Siri, Google Now and Microsoft's Cortana voice assistance. On the left ear pad, you have all the track and volume controls. You also have the headphone jack along with the mini USB port for charging.
3. Specifications
The Backbeat 500 series features 2 40mm drivers with advanced acoustic technology which delivers crisp high-quality audio performance. You also have the choice of using the analogue wire provided instead of using Bluetooth for uninterrupted listening. You can also stream up to 10 metres from a Bluetooth device. There's also a little label with the Plantronics logo just to the side of it.
| | |
| --- | --- |
| Listen/talk time | Up to 18 hours of listening and talk time on a single charge |
| Range | Stream up to 10 meters/33 feet from Bluetooth-compatible devices |
| Audio | 40 mm drivers and advanced acoustic technology provide premium audio |
| Wideband enabled mic | Take calls with a wideband-enabled mic and access Siri, Google Now, or Cortana straight from the headphones |
| On-ear controls | On-ear controls let you play/pause, skip tracks, adjust volume, and easily take calls |
| Connect multiple devices | Multipoint Bluetooth lets you automatically connect up to two devices simultaneously and pair up to eight |
| Power conservation | Maintain battery charge for up to six months with DeepSleep hibernation mode |
| 3.5 mm jack | Design enables analogue cable to be plugged in for uninterrupted listening |
| Weight | 155g |
| Bluetooth version 4.1 | 4.1 |
4. Performance
I could never justify buying a pair of headphone for €200+ on a set of headphones so these headphones for less than a hundred would be right up my alley. I've been pleasantly surprised by the quality of audio the 500 series can produce. Sure, it could have more bass but you cant expect to have everything in a headset this price.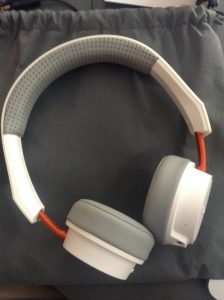 What is very noticeable compared to my previous earphones is how much lower I can have the volume and still hear the music clearly. Now I have the volume at half of what it was with my previous earphones. I'm sure my ears are relieved.
Its multipoint Bluetooth allows you to connect 2 devices to the headphones at the same time. If you are listening to music via Bluetooth, you'll get around 18 hours of battery life if the volume is at a reasonable level. Thankfully with these headphones, it does block out a fair bit of noise. Even on an airplane, it does a fairly decent job of noise cancelling so you won't have to turn the volume up to max just to hear the music.
If I was walking around town using the Bluetooth mode to listen to music on my iPod the quality would diminish quite a bit so I'd be forced to plug in the audio wire to listen to music. Personally, i'd always be worried that if I was using the Bluetooth to listen to music, that I'd end up losing my iPod, so I didn't mind using the wire.
5. Conclusion
For the price, you are getting unbelievably good pair of headphone that has noise cancelling and high-quality audio performance. If only it had more bass, you couldn't really pick any holes in it.
Its lightweight design and memory foam ear pads make wearing it an absolute dream. The design also means that they can pass for anything really whether that's for gaming or just listening to music. 18 hours of battery life means you can listen without having to worry that the battery might die at any minute.
So if you're looking for a good all-round headset for under €100 then these have to be your first port of call.