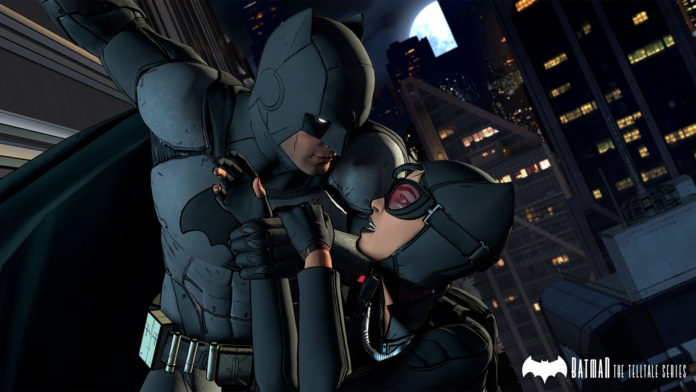 Batman – The Telltale Series will be making its worldwide debut as a digital download with its first episode in August on consoles, PC/Mac, and iOS or Android based devices. The series will be available to purchase at retailers starting Sept. 13 as a special "Season Pass Disc," which will include the first of five episodes in the season, and will grant access to the subsequent four episodes as they become available for download. The series will then be available to purchase at retailers across Europe on Sept. 16.
"Telltale has a stellar reputation for delivering quality content based on world-renowned properties and these games make a great addition to our line-up," said Kevin Kebodeaux, Senior Vice President, Sales, Americas, Warner Bros Interactive Entertainment.  "We previously worked with Telltale on The Wolf Among Us and now on the recently announced Batman – The Telltale Series, so we are very pleased to expand our partnership with worldwide retail distribution for its upcoming titles."
"As a publisher and developer of award-winning content around the world, we're thrilled to strengthen our relationship with Warner Bros. Interactive Entertainment to further extend our reach to retailers across the globe." said Steve Allison, Senior Vice President, Publishing, Telltale Games. "Warner Bros. has been an incredible partner to work with, and we look forward to working with them to help ensure players can discover our unique, story driven experiences in stores everywhere for years to come."
Batman – The Telltale Series is an episodic game series licensed by Warner Bros. Interactive Entertainment and based on DC's iconic character. Rendered to look like a living, breathing comic book, Telltale's vision of Batman will feature an award-winning cast of talent, including Troy Baker in the role of Bruce Wayne, Travis Willingham as Harvey Dent, Erin Yvette as Vicki Vale, Enn Reitel as Alfred Pennyworth, Murphy Guyer as Lieutenant James Gordon, Richard McGonagle as Carmine Falcone, and Laura Bailey as Selina Kyle. Additional cast and characters will be revealed as the season progresses.
Revealed this June at the E3 Electronic Entertainment Expo in Los Angeles, the highly anticipated third season of The Walking Dead – The Telltale Series will premiere later this fall across multiple platforms. The season will begin the tale of mysterious newcomer Javier, while also continuing the journey of young survivor Clementine as they both search for answers in a world ravaged by the undead. The Walking Dead is set in the world of Robert Kirkman's award-winning comic book series and offers an emotionally-charged, tailored game experience where a player's actions and choices affect how their story plays out across the entire series.