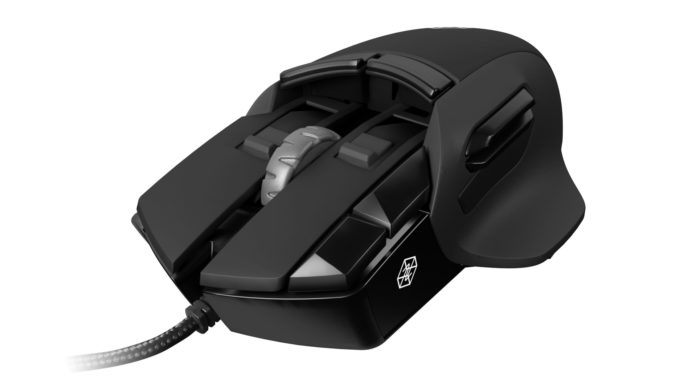 As gamers, we are always on the lookout for the ultimate in PC gaming peripherals so it's interesting to see new products that claim to be just that. A Kickstarter project has kicked off for 'The Z' which is claimed to be "The most advanced gaming mouse ever made." The funding goal was $140,000, and the SwiftPoint team have almost got double that, garnering around $230,000 in pledges with a month left to go. What is behind the success of 'The Z', its attractiveness?

Beyond the boast of being the most advanced, SwiftPoint claim that 'The Z' will enable faster, more precise, and more intuitive interactions with your computer. To start with it's got some big numbers – "80 mappable button actions". Wow, that's a lot, but the actual physical button count is 17, as the 80 button actions are created combining button clicks, triggers and deep clicks combined with pivot, tilt and roll actions.
From looking at the video, I would say that the pivot, tilt and roll of the mouse are important USPs of this device. Using them to control screen movement looks quite natural, as is using them in combinations with clicks to invoke different commands. The pressure sensitive switches are claimed to bring further dimension to your control. It's interesting to see how SwiftPoint details using 'The Z' in productivity too – have a look at the Kickstarter page.

Other hardware in The Z includes an OLED display. The mouse recognises the gesture of picking it up to look at the OLED screen and automatically goes into config mode. There you can change profiles, DPI and other settings.
SwiftPoint has chosen the following hardware for The Z:
Pixart PMW3360 sensor with 200-12,000 DPI
On board memory for button mappings etc
1000Hz polling rate
Braided USB connection, no wireless option
17x buttons, six of which offer click, trigger and finger tip actions.
Left and right mouse buttons rated for 10 million clicks
Pivot and tilt gestures thanks to sensing of pitch, yaw, roll
OLED screen plus RGB lighting
Right handed design with Width (over main body): 66mm, Width (over wings): 91mm, Length: 130mm, Height: 43mm
Current 3D printed weight is 124g
All backers will receive a mouse mat and a brushed aluminium cable cube. It's still possible to pledge $149 to receive the limited edition Kickstarter pack ($80 off), estimated to ship before the New Year.