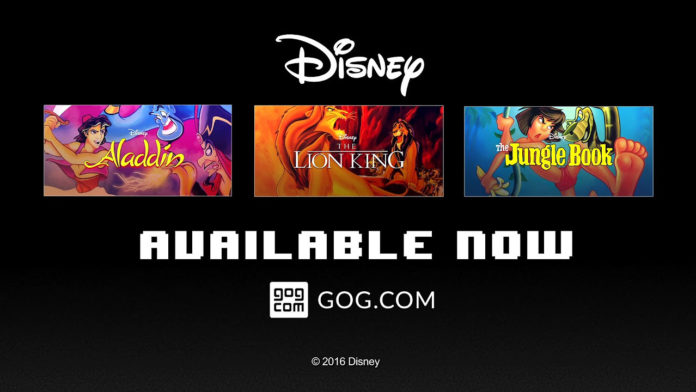 If you're a sucker for retro games with beautiful art have I got good news for you. Disney and GOG have teamed up to bring you three beloved 16-bit classics from the 90's.
As of today, players can get Disney Aladdin, Disney The Lion King, and Disney the Jungle Book on Mac, Linux and Windows exclusively at GOG. The classic console platformers, which have been unplayable on modern hardware until now, have all been meticulously updated to be compatible with modern operating systems while maintaining their original graphics and iconic music.
Speaking of graphics, these 16-bit games boast some of the most beautiful and groundbreaking (at the time) artwork of any of that era. Through the use of hand-drawn cels, the animators were able to add that bit of Disney magic to create some of the most vibrant characters and environments seen on consoles at the time.
The games will keep their original 4:3 format but will now be flanked by artwork from each game when played on modern widescreen monitors.
These games which helped to define a genre over two decades ago are available for €8.99 separately at launch or €20.07 for all three together as part of a bundle.
As with all GOG games these three Disney classics are DRM free, which means that when you download the games, you actually own them. Unlike other services like Xbox Live and the Playstation Store where you purchase licences for games.
GOG allows gamers to purchase games, download them as many times as you like and install the games on as many computers as you want.
This all sounds a bit unlike Disney, however, Mickey Mouse and Co. made its DRM-free GOG debut in 2014 and currently have many of their classics available on the site, including Star Wars™: X-Wing Special Edition, Star Wars™: TIE Fighter Special Edition, Star Wars™: Rogue Squadron, and Sam & Max Hit the Road.
And just in case you were wondering, it's the PC/SEGA version of Aladdin. Good job Disney.
The games are available exclusively at GOG.com.
Check out the trailer below: