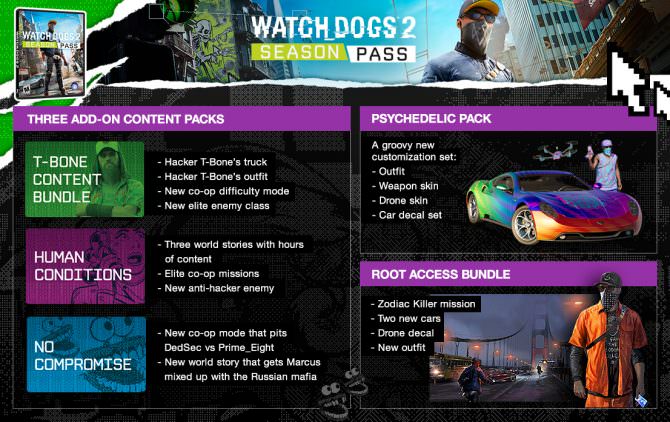 Watch Dogs 2 is roughly three weeks out from releasing, which means it's about time we get a look at what the $40 Season Pass will be bringing to the game.
Watch Dogs 2 will be releasing on November 15th on the PS4 and Xbox One with the option of purchasing a Season Pass. This Season Pass will bring two content packs at launch and three DLC packs in the future.
None of the DLC will impact online play or offer a one-up for players. The content is purely cosmetic.
Below, you can find the packs that will be available at launch – if you purchase the Season Pass.
Root Access Bundle: This pack includes a bunch of new outfits for Marcus along with new cars, weapons, and skins for the drone. This pack also comes with the pre-order bonus Zodiac Killer Mission:

Zodiac Killer Mission – Decrypt the messages and hunt down the copycat killer.
Void Dasher Car – Stealthy car that's hard for enemies to detect
Peste Negra Car – Gang car optimised for sporty and well-balanced handling
Chameleon Copter Decal – A drone that helps you complete missions discreetly
Default Outfit – Watch Dogs 1 inspired outfit

Psychedelic Pack: Exactly what it sounds like, players can equip neon and rainbow inspired styles for Marcus, his car, drone, and weapons.
While full details are limited, Ubisoft has provided a small outline for each of the three packs. Here's what fans can look forward to:
T-Bone Content Bundle: Available starting December 13 for PS4 users, this pack unlocks a new outfit for Marcus, inspired by the legendary hacker Raymond "T-Bone" Kenney. Players can also roam the streets of San Francisco in his signature School Bus, which is outfitted with a huge scoop in the front, custom paint job, and the ability to flip cars. Lastly, this bundle adds a new co-op difficulty level called Mayhem, which makes co-op missions more challenging with smarter and more lethal enemies including a new enemy type armed to the teeth with advanced tech.
Human Conditions: Fans of story based content should check this content out as players join forces with Lenny and Jordi through three new world stories. These missions provide hours of new content and will uncover some major scandals in the science, medicine, and technology industries of San Francisco. New elite co-op missions are also being added along with a new enemy type called Jammer, which actively hunts players down. Ubisoft is planning this update sometime in Spring 2017.

Automata 
When TIDIS claims its one-of-a-kind biometric car is unhackable, DedSec sets out to prove them wrong. Along the way, they uncover a dark secret about TIDIS, their use of personal data, and the value placed on a human life.
Bad Medicine 
On the trail of dangerous ransomware that threatens the city's hospitals and DedSec's reputation, Marcus and Watch Dogs 1 fan-favorite, Jordy, team up to take on the Russian mafia and recover the ransomware key
Caustic Progress 
Bio-hacker Lenni discovers a shady organisation that's experimenting on the homeless in exchange for medical care. Will DedSec and Prime_Eight be able to set aside their differences to take them down together?

No Compromise: The last of the main three DLC packs introduces another world story which pits Marcus against the Russian mafia. A new co-op mode called Showd0wn which pits a team from DedSec versus another team in an all out deathmatch style mode. Just like Human Conditions, Ubisoft expects to release this sometime in the Spring of 2017 as well.
Watch Dogs 2 will be releasing on PC at a later date on November 29th.