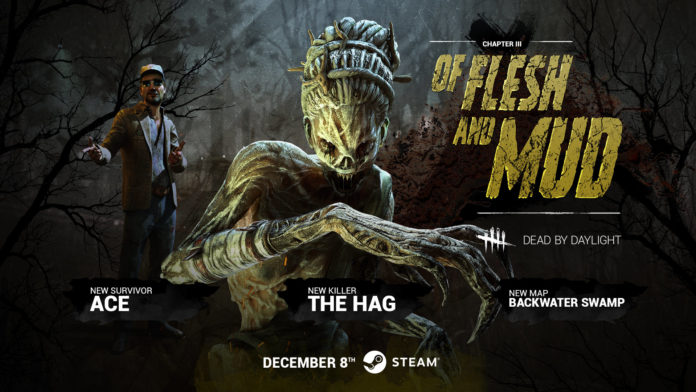 The new chapter of Dead by Daylight is called 'Of Flesh and Mud' and is now available on Steam for €6.99. In addition to a new killer, there is a free map, another survivor and revised gameplay mechanics to enhance the game experience.
The new killer introduced in the Chapter, The Hag draws in the soil to set a trap for the survivors. When a survivor finds her trap, a lifelike illusion of the killer appears in front of them. Once the trap is triggered, The Hag has a choice. To enter the physical illusion when the survivors are within her reach or use it as a decoy to take down her unsuspecting prey before the phantasm collapses into pieces of dirt and mud.
Along with a new killer, there is also a new survivor. His name is Ace Visconti. The young man is particularly lucky, which can give him extra add-ons when collecting items. He also has stronger aura-reading abilities and is particularly self-confident, which is destined to the other survivors – so his life has a special value for the team and should be protected for the benefit of all.
The new map will be playable regardless of the acquisition of the chapter, so don't worry, everyone can take part. This time, most of the dried-up swamp is the scene of the bloody spectacle. The video we've included below shows how much detail Behaviour Interactive have put into the map to make it look as sinister as possible. What do you think, do you want to hide in the rotten scaffold of the former ship in front of the new killer?