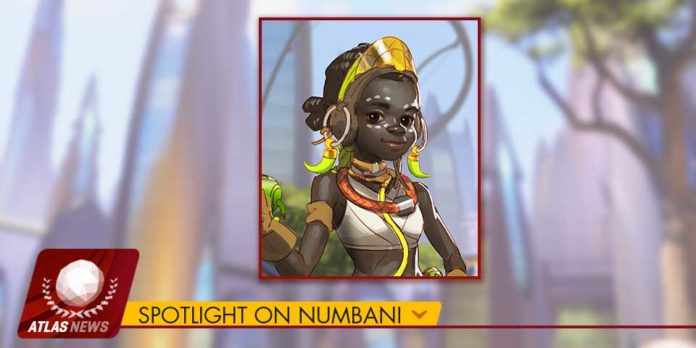 Blizzard released an article where the genius inventor Efi Oladele is being given a spotlight. The article goes on to mention that the country of Numbani is already one of the world's foremost centres of scientific discovery and exploration. Efi, the prodigal eleven-year-old, has built an incredible resume of achievements in robotics and artificial intelligence and received a "genius grant" by the Adawe Foundation.
[SCIENCE] Meet Efi Oladele—winner of the Adawe Foundation's genius grant for her achievements in AI and robotics!

🔬 https://t.co/uez8qRfWI5 pic.twitter.com/LpUbAWS4gs

— Overwatch (@PlayOverwatch) February 21, 2017
Numbani is one of the locations in Overwatch. It is a Hybrid map. Known as the "City of Harmony", Numbani is one of the few places where omnics and humans live as equals. This collaboration has led to the creation of one of the world's greatest and most technologically advanced cities in the short time since its establishment after the end of the Omnic Crisis. As part of this year's Unity Day festivities celebrating the city's founding, the gauntlet of the infamous Doomfist is being exhibited at the Numbani Heritage Museum. The payload in this map is a carrier containing Doomfist's gauntlet. The attacking team must escort it to the Numbani Heritage Museum. The fact that the Doomfist gauntlet is directly involved in Numbani is what makes us believe that Blizzard is setting the stage for him being the new hero instead of Efi.
The article goes on to mention such things as how Efi got into robotics, she says in the article: "I want to create things that make our lives better. And someday, my dream is to build something that can keep us safe, like the new OR15s! I think that would be great." The article is also very vague as to what she is planning to do with the grant that was awarded to her, in fact, she says that "it's a secret".
Let the hype begin fellow Overwatch players! Do you think this is simply a way for Blizzard to introduce the Doomfist story? Or will Efi's be Overwatch's newest hero? Let us know what you think in the comments below!