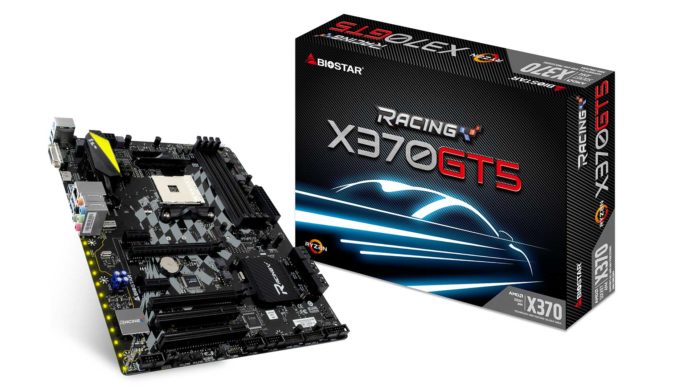 BIOSTAR has released a motherboard for the upcoming AMD RYZEN processor. This new motherboard is a second-generation board from BIOSTAR called the RACING X370GT5. The X370 features network optimization with FLY.NET and DRAGON LAN for an online gaming experience that is way up there! It will a LED fun zone using 5050 SMD LEDs to light up your system from directly on the board. The chipset will also allow unlocked RYZEN CPUs to release its full potential and get the maximum performance.
The X370 features dual BIOS, the point of this is that if something happens to your BIOS you have a complete backup on a separate BIOS chip so you can flash back to the stage where your BIOS worked. This means no more losing everything if something happens to your BIOS. This particular dual BIOS also allows you to have two different versions of BIOS on each BIOS chip. Along with their GT touch feature allows you great control over your motherboard. The GT touch feature are buttons on the motherboard like power and reset. Some versions allow you to turn on an eco mode which would use less power for when you are not gaming. This allows for quick control. It also allows you to create desk computers (Making a PC into your desk) and not have to worry about power buttons typically found on the case. Other buttons I have seen on the GT touch are frequency overclocking up and down. And clock multiplier up and down. This allows for very quick modification without having to load up the BIOS and change things that way.
FLY.NET and DRAGON LAN create the ultimate gaming solution by detecting the best settings for your bandwidth and give priority to the resources that need it. This means you will have an ultra-smooth gaming experience with low latencies and an extremely stable network connection.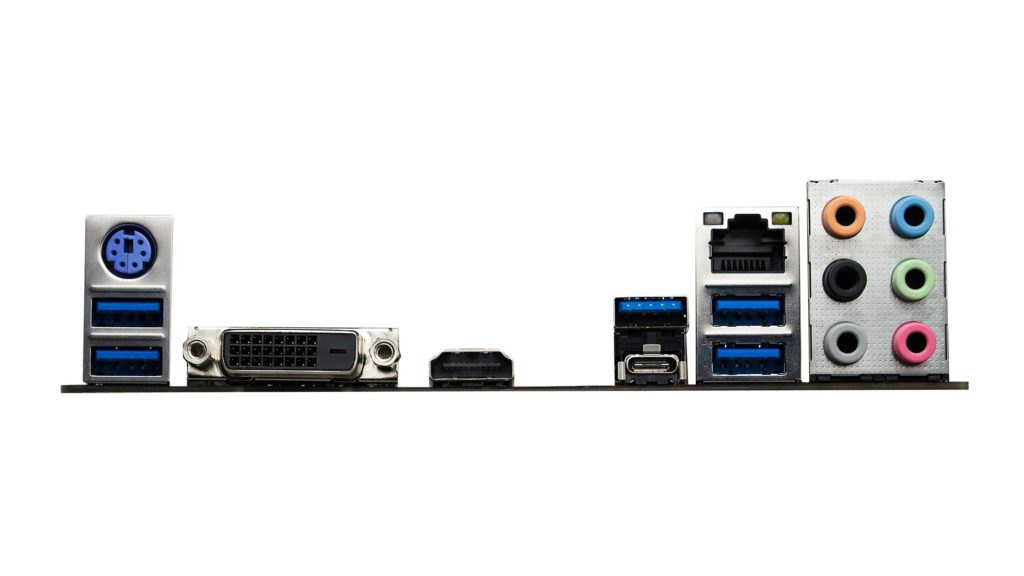 The I/O panel has a legacy PS/2 port, four USB 3.1 ports and one gen 2 USB 3.1 port, along with a gen 2 USB 3.1 type – C port for much faster data transfer. There is onboard graphics with the option of DVI or HDMI 4K2K for 4 times the resolution of full HD, or at twice the resolution of full HD with 2k. There is an onboard Ethernet port and onward sound with 6 audio ports.
There are many audio perks with this board. The hardware coupled with the software gives you great quality and performance. There is an onboard amplifier giving you a much more powerful sound compared to other boards. The X370 also supports Blu-Ray audio to provide the higher output of 24 bit/ 192KHz. Normal motherboards only offer 16 bit/ 48KHz. The board uses a special ground line to isolate analogue signals from the digital source. This eliminates interference for a crisp clear sound. Non-Polarized Electrolysis Electric audio capacitors are used for each audio channel. These capacitors deliver low noise, low distortion and wide bandwidth to create a wonderful sound experience for the immersive games!
The Type – C USB port is a welcome sight as I personally love these ports. The fact that the cables are fully reversible is enough for me to love them, apart from the fact that they transfer data faster than regular type – A cables and offer up to 50% speed on charging devices over type – A cables. The PCI-e M.2 port allows for the ultra-fast M.2 SSD to be used for super quick boot times if you just want to load the OS onto the SSD.
Of course being a motherboard made for the AMD RYZEN with the AM4 socket it will be using DDR4 RAM, DDR4 is much faster than DDR3 as well as having a higher module density and a lower voltage requirement leads to much better RAM.
The board itself utilises super durable ferrite choke which allows for higher current capacity and lower energy loss for better power stability, super durable solid caps are solid state capacitors which doubles the lifespan of the capacitor. The PCB itself is moisture proof which is good for people living in damp houses or near a river, sea etc. It also comes with surge protection which is a must for all PCs regardless of whether or not they are gaming rigs. This is achieved by having the latest model of "Transient Voltage Suppressor" on-board to protect the board from ESD (Electrostatic discharge) as well as overvoltage from outside sources etc. Even the LAN is protected from surges from lightning strikes and other electrical surges.
The X370 allows for customisation by having a LED fun zone. The Vivid LED DJ allows you to control and modify the colours of the LED on the MOS heatsink and the edge of the board. You can even have them react to music that is plating and have other LED effects, including Normal, Eco and Sports mode. This makes for a pretty cool motherboard. There are also two 5050 LED headers for even more lights!
Here is a full specifications sheet directly from BIOSTAR's website to avoid any misinformation:
Chipset
AMD X370
CPU SUPPORT
AMD A-series APU / Ryzen CPU / NPU for Socket AM4
Maximum CPU TDP (Thermal Design Power) : 95Watt
MEMORY
Support Dual Channel DDR4 2667/ 2400/ 2133/ 1866 MHz
4 x DDR4 DIMM Memory Slot
Max. Supports up to 64GB Memory
* DDR4 2667 for AMD Ryzen CPU
EXPANSION SLOT
1 x PCI-E x16 3.0 Slot(x16 for Ryzen CPU only, NPU/APU run at x8 speed)
1 x PCI-E x16 2.0 Slot(x4)(share bandwidth w/ PCI-E x1 slot, when PCI-E x1 is occupied, PCI-E x16(x4) will run at x1 speed)
2 x PCI-E x1 2.0 Slot
2 x PCI Slot
STORAGE
6 x SATA3 Connector
Support SATA RAID: 0,1,10
1 x M.2 Key M 32Gb/s Connector, support M.2 type 2242/ 2260/ 2280 SATA 6Gb/s & PCI-E Storage
* M.2 (32Gb/s) : The bandwidth is depended on CPU, Ryzen is 32Gb/s ; APU & NPU is 16Gb/s.
USB
1 x USB 3.1 Gen2 Type-C Port
1 x USB 3.1 Gen2 Port
4 x USB 3.1 Gen1 Port
2 x USB 3.1 Gen1 Header
2 x USB 2.0 Header
LAN
Realtek RTL8118AS – 10/100/1000 Contr

oller
Support Super LAN Surge Protection

INTEGRATED VIDEO
By CPU model
Supports DX12
Supports HDCP
CODEC
Realtek ALC892 8-Channel Blu-ray Audio
Support Biostar Hi-Fi
REAR I/O
1 x PS/2
1 x USB 3.1 Gen2 Type-C Port
1 x USB 3.1 Gen2 Port
4 x USB 3.1 Gen1 Port
1 x HDMI Connector, resolution up to 4096 x 2160 @30Hz
1 x DVI-D Connector, resolution up to 1920 x 1200 @60Hz
1 x RJ-45 Port
6 x Audio Connector
INTERNAL I/O
2 x USB 3.1 Gen1 Header
2 x USB 2.0 Header
6 x SATA3 6Gb/s Connector
1 x M.2 Key M 32Gb/s Connector, support M.2 type 2242/ 2260/ 2280 SATA 6Gb/s & PCI-E Storage
1 x Front Audio Header
1 x Front Panel Header
1 x S/PDIF-Out Header
2 x CPU Fan Header
2 x System Fan Header
1 x Serial Header
2 x 5050 LED Header
H/W MONITORING
CPU / System Temperature Monitoring
CPU / System Fan MonitoringSmart / Manual CPU / System Fan Control
System Voltage Monitoring
DIMENSION
ATX Form Factor Dimension: 30.5cm x 24.4cm ( W x L )
OS SUPPORT
Support Windows 7(x64) / 10(x64)
BUNDLE SOFTWARE
Racing GT Utility
FLY.NET
BullGuard
ACCESSORIES
4 x SATA Cable
1 x I/O Shield
1 x DVD Driver
1 x User Manual
FEATURES
VIVID LED DJ
5050 LED FUN ZONE
Supports Double Hi-Fi
GT TOUCH
Dual BIOS
Supports 100% Solid capacitor
Supports BIOS-Flasher
Supports BIOS Online Update