3rd November GMT at midnight, Call of Duty: World War 2 goes LIVE and we are pre-loaded and ready to go.
Join our Mixer channel for some choice streams starting with the bloated, faceless mega-franchise Call of Duty. We are not really sure if we want to start with the campaign or embarrass ourselves online but we are sure the audience will tell us.
Here are some details to whet your appetite…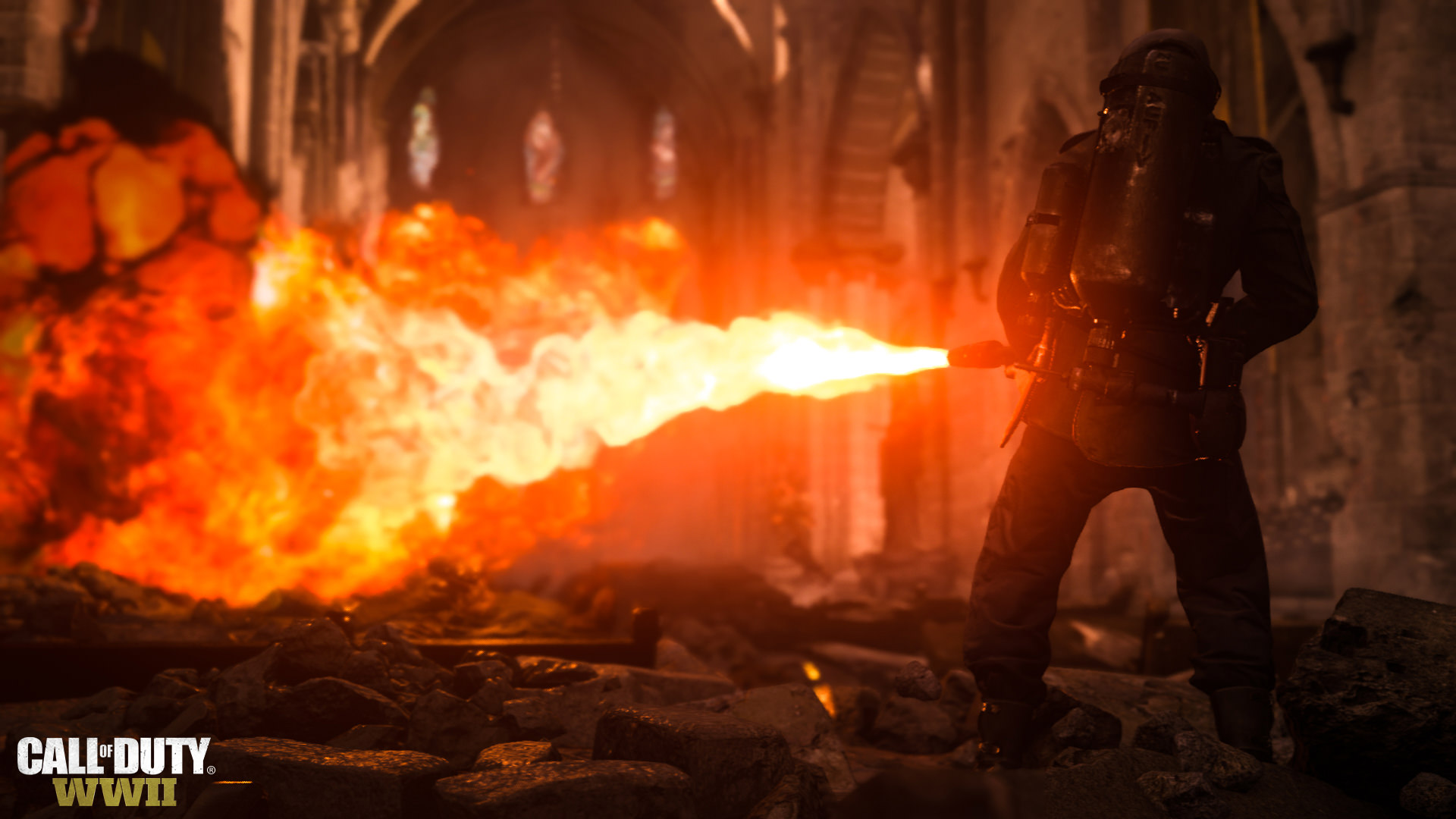 Single Player Campaign
You play as Red Daniels, a 19-year-old recruit from Texas. Both Schofield and Condrey emphasized how these soldiers were just normal men and women doing extraordinary things. Unlike Advanced Warfare/Infinite warfare, these soldiers only received about 2 weeks training prior to arriving in Europe.  The majority of the campaign will take place in the final years of the war 1944-45.
You can meet the rest of the crew by clicking here.
The story will also touch on events from 1940-1944. The game will focus entirely on the European campaign at a time when the Allies were beginning to gain momentum against the Axis powers. You and your squad will fight your way through occupied France, Belgium, and across the Rhine into Germany. It also looks like you will play a female protagonist for part of the game who is fighting for the French Resistance.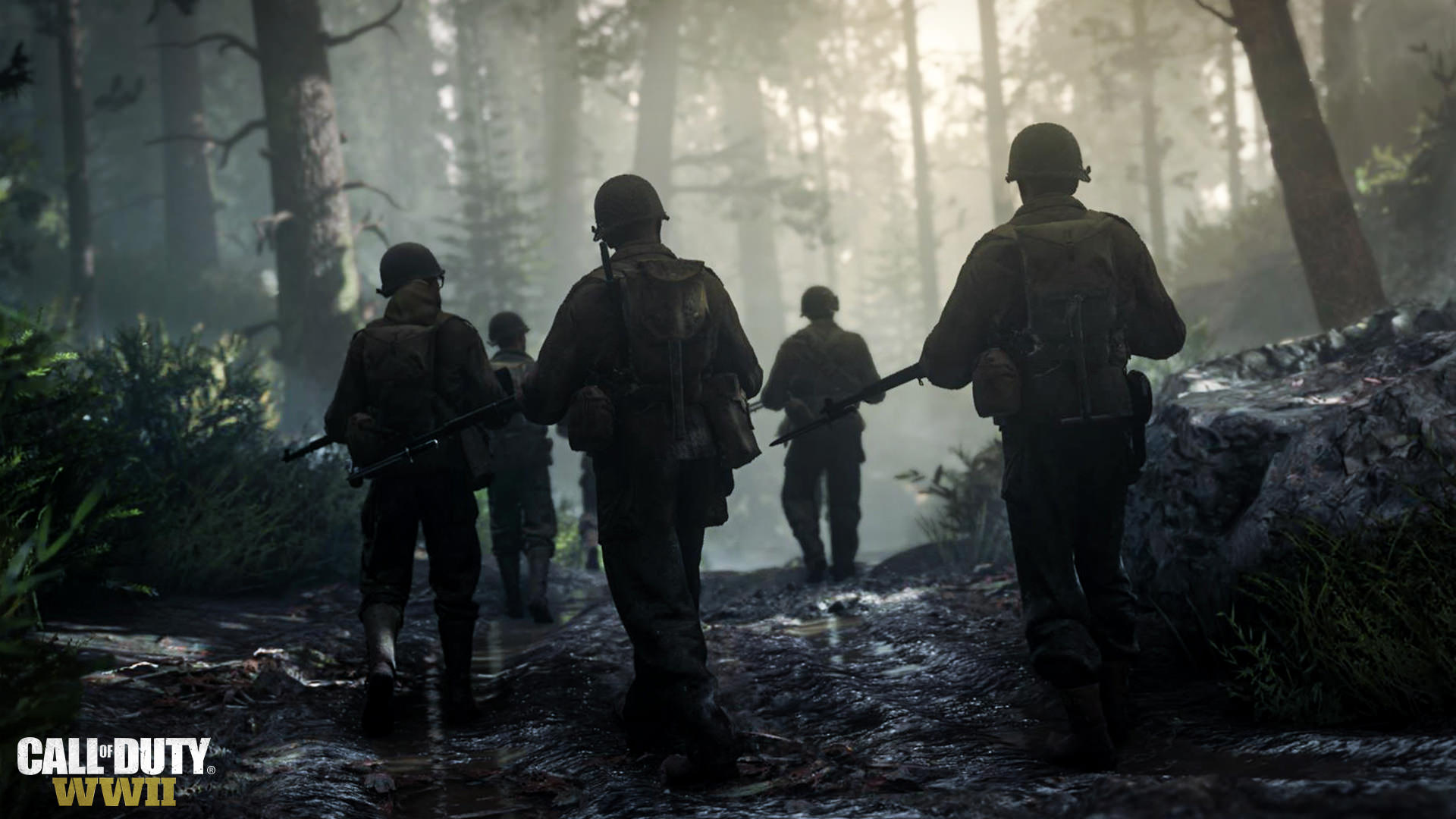 Two missions were highlighted after the official reveal. They are Hurtgen Forest and the D-Day landings at Normandy.
Hürtgen Forest: An old-growth forest on the German border where Allied forces engage in devastating encounters. In the heat of battle, the German Army uses tree burst bombs that detonate at treetop level, showering soldiers with wooden shrapnel. When your unit is zeroed-in-on by hostile artillery, the forest explodes around you as debris rains down.
Normandy: From inside a Higgins landing boat, your squad will storm Omaha Beach in a visceral audiovisual experience unlike any D-Day landing experienced in a game to date. You and your fellow soldiers must overcome the enemy defences to serve as the tip of the spear for the Allied invasion.


"Call of Duty: WWII takes the franchise back to its roots in a bold cinematic experience that captures the unforgettable heroism of the soldiers who fought together in a war that changed the world forever. Activision's gripping new title is an honest portrayal of World War II from the perspective of the famed 1st Infantry Division, with an ensemble cast of global and diverse characters. Through stunning visuals and intense audio, players storm the beaches of Normandy on D-Day, march across France to liberate Paris and ultimately push forward into Germany in some of the most monumental battles of all-time."
[Updated] Call of Duty Zombies Mode
The cast for the game has been confirmed. David Tennant (Dr Who), Katheryn Winnick (Vikings), Elodie Young (Daredevil), Udo Kier (Blade), while Ving Rhames from Pulp Fiction has also been confirmed.
"With Nazi Zombies, we're creating a frightening world full of terrifying characters and events that will make you jump and look over your shoulder. There's an incredible amount of myth and lore, which our team has poured through in our development," said Glen Schofield, Studio Head and Co-Founder of Sledgehammer Games. "This is unlike anything before, we're taking players to some very dark, grim places in Nazi Zombies. This is one hell of a horror experience."
You can read more about the Zombie mode here.
Multiplayer/Co-op
There will be a full reveal of Multiplayer mode at this year's E3 in June. Don't expect there to be any jetpacks or wall running in Multiplayer with sledgehammer concentrating on 'boots on the ground' instead.
They did reveal multiplayer modes such as War, Divisions, and Headquarters.
War:  This narrative-driven mode brings a gripping new layer of excitement to Axis vs. Allies team play.
Headquarters: This mode offers players the chance to socially interact with fellow players away from the frontline.
Divisions: You choose a division to join like infantry or armoured division and progress through the ranks.
Call of Duty WWII will release on the 3rd of November 2017. If you pre-order the game you will get access to the private Beta which arrives first on PlayStation 4.