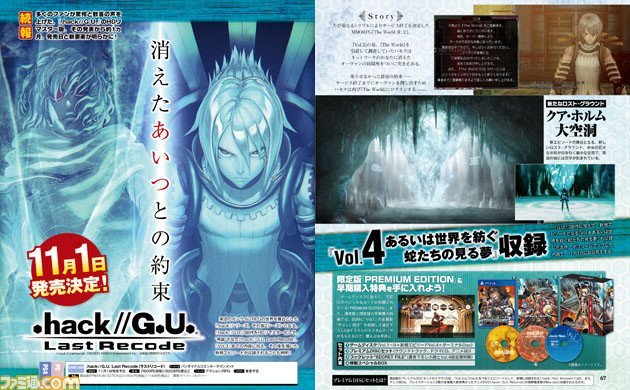 In a Famitsu article posted earlier today, Bandai Namco confirmed that .hack//G.U. Last Recode will not only be releasing on November 1 for Japan, but with an fourth volume of content (this is in addition to the other changes that they've already announced the game would have, like upscaled graphics, faster fights, and the ability to marry as many people as you want in volume 3).
The details of what this fourth volume will contain will be discussed more with Famitsu in the August 17 issue. Until then, we're left with nothing but this Famitsu spread (which, as of right now, has not been fully translated by any sources). This spread also confirms that a premium edition will be coming out in Japan: Whether or not it will be available in English speaking countries is not yet known.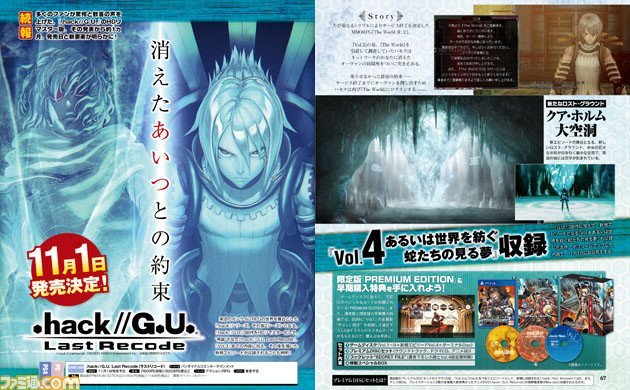 .hack//G.U. Last Recode is the HD remaster of the beloved .hack//G.U. trilogy released on the PS2 10 years ago in Japan and the States. .hack//G.U. itself is also the second series in the .hack franchise, which hasn't had a new main series entry since 2010. With the release of Last Recode, this will be the first time Europe will get the opportunity to play the renown action JRPG series. It's set to come out on November 1 in Japan, and late 2017 in the States and Europe.