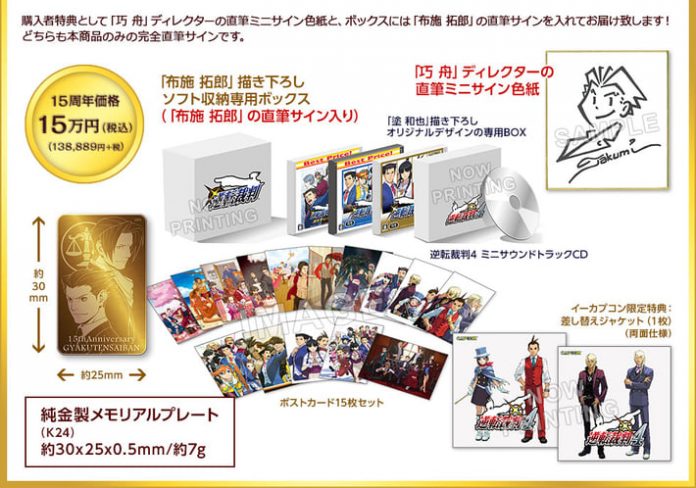 To celebrate the 15th anniversary of one of its most beloved series, Capcom is making a few variants of an anniversary collection with all 6 of the main Ace Attorney games (Phoenix Wright, Justice for All, Trials and Tribulations, Apollo Justice, Dual Destinies, and Spirit of Justice). While most of the variants just add things like post cards and the soundtrack, there's also a premium edition that's made even the most die-hard fans question whether or not they want to hold it and take that with no objections.
For a mere 150,000 yen ($1366 USD, £1050 GBP) you could take home all 6 of the Ace Attorney main games in a collector's box, the soundtrack, a set of 15 postcards, an autographed picture of Phoenix Wright, and (get ready, this is why it's priced so high) a 24-karat gold plate of Phoenix and Edgeworth that's 3cm tall. The number of these premium editions that Capcom plans on making isn't currently known.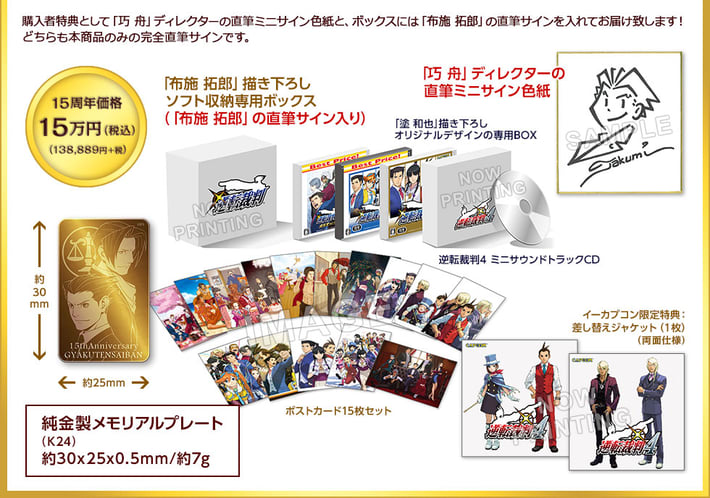 Currently this (and all the other Ace Attorney collector's set–with or without a gold plate) is only available for purchase on the Japanese Capcom site. Whether or not any other countries will be able to purchase this or any other Ace Attorney anniversary goodies in the near future is currently unknown. If it's any consolation for your English-speaking, Ace Attorney-loving heart though, just yesterday Capcom announced that Apollo Justice will be coming to the eShop in English (with the option to play the Japanese version) in November. It may not be a small gold plate with Phoenix's face on it that you can bury in postcards, but it's definitely a more affordable option.