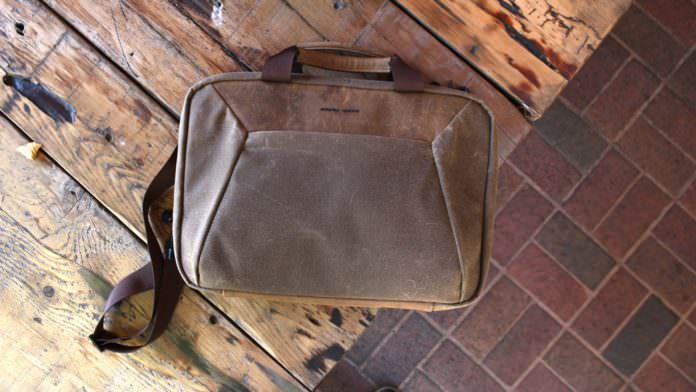 For most people, having their laptop with them wherever they go is a must. Whether it is at college, work or in your local coffee shop to send off a few emails, having it handy makes life easier. The issue with this is for most people their whole lives are on their laptop. Their family photos, music collection and personal files and there is always the risk that it might get damaged on the go. This is where the Zip Laptop Brief from Waterfield Designs comes in.
As a gamer, I'm always targeted by ads showing off "the ultimate gaming bag" and it's always bags that look like they are used by the bomb squad. I bought one a couple years ago because I needed something durable that would let me carry my gaming laptop around. The problem and this seems to be commonplace, was that within a few months the bag was tearing at the seams, the surface was all scratched and scuffed and it wasn't as 'protective' of my gear as I was led to believe. A lot of these issues seem to stem from the production queue, there are so many different hands making this product in many different countries so the price gets raised but not the quality.
The thing I like most about Waterfield Designs is that they make everything in-house. They think it, design it and craft it and they don't have to worry about miscommunication or extra costs for exporting to different manufacturers. Furthermore, in the case of the Zip Laptop Brief, the bags outer shell is comprised of a high-quality waxed canvas. It is very sturdy and holds its shape well which means the internal contents will be well protected from any small bangs or dings.
For such a small design, the Zip Laptop Brief holds a LOT. Inside the main compartment, we have 2 more compartments on either side. One side is for storing your laptop and the other has 2 pockets for storing anything from cables to tablets. The pocketed side is lined with a soft material that won't scratch any screens. It is also quite thick which will protect screens from anything loose that might dislodge itself during travel.
The laptop side is coated with an orange reflective surface that makes it easy to distinguish which compartment is which in dim lighting or without fully opening the bag. The internal lining is the same soft-feel material as the pocketed side. The laptop is secured with a velcro strap and there is a small cutaway in the corners making it easy to charge your laptop without fully opening the bag. As someone who worries about having all my devices charged before a trip, this means I can plug in my laptop overnight and the only thing I will need to pack the next day is the charging cable.
The front compartment is sealed with a zip and this is hidden by a thick fold of the waxed canvas. This is great for storing your phone, wallet, keys and having quick access to them. It's also pretty secure in that no would be pickpocketer is going to be able to access that stuff without making you very aware of what they are doing.
On the very bottom of the case is a thick strip of leather. I'm glad that there was thought put into this as it is one of the fastest wearing parts of any bag. At some point your going to want to put it down and in most cases, it's when your standing for a while. Waiting for a bus or train, checking in to an airport or getting through security, or even standing at an ATM. Nearly all my bags, (except for my backpack that has a similar padding at its base), either have very noticeable wear or a few holes, usually starting at the corners and eventually invading the seams. This small addition means that the bag will last for a long time if given the right care. There is a reason why serious bikers wear leather over polyester for protection and it's because it is strong and hard wearing.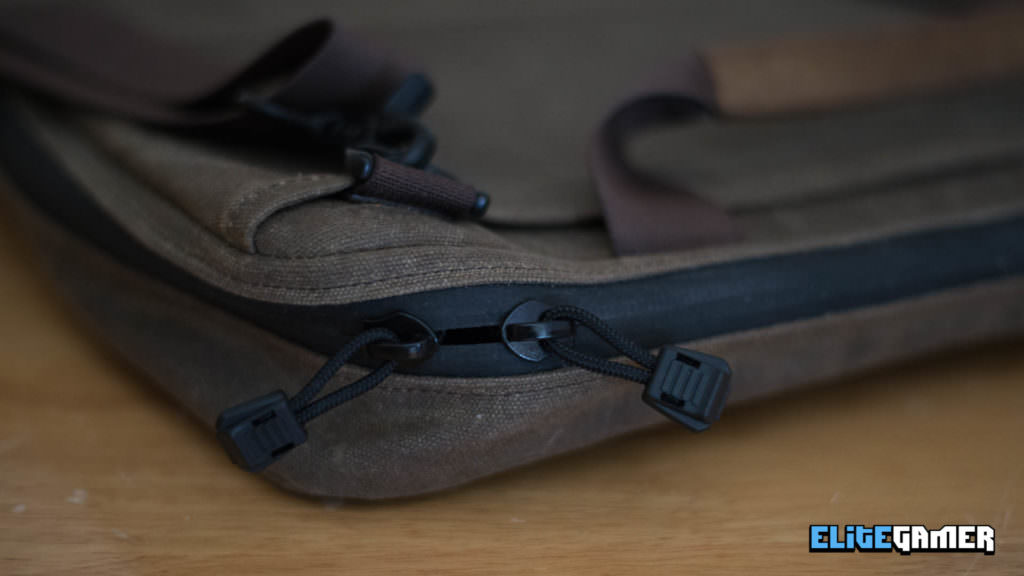 The main compartment zip is very strong and high quality. When zipped closed, there is an outer layer of material that lays flush to the seams. I'm assuming this is to increase the cases resistance to water. The front compartment zip is much the same but without the extra resistant material. This seemed a little strange as one of the main selling point is that this is for phone storage, but I'd be cautious about putting mine there if I was heading out on a rainy day. The zips themselves have plastic tips. To keep with the theme I would have expected them to be leather or wax canvas but as they are mostly hidden from view it doesn't really matter all that much.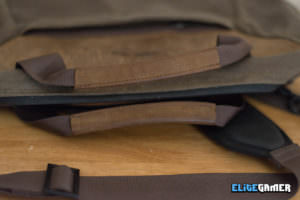 The two handles each have grips from the same leather. Again, this speaks to the overall quality and long-term usability of this product. The strap, on the other hand, has a rubber non-slip underside and a wax canvas overside on the shoulder pad. It would have been nice to see some leather here as well but due to its nature it might not have been flexible enough and would have meant that the shoulder pad needed to be much thicker. The two clips connecting the strap to the bag are strong and sturdy. They won't break easily and I doubt the stitching will rip without a ridiculous amount of force.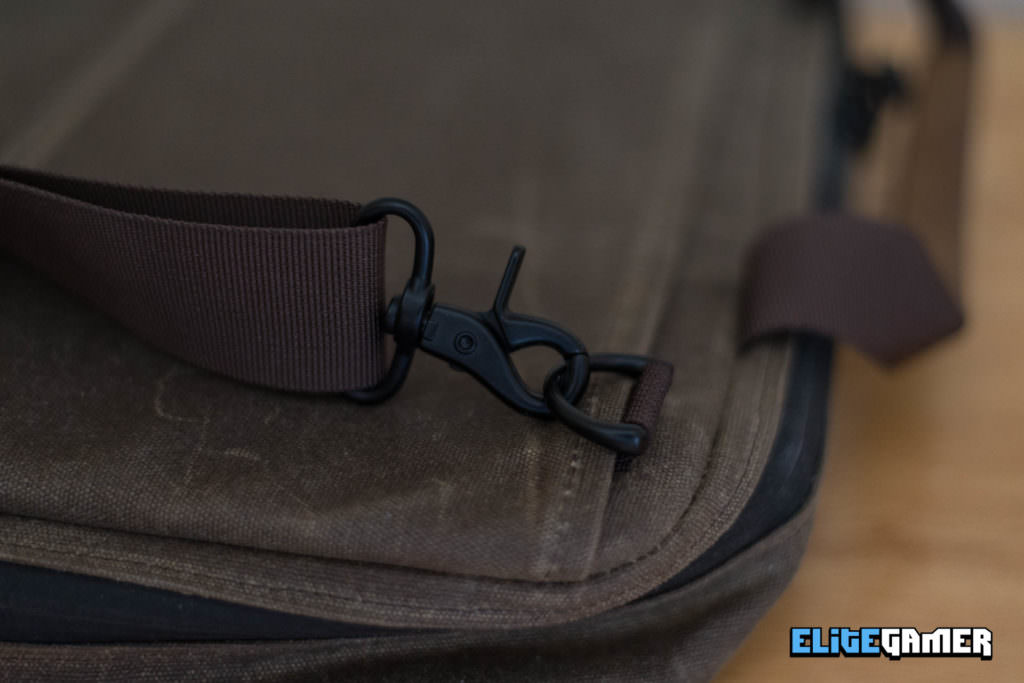 Currently, Waterfield Designs seem to only sell their products from their site. The Zip Laptop Brief is currently priced at $239 (€193 / £172). Compared to other options this is relatively well priced for something that you won't have to replace in the near future. Where the real cost comes in is the international shipping charges. For example, to have this delivered to Ireland, there is a $150 cost attached. This includes the $69 delivery charge along with $81 for duties and taxes. That brings the total cost of the bag up to $389 (€315 / £280).
Personally, I feel that is extremely high for a bag regardless of how great it is and how long it will last. The Zip Laptop Brief is great for travelling light so I would be using it in conjunction with my backpack. I wouldn't mind paying the extra amount for shipping if it was something I could use on its own but for the Zip Laptop Brief, I honestly couldn't justify the cost.
Overall the Zip Laptop Brief is a fantastic laptop case and Waterfield Designs have really hit a new standard with it. Compared to a lot of 'gamer targeted' bags that push design over quality, I feel a lot of people should look at more of their products. As someone who is always travelling with my laptop (sometimes two), the protection this case offers is fantastic and gives me peace of mind. The only real downside, however, is that the shipping is not cheap. The only option is FedEx and unfortunately, it pushes the price above what would be affordable for a lot of people.
If you are serious about buying it I would recommend using a service like MyUS.com or Shipito. These are basically like Parcel Motel for the United States and will reduce the shipping charges significantly. The downside is that they are delivered via surface mail or in layman's terms 'on a big ol' boat' so it could take up to 30-40 days for the delivery to arrive. I have been using this bag for a while now and it is fantastic for carrying around my laptop, It fits everything I need on short trips to meetings or small events while acting as the perfect companion to my backpack on long jaunts to events such as E3 or Gamescom.