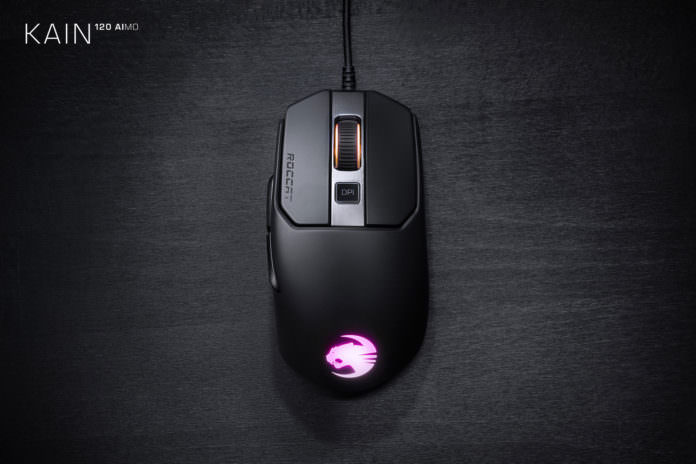 ROCCAT is a German company that produces high-end gaming peripherals. Their products tend to be highly innovative such as the Sova LapBoard and the Skeltr Gaming Keyboard which included a rubber groove for smartphone placement. ROCCAT is now owned by headset maker Turtle Beach which is sure to have some interesting results. The first new product we are looking at is the ROCCAT Kain 120 AIMO.
This year at Gamescom, ROCCAT was showing off some of their new products, one of which is the ROCCAT Kain 120 AIMO Gaming Mouse that I am reviewing today. The 120 is the mid-level version of the new Kain series, flanked by the more affordable 100 and wireless 200 models. The Kain 120 is an ergonomic slam-dunk that feels as good as it looks. The combination of an industrial, yet stylish design as well as some impressive technical specifications means the ROCCAT Kain 120 AIMO could be another winner.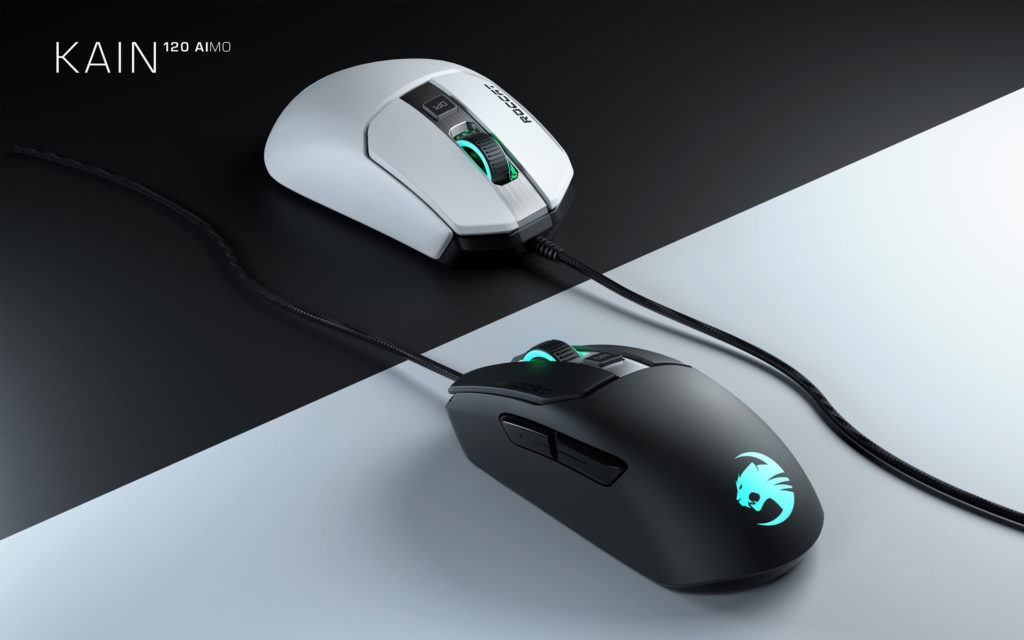 The ROCCAT Kains overall design differs than previous mice. It has a much narrower and less rounder body compared to the Kone AIMO and Kova AIMO. Unlike the Kain 100 which has a textured grip on either side, the housing of the Kain 120 has a very smooth finish, and while this feels extremely comfortable most of the time, I found that if I was in a tense game and my palms started sweating, I began to lose grip.
Although the ROCCAT Kain 120 AIMO has a symmetrical housing, this is not really a hybrid mouse, simply because of the two extra buttons are on the left side within easy reach of the thumb for right-handed gamers. These two buttons are large enough to be easily pressed although there isn't a lot of resistance so mis-clicks might be an issue for some people.
Unlike most mice, the left and right mouse buttons are not adjacent. Instead, they are separated by a strip of brushed aluminium. This ensures that the buttons (which are comfortable to use) are separated, but also retain the elegant style of the mouse. The scroll wheel and a DPI switch button are disposed along the strip. As it is also a gaming mouse, so there is the inevitable RGB lighting. This is provided in the form of ROCCATs AIMO lighting software, it's an intelligent lighting system that adjusts based on how the user interacts with the products.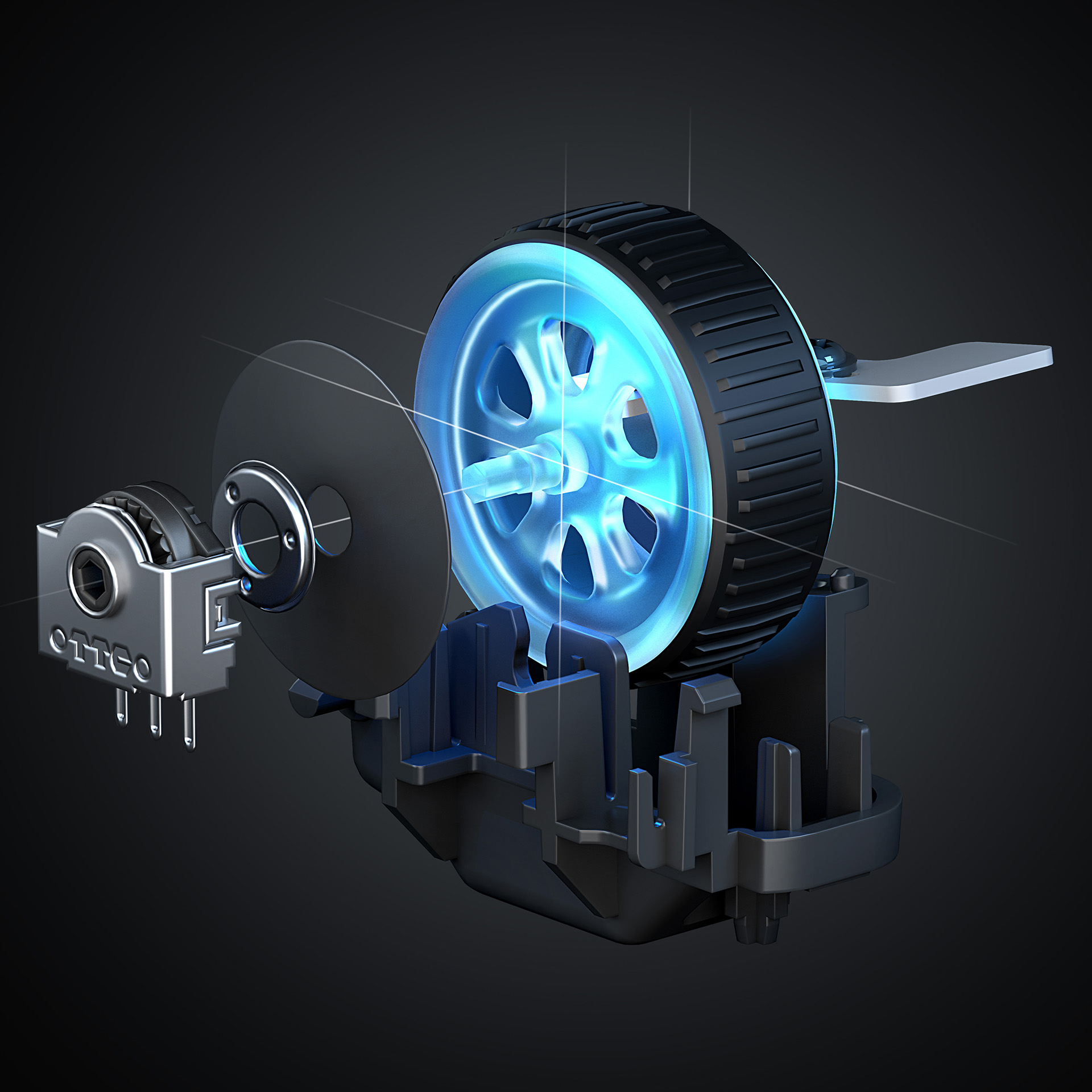 As is often the case in modern gaming peripherals, the Kain 120 has RGB lighting included – although this is limited to the scroll wheel and the ROCCAT logo on the back case of the mouse, where you rest your palm. Like the rest of the design, it is not excessive or flashy, but a subtle touch that looks good without being too distracting.
The ROCCAT Kain 120 AIMO uses ROCCATs Owl Eye optical sensor, which is capable of 16.000 DPI. This is higher than many mice in this price range (they usually come around 10,000 DPI off). The higher the DPI, the faster and more responsive the mouse can sense.
The ROCCAT Kain 120 AIMO uses ROCCAT's Owl Eye optical sensor, which is capable of 16,000 DPI. This is higher than many mice in this price range (they usually max out around 10,000 DPI). The higher the DPI, the faster and more responsive the mouse can be.
Depending on your playing style, preferences and other considerations such as the size of your monitor, you probably wont use the maximum DPI settings, 16,000 is extremely sensitive and would make the mouse very difficult to operate. The main innovation of the ROCCAT Kain 120 AIMO is the new Titan Click – a revised switch under the left and right buttons that give the Kain 120 AIMO a satisfying and responsive feel – and subtly different from other gaming mice that we've used.
If you've never paid much attention to how you use your mouse it is unlikely that you will be excited about the new switch. Generally speaking, if your mouse clicking doesn't annoy you or at the very least make itself obvious, then the mouse buttons are doing their job well. That's not to say that the Kain 120s buttons are distracting, it's only when you actively pay attention to how the mouse clicks work or have a specific preference to different clicking types that you may notice a subtle difference. And that is good. A very good thing.
The ROCCAT Kain is a mouse that responds to clicks without having to exert too much pressure – but most importantly the buttons have enough resistance to avoid mis-clicks. But this we mean that the mouse wont register a click if you just rest your fingers on the buttons. Instead, button clicks are deliberate but without much effort. Again, it's a fine balancing act, and although it is a small detail, when you consider how much you use your mouse, it can have a big impact.
Specifications:
1000Hz polling rate
ARM Cortex-M0 48MHz
512kB onboard memory
1.8m braided USB cable
Incl. Omron® switches
ROCCAT® Easy-Shift[+]™ technology
ROCCAT® Swarm software suite
AIMO illumination – RGB Backlighting and LED lighting effects
Owl-Eye Optical Sensor
ROCCAT® Owl-Eye optical sensor with 16000dpi
Adjustable lift-off distance
50G acceleration
400ips maximum speed
Mouse acceleration: no
Angle snapping: on/off
Overall, the ROCCAT Kain AIMO 120 is a solid and comfortable gaming mouse with a design that matches the other gaming products from ROCCAT while trying something new. If you want an ergonomic gaming mouse that is as comfortable as it is precise, ROCCAT's Kain 120 could be the mouse for you. It slightly misses the mark with its incredibly smooth housing, it could do with more grip, but it is not far from the masterpiece that ROCCAT had envisioned. It's also cheaper than most medium-sized gaming mice so at €69 it's an absolute bargain. You can pick up the ROCCAT Kain 120 AIMO here.