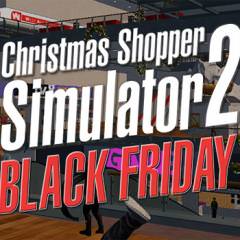 With Black Friday looming Christmas Shopper Simulator 2: Black Friday is released. Although a recent phenomenon in Ireland, Black Friday is a sale day ingrained in American culture.
Leading gaming retailer, GAME released the free game in a bid to advertise and get players to splash the cash in-store. The entire game is a clever advertisement that brings you to their site.
On a similar thread to last year's release, Christmas Shopper Simulator 2: Black Friday is a silly lighthearted game. Features include the world's longest selfie stick and the chance to play as a fly or an ant.
Last year's phenomenon, Christmas Shopping Simulator went viral, even beating Christmas advertisement of the year by John Lewis in YouTube views.
Fred Prego, insight and marketing director at GAME, said, "We wanted to say thank you to our gaming community. Black Friday comes along but once a year. Now, gamers can enjoy it every day."
This free sandbox is available for free for Mac and PC here.