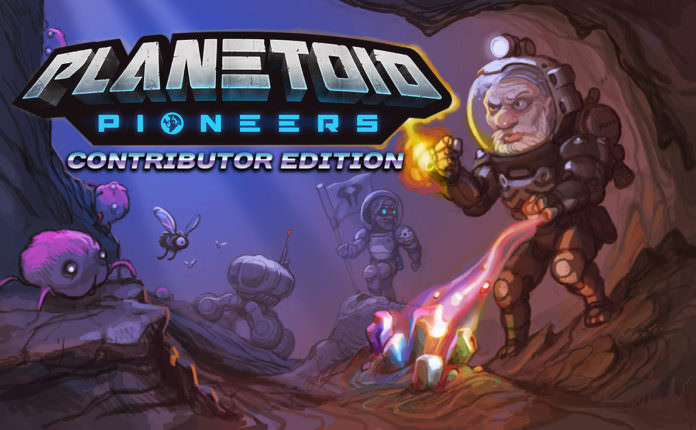 Independent developer Data Realms, the team behind the award winning indie game Cortex Command , is pleased to announce that Planetoid Pioneers Contributor Edition will launch on Steam Early Access on April 15th, and kindly request that you refrain from purchasing it. Unless you want to get your hands dirty in the ongoing development of the game, then that's ok. Data Realms is only looking for those with a genuine interest in creating and remixing content within the unique Crush2D engine and the modular game structure they have already established.
Planetoid Pioneers Contributor Edition will include all the game content and tools the developers use themselves as a 2D physics driven actionexploration game built on Data Realms' own custom Crush2D physicsbased engine.
THE NEXT STEP FOR EARLY ACCESS
Those who buy the Contributor Edition will not only have a chance of seeing their work included and credited in the final game but, subject to curation by Data Realms, sell them on the Planetoid Pioneers Item Shop. Valve has proven that community content creators are an invaluable resource for any small sized studio. We'd like to take it one step further by opening up the potential of Steam Workshop for indie developers and giving the community a chance to help build our game.
Planetoid Pioneers: Contributor Edition will launch at $39.99 USD, a price set on top of 7 years of hard work that also discourages the merely curious from buying an unfinished product. The finished Planetoid Pioneers will be much cheaper when it exits Early Access, so there's little reason to buy the Contributor Edition unless you're serious about modding and contributing to the game's development.
LET YOUR OWN CREATION BATTLE OTHERS ON TWITCH!
"In the spirit of bringing your own game ideas and feedback to life, we want to evolve the concept of Early Access with our powerful engine and integrated tools," says Dan Tabar, Founder of Data Realms. "Words can't capture the feeling of what we're trying to do with Planetoid Pioneers so we're giving the public an indepth, behind-the-scenes look on Twitch on launch day. As we speak, our community of contributors are uploading their own creations to fight it out in the Coliseum Planetoid live on Twitch! "