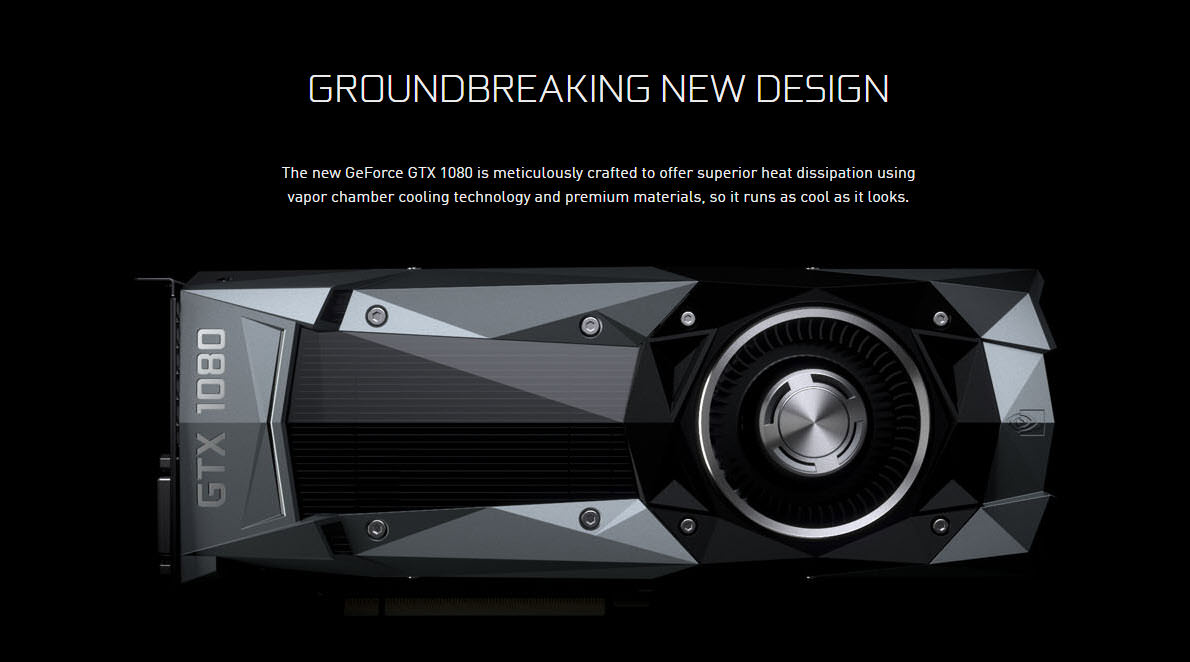 Faster than GTX 980 SLI For €599 — 180W TDP and 8 GB GDDR5X Memory
Today NVIDIA announced the launch of its GeForce GTX 1080, the high-end graphics card for consumer grade market equipped with all new Pascal GP104 GPU (GP104-400-A1) GPU core, which comprises up to 2560 CUDA Cores running at 2,000 MHz. The reference version of GeForce GTX 1080 is running at base / turbo boost frequencies of 1607/1733 MHz coupled with 8GB of memory GDDR5X @10 GHz with a 256 bits memory interface resulting in a bandwidth of 320GB/s.
The rest of the information passing through the support of new technologies such as NVIDIA Ansel (capture screenshot of the game in 360-degree), Multi-Projection, VR Ready, Nvidia G-Sync, you can create an SLI configuration and it will be compatible with the DirectX 12 API level 12_1, Vulkan and OpenGL 4.5 . With the reference cooling system and PCB, the graphics card consumes 180W, requiring PCI-Express 8 – pin connector and can reach a maximum temperature of 94 ° C, although the actual tests show the GPU was running 60c under full load. In terms of display output, it includes Display Port 1.4 (4K @ 120 Hz), HDMI 2.0b (4K @ 60 Hz) and DL-DVI.
The company announced that its GeForce GTX 1080 is 2x faster than GeForce GTX 980 on the use of virtual reality, but in games like Rise of the Tomb Raider or The Witcher 3: Wild Hunt , this difference is reduced to 1.75x more powerful than a GTX 980.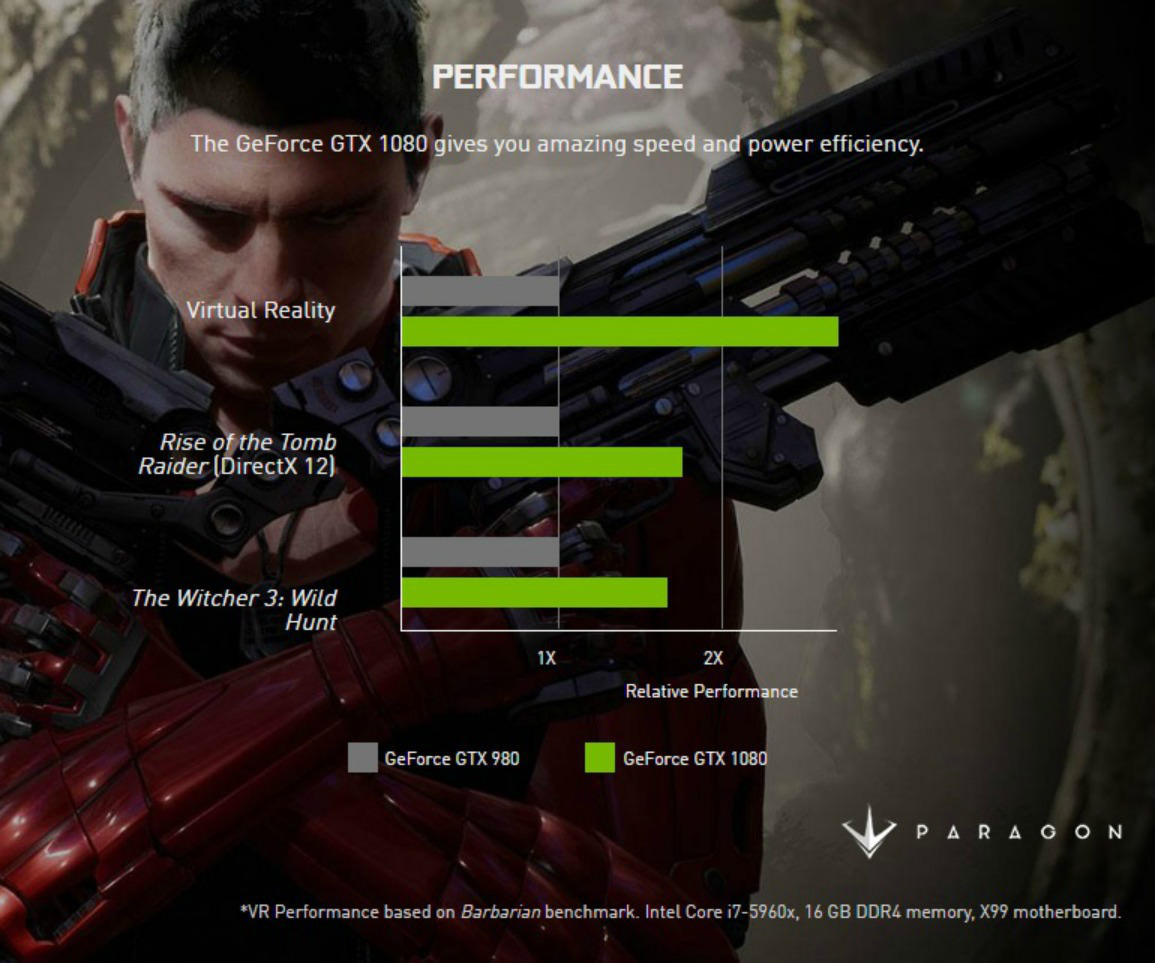 At the official presentation, the company showed their graphics card stood at 2144 MHz at a temperature of 67 ° C, so hopefully it customised models will run at higher frequencies after OC (the reference at least 2000 MHz). Regarding the price and availability, it will arrive on May 27 for €599.
NVIDIA has done their job, now it's time for AMD to make a move and we must recognise that it will be very difficult for now.  We are waiting to see that how 14nm will win the battle against 16nm.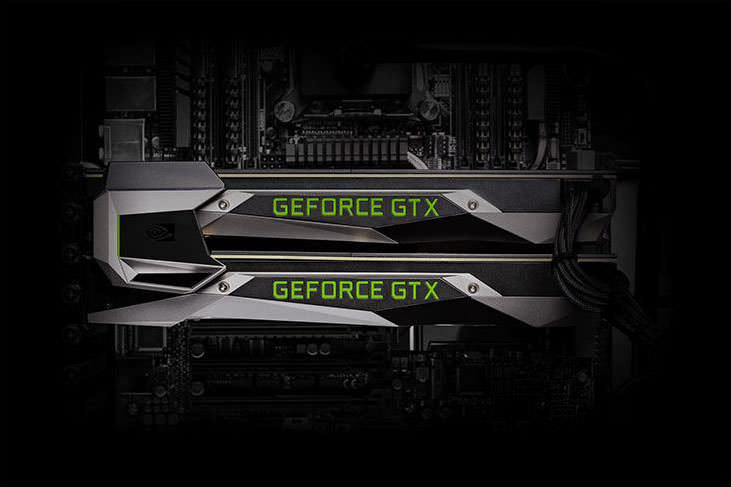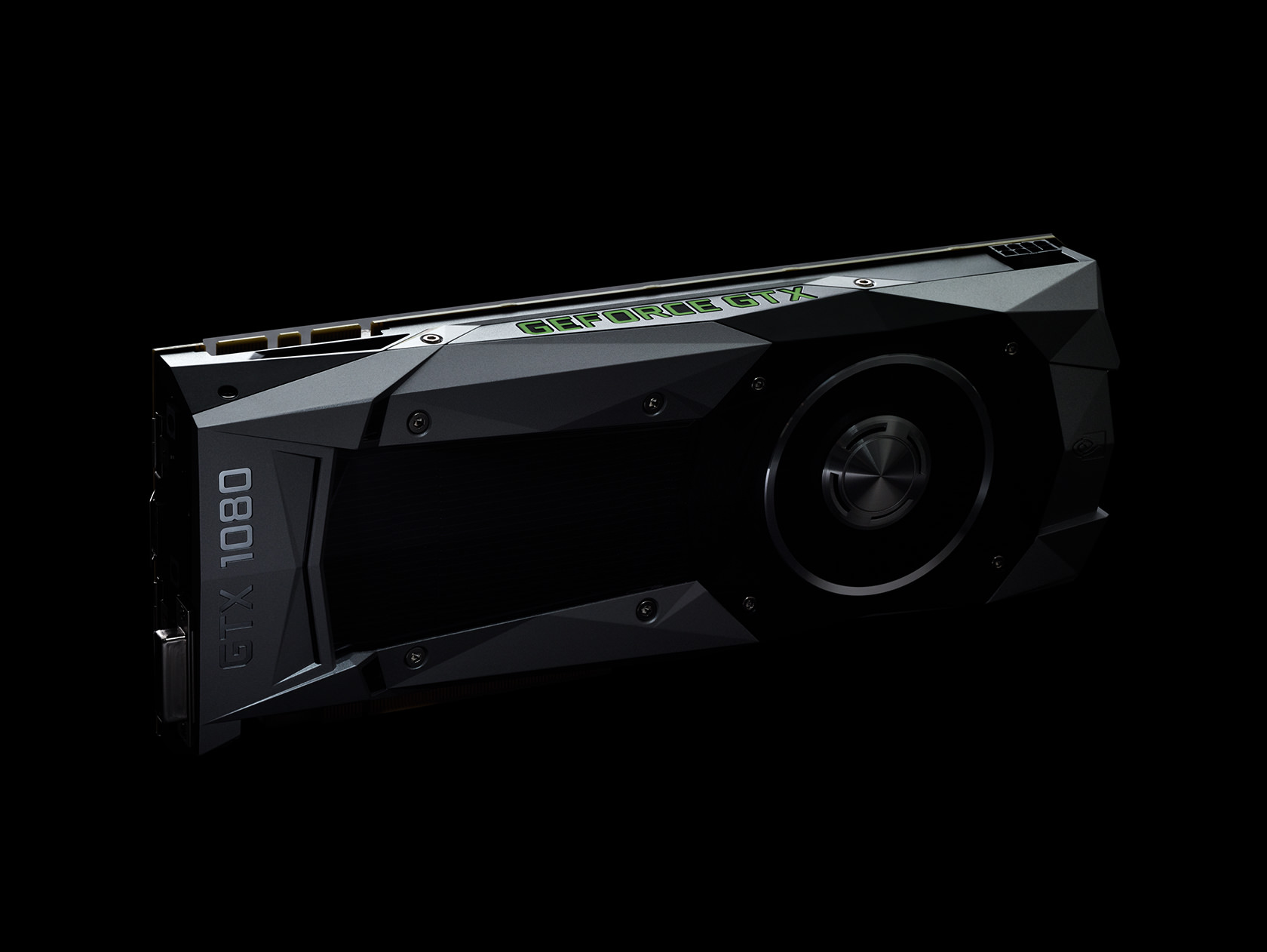 NVIDIA GeForce GTX 1080 Specifications:
Graphics Card Name
NVIDIA GeForce GTX 980
NVIDIA GeForce GTX 980 Ti
NVIDIA GeForce GTX 1070
NVIDIA GeForce GTX 1080
NVIDIA GeForce GTX Titan X
NVIDIA GP100
Graphics Core
GM204
GM200
GP104
GP104
GM200
GP100
Process Node
28nm
28nm
16nm FinFET
16nm FinFET
28nm
16nm FinFET
Transistors
5.2 Billion
8 Billion
7.2 Billion
7.2 Billion
8 Billion
15.3 Billion
CUDA Cores
2048 CUDA Cores
2816 CUDA Cores
2048 CUDA Cores
2560 CUDA Cores
3072 CUDA Cores
3840 CUDA Cores
VRAM
4 GB GDDR5
6 GB GDDR5
8 GB GDDR5
8 GB GDDR5X
12 GB GDDR5
16/32 GB HBM2
Bus Interface
256-bit bus
384-bit bus
256-bit bus
256-bit bus
384-bit bus
4096-bit bus
Power Connector
6+6 Pin Power
8+6 Pin Power
Single 8-Pin Power?
Single 8-Pin Power?
8+6 Pin Power
8+6 Pin Power
TDP
165W
250W
150W
180W
250W
300W (Tesla P100)
Display Outputs
3x Display Port
1x HDMI 2.0
1x DVI
3x Display Port
1x HDMI 2.0
1x DVI
3x Display Port 1.4
1x HDMI 2.0b
1x DVI
3x Display Port 1.4
1x HDMI 2.0b
1x DVI
3x Display Port
1x HDMI 2.0
1x DVI
TBC
Launch Date
September 2014
May 2015
10th June 2016
27th May 2016
March 2015
TBC
Launch Price
€549
€649
€379
€599
€999
N/A