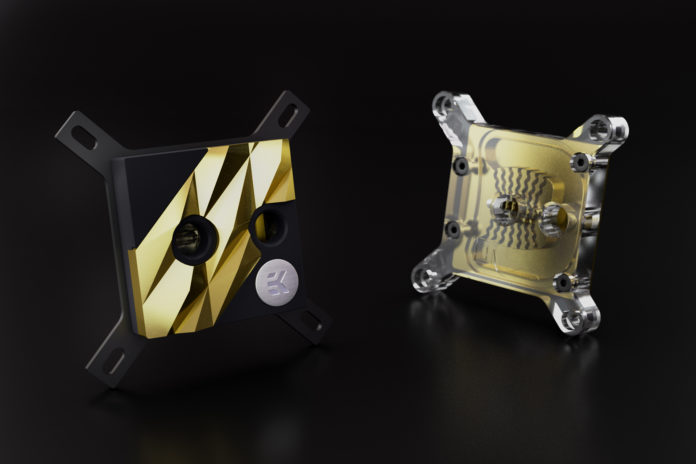 EK Water Blocks is commemorating this special 10th anniversary by announcing a Limited Edition of its flagship CPU water block, the EK-Supremacy EVO 10th Anniversary. Known for its award-winning design and unmatched thermal performance on the market, the EK-Supremacy line of CPU water blocks remains a top choice for enthusiasts and gamers everywhere.
To make the Limited Edition a truly unique collector's item, EK decided to include two CPU water blocks in the package. The first part of the package is the EK-Supremacy EVO 10th Anniversary water block which can be used with LGA-115x and LGA-2011(-3) socket CPUs and every piece has a production number engraved on the side top. The block features a special low polygon gold mesh, covering the front face of the block, symbolising our never-ending pursuit to optimise performance.
The second part of the package is EK-Wave, EKs flagship CPU water block from 2006, which has also gold plated bottom with a special surprise that will be revealed only to the new owners. This block is included primarily to show how far EK have come in the field of liquid cooling in the past ten years and to show the evolution of our flagship CPU water blocks. This is a very rare opportunity to own a piece of EK history and Edvard König, the founder of EK Water Blocks is sending out the following message:
"From my humble beginnings and experiments with liquid cooling, we managed to establish EK as a top brand in the industry, with a wide portfolio of products and solutions for our global partners. All this would not be possible without passion and enjoyment in the work we do every day. This 10thAnniversary Supremacy EVO is the result of our journey so far and thank you, the fans and enthusiasts, for sharing this journey with us."

– Edvard König, founder of EK Water Blocks and President of the Board.
The Supremacy EVO 10th Anniversary will be available for pre-order through the official EK webshop next week. Only 100 units will be available and the price is to be announced with the start of the pre-order period.
What do you think of EKs Limited Edition Water Block? Let us know in the comments!