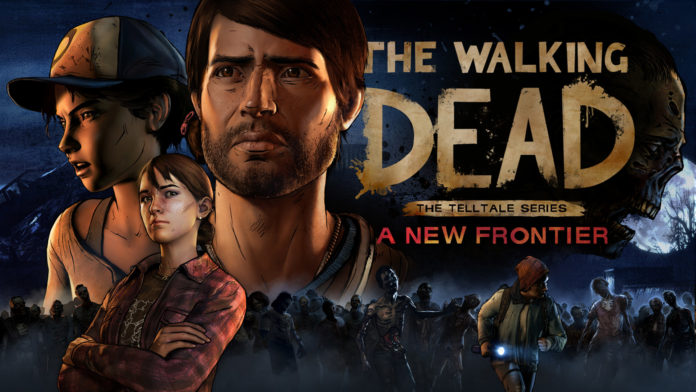 The Walking Dead: A New Frontier acts as both a new beginning for players fresh to the series and unfamiliar with Clementine, as well as a continuation for players who have experienced Seasons One and Two. Players new to the series will be able to start a story that is tailored to this new beginning.
We start off playing as the new character Javier, Javier is facing a traumatic time at home when we first meet him. His father has died and it has caused a huge void in the family, arguments rage on until the harrowing moment that his niece walks through the hallway and tells them that Grandpa isn't dead. Grandpa is now a Walker. We skip to the present day where Javier and only a handful of his family is still alive, while looking for gas everything goes to hell, they have raided the wrong people for supplies and Javier ends up getting himself    kidnapped until the much-loved Clementine sets up a trap to steal the truck and then were reintroduced to a much more mature and closed off Clem, we can only surmise that this is due to the struggle she has faced. With Javier and Clementine's friendship growing in my playthrough, everything seems to be going swimmingly until typically Walking Dead style, everything goes to hell with an epic conclusion.
Playing through season 1 was an emotionally gripping experience and unfortunately, season 2 never recaptured the same feelings for me. A New Frontier roped me in from the start with interesting characters, a great storyline and great gameplay. I can tell from the conclusion that hit me by surprise that I am in for a hell of a ride. As with the other games Telltale are giving it their all to give the player a sense of choice and consequence and many of the moments made me feel like, did I make the right decision, could I have done it better but it's that moral choice and the fact that I would question my decisions immerses me into it more as I go along.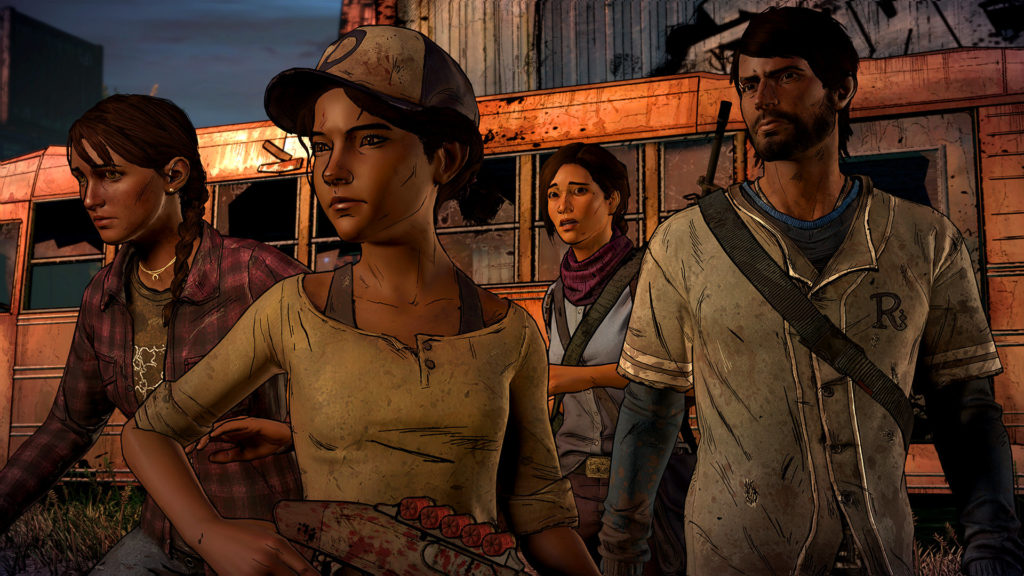 As with all the Telltale series games, they are judged by me mainly on storyline but being a gamer who likes a bit of action and control I tend to get bored with story/adventure games unless they are seriously good stories but Telltale blend storyline and gameplay seamlessly and it provides a really fun playthrough that doesn't get boring. I don't feel anything gameplay wise has changed since season 1 but why ruin a good formula? The exploration is what I love about the series, discovering everything for yourself and having the freedom to do so adds to the story and I like my games to last rather than beating games really fast.
The Walking Dead: A New Frontier has now completely made its full transition to the latest generation of consoles and it looks much better for it. It still keeps the traditional Telltale series style but improves on something that was already designed in a unique way. The zombies look even better this time around with a much bigger variety and much more detailed look. The music is similar to the previous seasons and there are no noticeable changes in that. What we all really need to know is in a story central game, is the voice acting any good? Yes, yes it is. You can sense the emotion and desperation in characters voices, and in the few moments of joy you can feel good with them and relate until the worse happens.
After enjoying Lee and Clementine's adventures I didn't feel season 2 recaptured those moments and I honestly got bored before I could finish them but A New Frontier has recaptured the magic and I just want more, it's disappointing that not all episodes are unlocked because I can't wait to play more. I came across no issues apart from the odd frame drop on the PlayStation 4 version but it didn't detract from the experience.
Formats: Xbox One (reviewed), PS4 and PC
Price: €22.99
Publisher: Telltale Games
Developer: Telltale Games
Release Date: 20th December 2016
Age Rating: 18