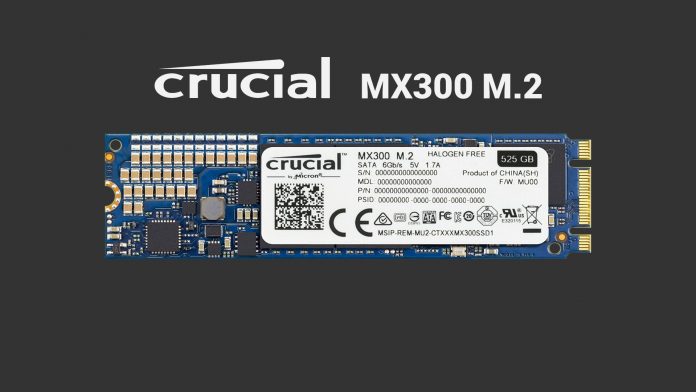 Overview
Specifications and Features
Test Configuration and Benchmarks
Conclusion
1. Overview
Out of all the components to upgrade your PC, a good SSD brings the most noticeable performance gain. There is also no excuse not to have one, they are continuously getting bigger and more affordable. The Crucial MX300 M.2 525GB is the same price as a 64GB would have cost a few years ago.
Most PCs and laptops today ship with 2 drives, an SSD with the OS installed, typically either 128GB or 256GB depending on the overall price, and an HDD, again, depending on price, it can either be 1TB or 2TB.
This M.2 module comes with a monster capacity of 525GB (this is quite big for an SSD). M.2 is a format that was used for wifi cards in laptops for the last 10 years, and then one day someone had the great idea to stick an SSD in there. Okay, there was probably a lot more thought process but my point is it worked and made the world a slightly better place.
The main benefit of an M.2 module over 2.5″ Sata version is the space. They are also compatible with most motherboards like the Asus Z170-Aor the Asrock Z270 Fatal1ty (Which can handle 3 at once). Newer laptops like the Asus GL752VW come with one pre-installed. Along with a 128GB SanDisk SSD it also comes with a 1TB 7200RPM HDD. See what I mean about price? And this was one of the more cost-effective options.
2. Specifications and Features
M.2 Type 2280 SSD
Capacity
275GB
525GB
1TB
Part Number
CT275MX300SSD4
CT525MX300SSD4
CT1050MX300SSD4
Box Contents
M.2 Type 2280 SSD, mounting screws Acronis® True Image™ HD certificate
Sequential Read MB/s1
530
530
530
Sequential Write MB/s1
500
510
510
Random Read IOPS1
55k
92k
92k
Random Write IOPS1
83k
83k
83k
Dynamic Write Acceleration
3. Test Configuration and Benchmarks
Methodology
To test the SSD I cloned my Windows 10 Pro OS to the drive. I then completed three test runs with each benchmark and calculated an average value.
Our Intel system for the following tests looked as follows:
| | |
| --- | --- |
| Processor | Intel Core i7-6700HQ, 4x 2.60GHz |
| Graphics card | Asus GTX 660 Ti 2GB |
| Memory | 32GB DDR4 |
| SSDs | Crucial MX300 1TB |
| SATA-III hard drive | Toshiba DT01ACA |
| Operating system | Windows 10 Pro 64Bit |
We were able to achieve the following values with the various benchmarks. Our first test is the proven CrystalDiskMark 5 in the 64bit version. We test the SSD moderately filled (25%), in order to achieve an everyday result as possible as possible.
ATTO
First, we use ATTO v3.05, a benchmark tool to measure the read / write speed. With the freeware tool, you can make exact settings for different parameters. The measured results are then displayed in a graph.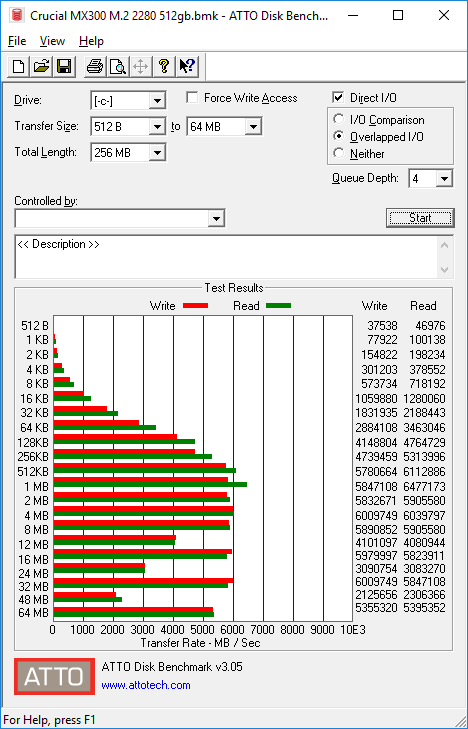 AS SSD
Next, we test the portable SSD with the popular and proven "AS SSD" benchmark to ensure better comparability.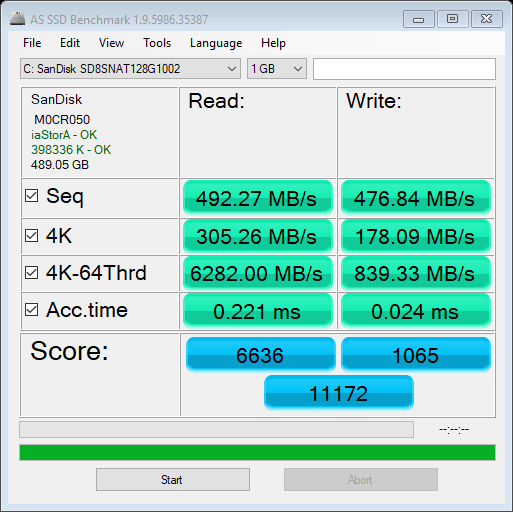 CrystalDiskMark
And finally, we use CrystalDiskMark. The software tests the read and write speed of the hard disks with three test methods. In order to get a meaningful result, CrystalDisk writes and reads variable data blocks of 4 and 512 kilobytes.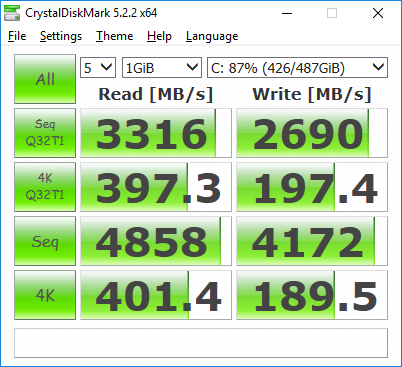 Conclusion
The current Crucial MX300 525GB M.2 SSD CT525MX300SSD4 delivers good read and write performance for a TLC SSD, delivering performance, reliability and data security as the M.2 SSD on a small 22x80mm board, MX300 SATA SSDs.
As can be seen from our series of tests, the benchmark diversity is very important for assessing overall performance. While the one benchmark tool displays top values, the other tool breaks them down. This is mainly due to the fact that the TLC NAND has a SLC NAND as a buffer, which ensures very high transfer rates with small amounts of data. With the latest firmware M0CR040 Crucial succeeds in the interplay between TLC and SLC quite well, but the MX300 performance is still in the lower range.
The Crucial MX300 M.2 with 525 GB is specified 160 TBW (total / tera bytes written), equivalent to 87GB per day over a period of 5 years . This information is not only important for the guarantee but also for a very high durability of the NAND cells. If you want to know more about TBW, you will find numerous data and formulas at Micron and the JEDEC SSD specifications.
In addition, the Crucial MX300, like the Crucial MX200, supports all major features such as TRIM, ECC, active garbage collection, SMART, device sleep extreme low power mode, thermal monitoring and additional high-end features such as 256-bit AES encryption , IEEE-1667, Microsoft eDrive Compatibility, RAIN, Power Loss Protection, Four-Layers Exclusive Data Defense, Dynamic Write Acceleration, and the Momentum Cache feature.