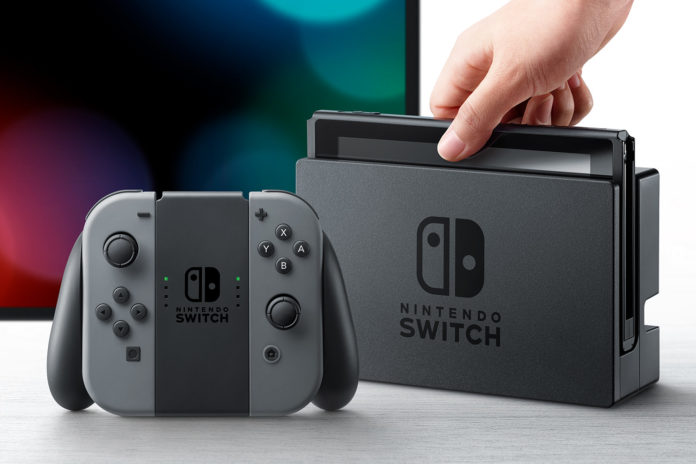 The Nintendo Switch conference yesterday finally shed some light on the true nature of the console as well as clearing up some of the confusion surrounding some of its finer details. Yesterday we got it all. A release date, a price, a look at some of the games coming to the platform, and most importantly some up close and personal looks at the hardware.
Nintendo Switch Release Date:
The Nintendo Switch, formerly the "NX" will be released simultaneously around the globe on March 3rd, 2017 for the suggested retail price of €329.99 here in Ireland and most other "major European countries", $299.99 in the US, £279.99 in the UK, and ¥29,980 in Japan. There had been rumours abuzz surrounding a March release date but March 3rd seems earlier than most expected from Nintendo.
What's in the box?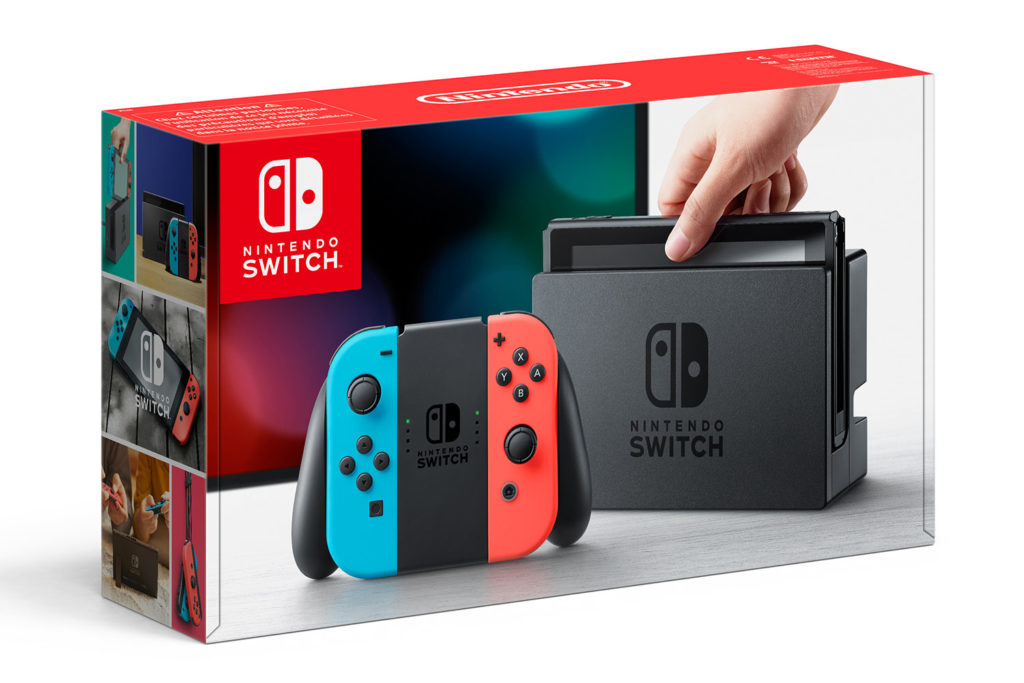 The Nintendo Switch comes with a left and right Joy-Con controller, the Joy-Con Grip, Joy-Con wrist straps, a dock for the console, HDMI cable, and an AC power adapter. If grey isn't quite your style, Nintendo also announced that a bundle will be available that features both a Neon Red and Neon Blue Joy-Con. These brightly coloured controllers will also be available to purchase separately at launch.
The Nintendo Switch features 6.2 inch, 720p, multi-touch capacitive touch screen and will output a 1080p image to a TV when docked. The console also has 32GB of internal memory but this can be expanded with the use of microSDXC cards.
The console's battery life is a little disappointing and Nintendo has said it will vary drastically on a game-by-game basis but you should expect to get between 2.5 to 6.5 hours on a full charge. They pointed out that a game like The Legend of Zelda: Breath of the Wild will be quite power heavy and players should only expect to be playing for 3 hours on a full battery. However, Nintendo also made it clear that the console can be charged using a USB type-c cable and doesn't need to be docked to charge. This also means that the console can be charged using external USB battery packs.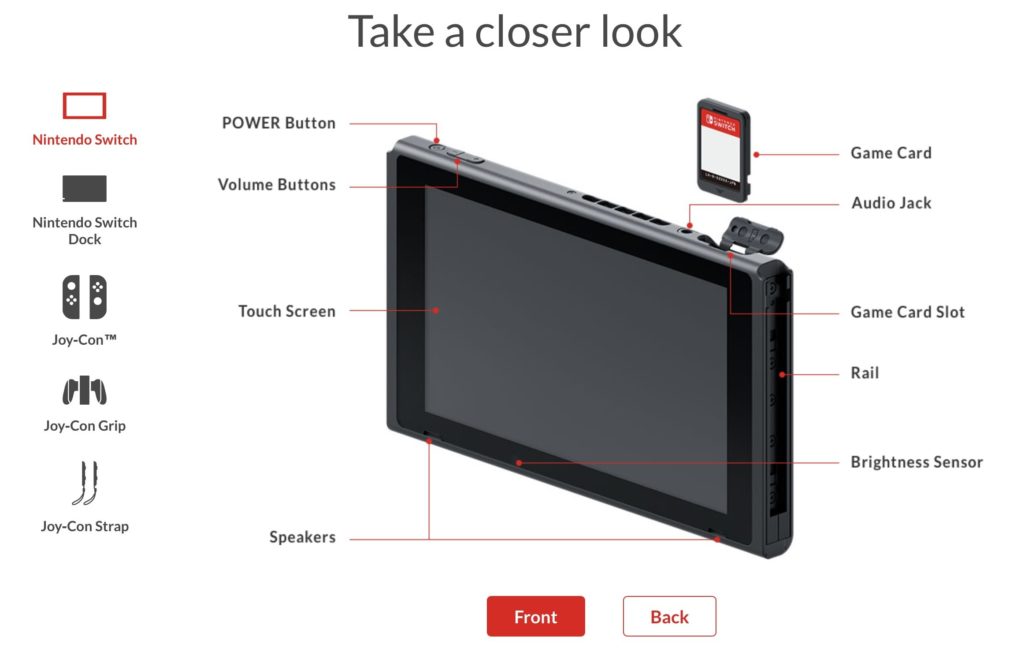 In the event that you missed the teaser video released in October, Nintendo showed off more of the new console's many set ups or "Playstyles". You can still play using the tablet as a handheld or by setting the console down on a tabletop and detaching the Joy-Cons for single player experiences as well as local multiplayer. But Nintendo has revealed that local multiplayer will be easier and bigger than ever stating that players will be able to connect up to eight consoles together.
The conference on Thursday was a little light on some of the key details of the Nintendo Switch's online aspects. But here's what we did learn:
The Nintendo Switch will feature online lobbies and voice chat, a pretty standard feature by today's consoles.
Much like Sony's PlayStation Plus, players who subscribe to Nintendo's online service will receive a monthly download of a SNES or NES game with new online features for free for one month at a time. Subscribers will also get exclusive offers and discounts on certain digital downloads.
These features will be free for the first few months for all Switch owners but this feature will become a paid subscription service by the summer of 2017.
Alongside the change to their online subscription service in the summer, Nintendo will also be releasing an app for phones and tablets that will allow you to invite other players to "play appointments" as well as let you chat with other players through the app.
There was no mention of pricing for the online service yet but we can only speculate a similar pricing to the likes of Microsoft and Sony's online services.
Joy-Con Controllers Explained: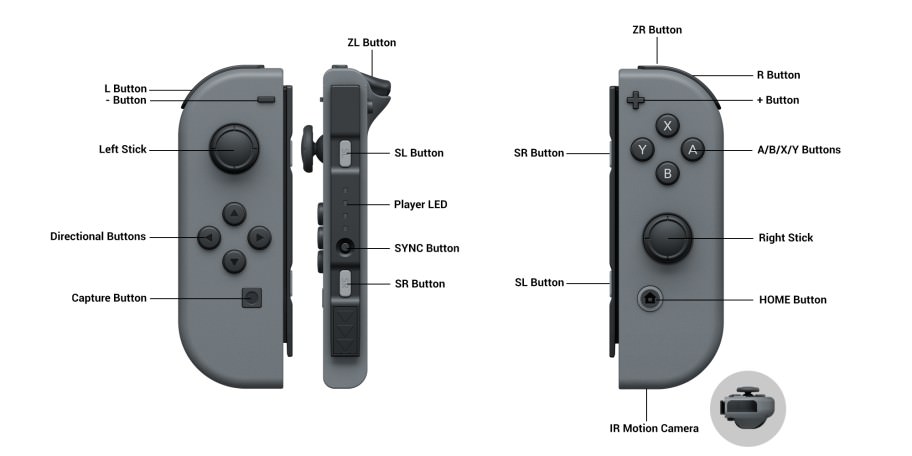 Nintendo is known for their off the wall controllers so Thursday's conference went a long way to shedding some light on the Switch's set up.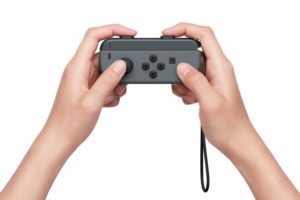 While the basic controller setup sees the left and right Joy-Cons snuggly sitting into the Joy-Con Grip or attached to the tablet itself, Nintendo outlined that both controllers have gyro-sensors and accelerometers and come with Wiimote-style grips to allow players to comfortably take advantage of the Switch's motion-based gameplay. The grips also feature an extended L and R button to make it easier for players to press the recessed buttons when the Switch is set up for local split screen.
Check out the video of gameplay for ARMS, a multiplayer, motion-based fighting game running on a Switch:
Not only this but the right Joy-Con also has an NFC read/write module built in for all your Amiibo needs as well as an IR Motion Camera that can sense shapes and distance. The left Joy-Con will has a Capture button that can be used at launch to capture images in-game but Nintendo says that it will eventually be used to capture video that can be shared on social media.
Lastly, let's not forget HD rumble. Nintendo has said the new console's controllers will be capable of such subtle vibration that is "much more realistic than before". The effect is so advanced and so detailed that a "player could, for example, feel the vibration of individual ice cubes colliding inside a glass when shaking a Joy-Con".
While a price for the controllers has yet to be announced in euros the price as it stands in dollars indicates that accessories for the Switch might be a bit pricey: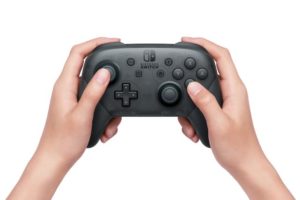 Nintendo Switch Pro Controller — $69.99
Joy-Con Controller Sets — $79.99
Individual L/R Joy-Con Controllers — $49.99
Joy-Con Charging Grip — $29.99
Nintendo Switch Dock Set — $89.99
Joy-Con Wheel (Set of 2) — $19.99
GAMES!: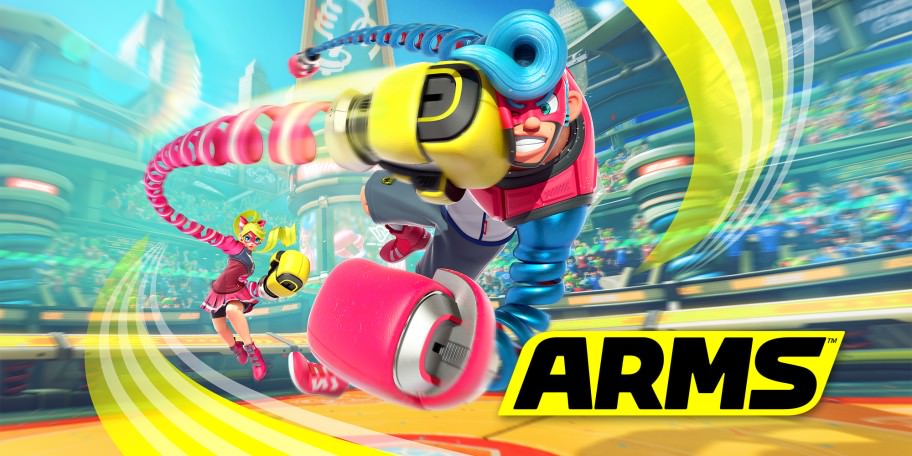 We've already had a look at ARMS so first up we have 1-2 Switch, a motion-based game that has players looking at each other, rather than the Switch. The teaser for the game shows two cowboys in a "pistols at dawn" scenario where the winner is the player who "draws" first. It appears that 1-2 Switch will be a collection of reaction and action based mini-games. Both ARMS and 1-2 Switch will be available at launch.
Have a look at 1-2 Switch for yourself: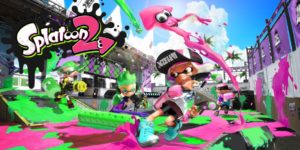 Splatoon 2 was also announced for the Nintendo Switch and will be released in summer of this year. The follow up to the Wii U's extremely popular team-based paint shooter will make full use of the Switch's Joy-Cons allowing players to play on the tv, on the go or with the motion controller set up. The game will also support the new pro controller.
The sequel will feature new and improved outfits, weapons, game modes, and maps and Nintendo also spoke about how they will continue to support Splatoon 2 after launch, similar to how the 2015 game featured on-going in-game events and updates.
Super Mario Odyssey is slated to appear on the Switch during the holiday season later this year and appears to be more akin to Super Mario Sunshine in its sprawling open world design. It looks like Nintendo will continue to knock it out of the park with their 3D Mario games. Just watch the trailer and be in awe:
Lastly, the big announcement was that Zelda: Breath of the Wild will indeed be a launch title and it still looks as gorgeous as ever. The game will be released on the 3rd of March and will be available in a number of different special editions.
Here's the newest trailer from Nintendo's event:
Other games also confirmed for the Switch include Skyrim, No More Heros, Xenoblade Chronicles 2, a new Shin Megami Tensei title, Fire Emblem Warriors, Mario Kart 8 Deluxe, and Project Octopath Traveler to name a few.
What do you think of the latest news about the Nintendo Switch? Are you still excited or has it left you a little concerned? Whatever you think we'd love to hear it!