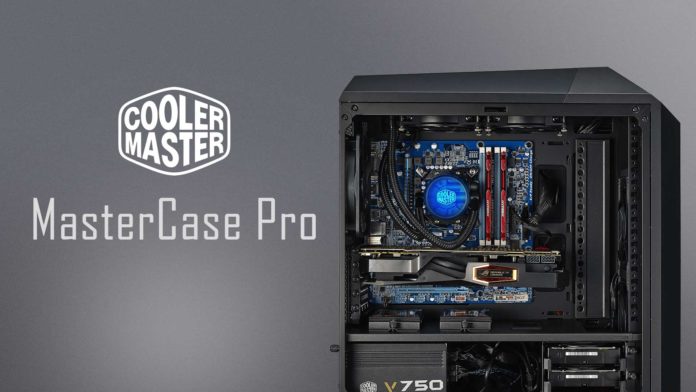 Cooler Master has released its newest case aimed at people using micro-ATX boards. Micro-ATX boards are a smaller board than the ATX and as a result, people who use them do not want the bulk of an ATX case. The MasterCase Pro 3 is just the case for the job. This case is said by CoolerMaster themselves to be the MasterCase 5 but for Micro-ATX builds.
The MasterCase Pro 3 has the same level of customisation that the MasterCase 5 has but in a smaller space. This allows users to customise and adjust their case both internally and externally. With the completely modular insides, you can support up to 5 fans, 8 HDDs and two graphics cards. There is a removable partition to allow for an additional graphics card. There is an adjustable clip & click panel to allow for all your HDDs or a DIY cooling system. And the front cooling bracket comes off to allow for a radiator or fans to be mounted outside the case. On top, there is a handle that allows you to pick it up for easy transport to LAN parties or just moving it around the house. It comes with a stand to support the weight of your graphics card or if you have two cards it will support the weight of both so as to take pressure off the motherboard itself.
Looking inside this case there are multiple ways you can set this up. If you have only a small amount of hard drives, then you can place them at the bottom in line with the power supply to give you more space for the extra-long graphics cards or if you are concerned about airflow. You can add more HDDs at the top where you would normally find the 5.25" bays which have been removed to maximise internal space. There is a bracket to install a fan controller and while you could use this for an optical drive it is not recommended as the drive would only be supported by the front panel. This may not bother people but I prefer the use of an optical drive.
This case is also mainly meant for 2.5" HDDs as the only place to put 3.5" drives are at the bottom. The rest of the HDDs locations are for 2.5" only. If you are using this case, however, you probably have no problem with this as you are trying to save space!
On the front panel, there is support for 2 USB3.0 ports and audio in & out. This also supports HD audio. The front can take 2 fans, the rear can take 2 and the top can take 2. That is a total of 6 fans! I have seen ATX cases with less fan space. It can also handle a large PSU up to 200mm in length. The CPU cooler can be a maximum of 190mm in height. This means you can have a water-cooled CPU or a heatsink cooler that would be pretty tall.
Overall this looks to be a solid case with anything you could ever want in a Micro-ATX case and more than what most other companies offer in their Micro-ATX cases. This case is already available with the price just under €100 on amazon.