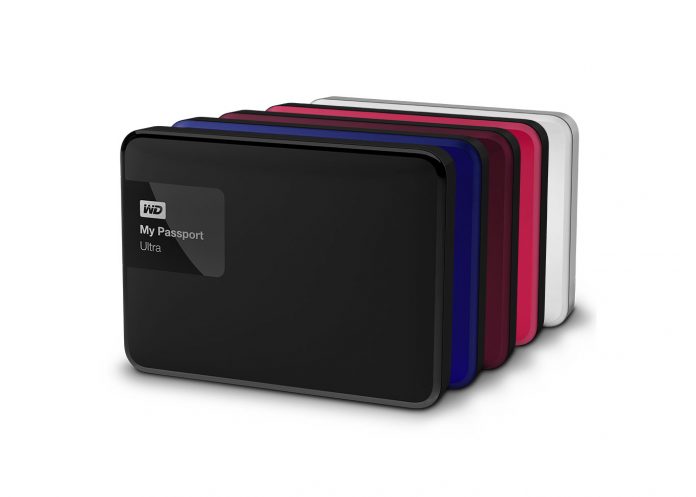 When it comes to gaming, storage space always seems to be an issue. Each year, games get bigger and bigger (not to mention those pesky Steam sales that fill your computer with endless games you will never play).
Western Digitals My Passport Ultra aims to solve this, not just with gaming but expanded storage in general. The drive is small, fast and elegant. It's also budget-friendly and won't empty your wallet.
The design aspect for Western Digital hard drives hasn't changed that much over the years. The My Passport Ultra, however, does come in an array of different colours to suit your tastes. The simple man that I am, I went with black. I mean, it goes with everything so no matter where I am I can look that tiny bit more awesome with this thing plugged in as I game.
As I already mentioned, it's nice and compact. It's highly portable and very light considering the version I have is 2TB.
| Specifications | |
| --- | --- |
| Interface | USB 3.0 |
| Capacity | 1TB / 2TB / 3TB / 4TB |
| Length (mm) | 110 |
| Width (mm) | 81.5 |
| Depth (mm) | 15.8 / 20.9 |
| Weight (g) | 169 |
To make the WD My Passport Ultra more interesting, WD delivers a software suite with the drive. This consists of WD Backup, WD Security, WD Drive Utilities, and WD Quick View software.
WD Backup
When you start WD Backup, this will display all the possibilities for making backups. Of course, the software will ignore all non-WD drives in the system, but Dropbox support is present. This is handy when you want to save certain files externally in case of fire, natural disasters or aliens.
WD Security
Want a better way to protect your data and backups? This is what the WD Security software is for. You add a password to the drive which then encrypts itself. As with all encryption software, if you forget the password you're screwed. The encryption can't be easily broken and not for less than €6000 so if you do use it don't lose it ( the password — or the drive)
WD Drive Utilities
With this app, WD has created a small set of useful tools. This way you can perform regular drive tests and check the drive for problems. Finding them on time reduces the risk of data loss.
WD Quick View
WD Quick View starts in windows icon tray. As you move over it with your mouse, you get an immediate overview of the status of your WD drives.
USB 3.0 has a bandwidth of 5Gb (bits, not Bytes!) or 640MB per second, but even the best SSDs have trouble getting that speed. Of course, in the My Passport Ultra there is no SSD (that would have a very different price tag), but an HDD or Hard Disk Drive. The model we tested contains a 2TB hard drive. This hard drive provides a read speed of 112.8MB per second versus a write speed of 112.7MB per second. This is very well balanced and a very good speed all round. Duration tests show that this drive is very suitable for recording and displaying Full HD content. This could also be very well suited for watching Blu-Ray quality movies on your TV.
In terms of gaming, the speeds are close enough to that of the internal Xbox One hard drive that I didn't notice any difference during my gameplay, even o hardware demanding games such as The Witcher 3 and Gears of War 4. I tested the drive on two other Xbox One consoles and it worked very well. there were no issues playing stored games on the other consoles and they didn't need to be rechecked and re-downloaded, unlike SOME hard drives we reviewed.
WD has been one of the most stable hard drives in the field. I personally use a WD 2TB black for my gaming needs and it hasn't failed me yet. If you're looking for a nice, portable drive with high speeds then I definitely recommend a My Passport Ultra — it might be slightly more expensive than some of the other external drives with matching specs but it holds it's own on performance.