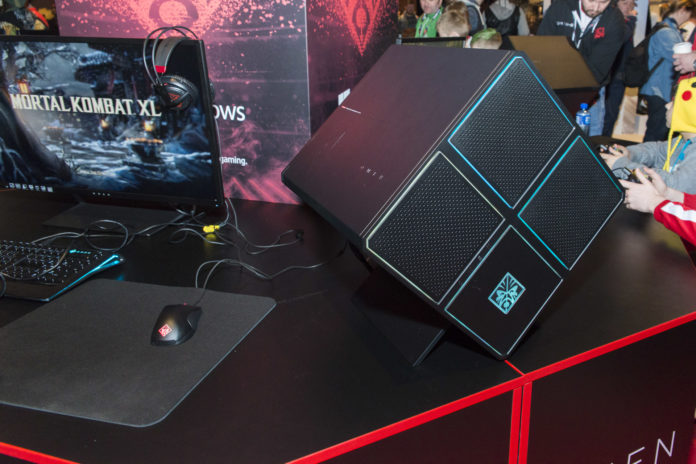 This year at GamerCon I got the chance to check out the OMEN X by HP, a cube-shaped PC engineered for extreme performance. The very first thing I noticed about the OMEN X is how sleek it looked. It has front-facing LEDs, an impressive modern design and is aesthetically pleasing to the eye.
Now, a few years back I would have recommended avoiding mATX builds if at all possible. This was before onboard audio, wifi and ethernet ports were improved to meet the standards of their PCI counterparts. Try fitting all that into an mATX along with 2 high-end graphics cards (which use 2 PCI lanes as standard). Many older motherboards under €200 only had about 4 USB ports. Along with a keyboard and mouse, I usually have a USB headset, 1 or 2 external hard drives, and possibly a webcam. That's 4 ports right there. I never plug any peripherals into the front as I have those 2 ports reserved for USB keys or device charging/ transfer.
The OMEN X by HP comes with 10 USB ports (8 x 3.0 Type-A and 2 x 3.0 Type-C) which is more than enough for the most elite gamer. It also comes with 1 ethernet port and an audio port (along with optical audio). Personally, I would prefer 2 ethernet ports as I would bring this to every future LAN party.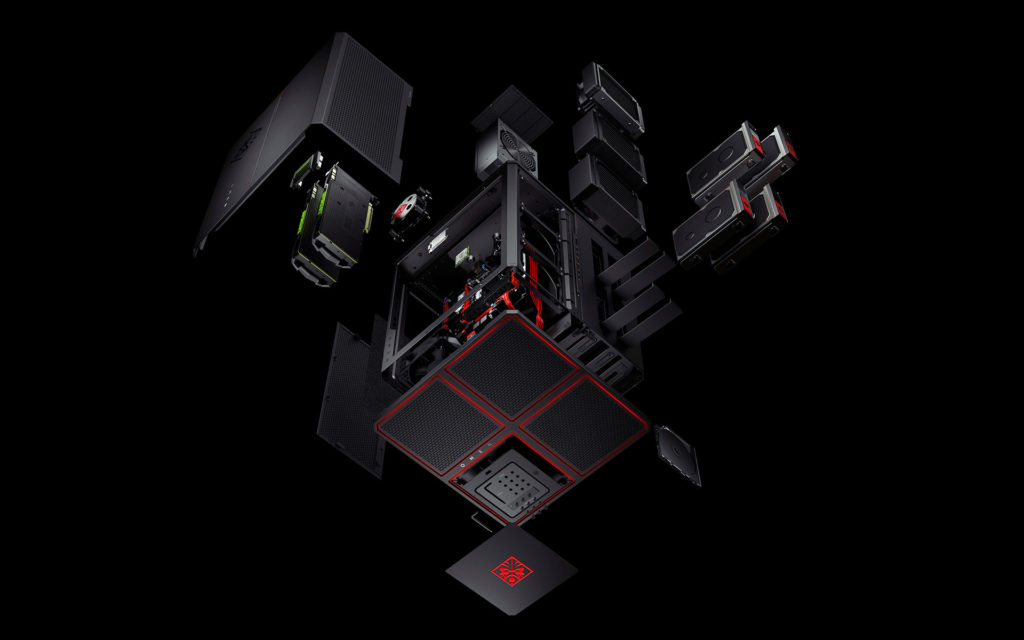 The design process that created the OMEN X is beautiful. It was designed specifically for high-end gaming, allocating space for 2 graphics cards, liquid cooling and a decent power supply. Each section of the chassis is split up for optimised airflow, in the top-left, you have the mATX motherboard and all its components, on the right the power supply and on the bottom an empty space where the extra cables can sit while also giving an area for the air to circulate.
There are 4 hot swap bays on the right side that makes switching drives a hassle-free experience, you also have 4 USB 3.0 ports ( 2xA and 2xC) along with an SD card slot and 2 audio ports (headphone and mic). HP have put a lot into such a small design but nothing about it feels cramped.
My favourite part about the design is that the 4 front-facing panels have LEDs that can be configured separately. Alternatively, they can be set up to reflect the CPU, Memory, GPU and PSU usage. Each panel reflects the current load of its assigned function, the led is blue at 0% and gradually turns red the higher the load. This is great for those who look to get the best temperature from their gear.
The OMEN X that I tested also comes with liquid cooling installed, which really goes to show that HP built this for gamers. If you have been using a stock cooler or even an aftermarket fan cooler then you'll be blown away at the difference this makes to the performance. There is also enough room for a triple radiator for those who prefer to go down the route of installing a custom loop for even better performance. Unfortunately, the more affordable builds don't come with liquid cooling.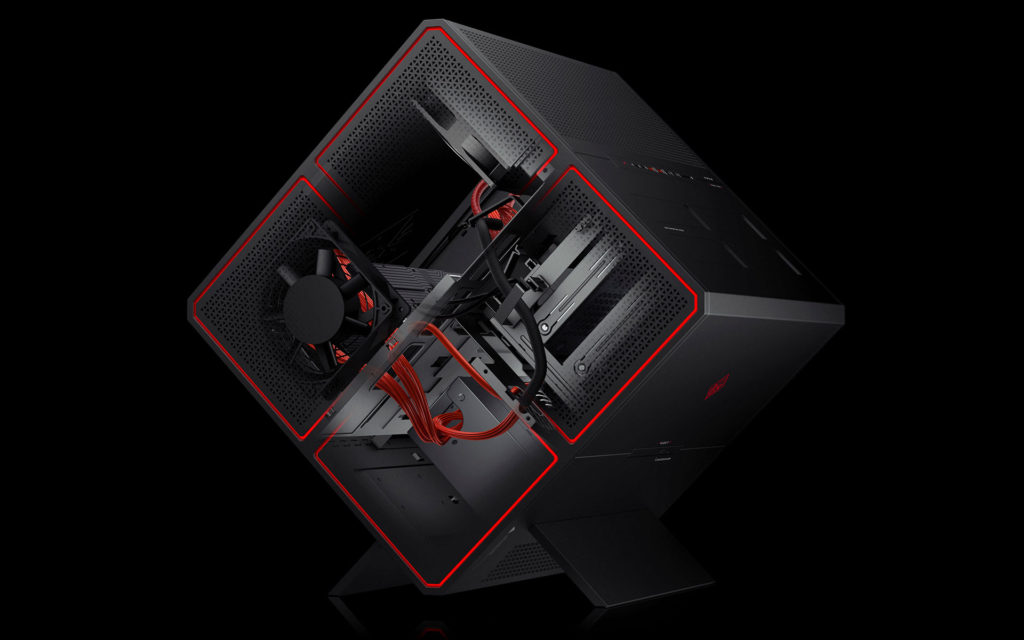 Upgrading the OMEN X couldn't be easier, just pop off the left panel and everything is laid out in front of you. Better yet, because of the angle of the PC, you don't even need to turn it on its side, the design gives you the ultimate workbench! HP went a step further and made sure that every cable is individually labelled (GPU 1, GPU 2 etc.) and the cable management inside the system is magnificent. As someone who spends a lot of time organising cables, I love that the designers took the time to do this.
Behind the bottom panel, there is even a screwdriver and a set of extra screws. This! Speaks volumes. There is nothing more frustrating than upgrading a PC and realising you dropped a screw and have it completely disappear. It also means you won't have to bring a screwdriver around anytime you go to a LAN party. While it's no replacement for a proper screwdriver, it's a handy little gadget to have for a quick fix.
Compared to the likes of Alienware and Razer, HP have never been big players in the gaming scene but the OMEN X is sure to change all that. Starting at €1799 it is pretty steep for a PC, however, buying the same parts separately tacks on an extra €300. For those who prefer to build it themselves or who recently splurged on a PC but love the new look of the OMEN X, you can buy the chassis on its own for €550. While this is more cost effective you will have to organise the cables yourself (That includes labelling them).
Still not convinced? We will be reviewing the OMEN X Desktop (And the curved 35 Display) next month so stay tuned for a full rundown of both products. What do you think of the OMEN X? Let us know in the comments!
Technical Specifications

Processor
Intel® Core™ i7-6700K (4 GHz, up to 4.2 GHz, 8 MB cache, 4 cores)
Memory
32 GB DDR4-2133 SDRAM (4 x 8 GB)
Special features
Liquid cooling solution for processor
Hard drive 1
512 GB PCIe® NVMe™ M.2 SSD
Hard drive 2
2 TB 7200 rpm SATA
Graphics
Dual NVIDIA® GeForce® GTX 1080 (8 GB GDDR5X dedicated, SLI® bridge support)
Network interface
Integrated 10/100/1000 Gigabit Ethernet LAN
Wireless
802.11a/b/g/n/ac (2×2) and Bluetooth® 4.2 combo
Ports
8 USB 3.0
2 USB 3.0 (Type-C™)
1 headphone/microphone combo
1 optical audio out
1 RJ-45
Expansion slots
2 M.2
Video connectors
1 dual-link DVI
1 HDMI
3 DisplayPort
Weight
28.2 kg
Dimensions (W x D x H)
50.42 x 40.6 x 51.53 cm