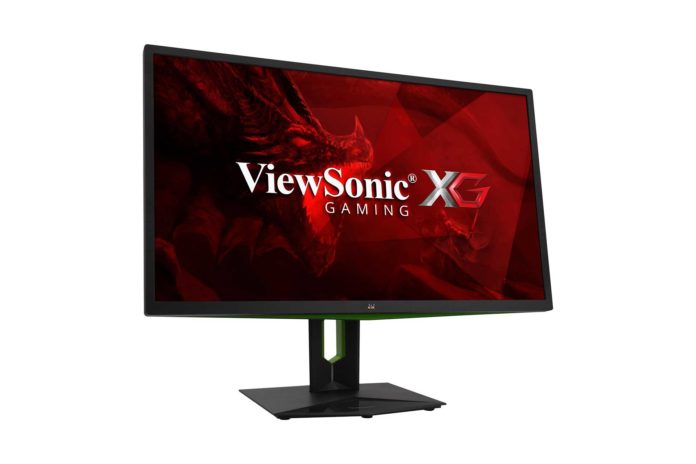 Overview
Design
Specifications and Features
Performance
Conclusion
Overview
A good monitor is one of the most important parts of any gamers setup (PC or Console). I've seen many gamers splurge on high-end graphics cards, a good CPU and RAM only to bottleneck their system with a mediocre monitor that can't take full advantage of their beefy setup.
Design
The monitor is built out of matt plastic with Nvidia-green accents distributed over the housing. The display surface is also Matt and has an anti-reflective coating that any glasses-wearing gamer such as myself will appreciate. The design is centred between the rather unconventional forms of gaming monitors and the clarified appearance of Dell's office displays.
The XG2703 has a tilt angle of 20 degrees. There is a pivot function and the monitor is also height-adjustable. The monitor also has a viewing angle of 178 degrees which is perfect for a late-night co-op sessions with friends, (I'm still a sucker for split-screen multiplayer).
The power consumption depends on the power saving mode of up to 48 watts. The monitor uses an external 90-watt power supply. This is interesting as it's the first monitor I've seen that does this.
On the underside, you will find the inputs for DisplayPort 1.2, HDMI 1.4, a USB 3.0 hub (4 inputs in total) and a 3.5mm jack plug. I highly recommend using headphones or speakers with this monitor as the built-in 2-watt stereo speakers sound tinny and lack depth.
One of my favourite design features is the fold-out headphone stand on the back of the monitor. This feels sturdy and should cater for the heaviest of gaming headphones. The reason I love this so much is that I don't have to unplug my headset anytime I leave my computer. Theoretically, this could also be used for a VR Headset but I wouldn't advise it as I'm sure it's far too brittle for the weight of an Oculus Rift or HTC's Vive.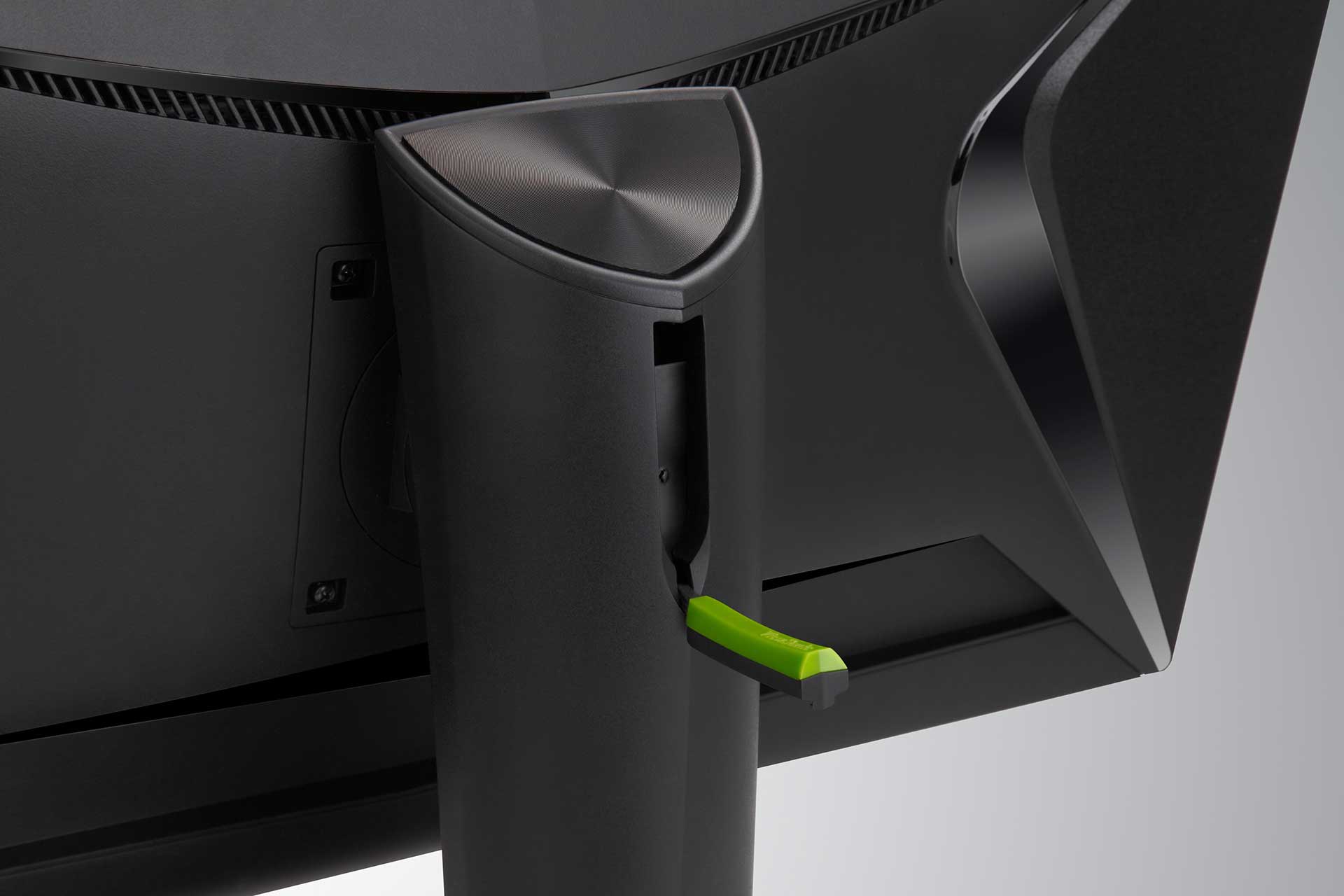 Under the diamond-shaped cable hole is a LED strip that changes colours depending on the screen. The effect is comparable to Philips Ambilight technology. Using the on-screen menu, the effect can also be set to a dedicated colour.
One clear design flaw that I found is that the top of the housing is oddly shaped, meaning that it's difficult to attach accessories like a webcam. There are webcams that can attach to any surface thank to a flexible grip but since the majority of gamers probably don't have one of these it's worth mentioning.
Specifications and Features
No matter what kind of computer I run I will always look for a few things in a monitor. A minimum of 144Hz, IPS-type, 5ms or lower (ideally 1ms) and a minimum resolution of 1920×1080.
Many gamers believe that 144Hz is better because you get more frames but this isn't entirely accurate. The eye can't actually see past 60Hz. The reason why 144Hz is better because it provides better visual rendering on the screen and helps reduce eye-fatigue.
IPS (In-plane switching) is the type of panel used to manufacture the screen. They are known for their great colour accuracy but are more expensive to manufacture than TN (Twisted Nematic) panels. Getting into it more would be a whole new article so just take my word for it that it's good.
Response time is the amount of time a pixel in an LCD monitor takes to go from one value to another and back again. It is measured in milliseconds (ms). Lower numbers mean faster transitions and therefore fewer visible image artefacts.
| | | |
| --- | --- | --- |
| Frequency | 144Hz minimum | 165Hz |
| Display Type | IPS | IPS-type |
| Response Time | 5ms or lower (ideally 1ms) | 4ms |
| Resolution | 1920 x 1080 | 2560 x 1440 (2k) |
Right off the bat, the ViewSonic XG2703-GS ticks every one of these boxes for me and while I would have preferred a 1ms response time 4ms is still lower than my 5ms minimum. It is a high-quality monitor with all the features that a gaming monitor should currently provide.
The monitor offers a WQHD resolution of 2560 x 1440 pixels, it's ergonomic, angle-stable, and uses Nvidia's G-Sync technology from 35 to 144Hz (165Hz through Overdrive) to play smoothly. It has an 8-bit colour depth, the contrast range is measured at just over 1000: 1 and the maximum brightness is around 345 cd / m².
Extensive options make it possible to further lighten dark areas, adjust the gamma curve and even optimise the colours through a 6-axis colour adjustment. The latter function primarily helps in the calibration. Our present test pattern is almost ideally set in the delivery state and covers 100% of the sRGB colour space. The black level is very acceptable for an 8-bit panel.
In a completely darkened environment, the illumination is uniform there with no form of backlight bleeding. There is also a setting to enable a blue light filter in the evening hours or at night. This is a lifesaver and might get added to my list of minimum requirements for future monitors. Many of the gamers I play with are US-based (GMT-5 – GMT-8) so I spend a lot of time playing at night.
The OSD Menu
The OSD (On-screen Display) Menu is a bit annoying to use because Viewsonic has nested the different options. For example, we have to press the buttons seven times to activate the monitor's overclocking at 165 Hz or to switch to 120 Hz with ULMB (Ultra-Low-Motion-Blur).
Since the buttons are located on the side of the monitor and the functions differ from menu to menu depending on the context it's easy to get frustrated. When using the menu I have switched the monitor off, exited the menu and clicked into different settings altogether. A small remote control would remedy this easily.
Where this really comes into play for me is when I'm switching from PC to console, this is especially awkward at night when the side buttons are hard to see. In a perfect world, I would have one HDMI cable plugged into the back of the monitor that I would then plug into whichever device I was currently using. The problem here though is that by doing that I can't reach 165hz unless I use the display port.
Performance
The G-Sync operation has proved itself in practice as completely problem-free. The monitor displays an information window showing whether G-Sync is active or not. The native resolution and the upper hertz boundary are also noted. I would have liked the option to display the currently applied resolution and the output Hertz as well, there is software that can do this on Windows but it isn't as accurate.
The Viewsonic monitor also has a ULMB (Ultra Low Motion Blur) mode that can be used up to 120Hz. G-Sync and ULMB cannot be both active at the same time. Objects in motion act visibly sharper. However, we find a clearly visible trailing effect in the test, for example, the ball in Rocket League.
Conclusion
Overall, ViewSonics Monitor, the XG2703-GS, is very impressive in terms of image quality and ergonomics. The final negative list is short and most of the points are trivial.
The five-button operation on the side of the monitor is cumbersome meaning that switching between a PC or console a chore in itself.
There was no visible tearing thanks to the high G-sync spectrum from 35 to 165 hertz. For most players, the 4 millisecond response time for the gray-to-gray change is also sufficient.
ViewSonics Monitor is not quite as fast as other monitors in the same price range but it represents an optimal compromise between image quality and fast image changes. With a price of more than 800 euros, it is not cheap, but compared to the competition it is definitely worth it.