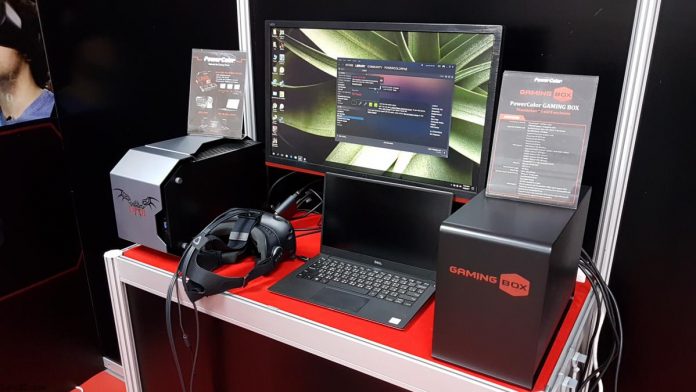 At Computex 2017 in Taipei, PowerColor revealed its new Gaming Box, which will enable the Taiwanese company to expand its dock line for external graphics cards for gaming. Few details that have been shared but as you can see from the pictures it is similar to the original Devil Box. The box can be paired with various graphics cards both in AMD and NVIDIA. During the presentation, it is obvious that PowerColor has declared the winning match of the Gaming Box with either one of its custom RX 500 Red Dragon or Red Devil series solutions.
It was a pity not to have had any closure on the Radeon RX Vega front but clearly in this case for PowerColor is still too late since even AMD has confirmed that they will talk about the new declination of its consumer GPUs only during the SIGGRAPH 2017 scheduled for Late July in Los Angeles.
Like the Razer, Gigabyte, Asus and Alienware models, this new "box" also comes with Thunderbolt 3 and USB Type-C connectivity as well as an integrated PSU. The main purpose of the Type-C port PSU, of course, is to provide power to the graphics cards but it is possible to charge accessories or other devices as well.
Regarding the price, unfortunately, there is still no solid information and this is also one of the most important doubts about the new Gaming Box. We have now seen how the Devil Box is sold at an expensive price of €450 without any graphics card so it is possible that PowerColor will offer the Gaming Box for about the same.