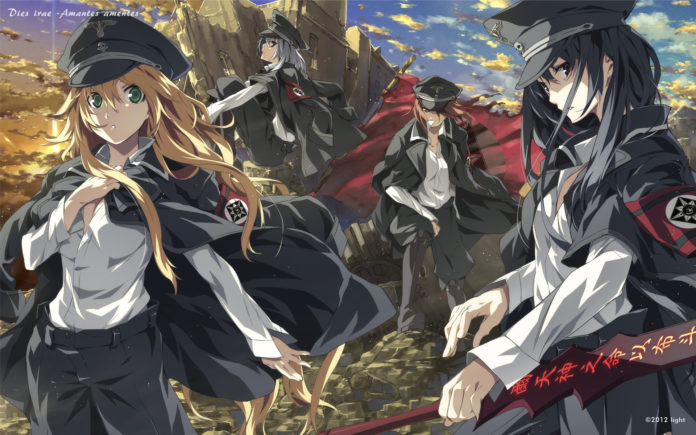 Dies Irae originally came out in 2007 in Japan as Dies Irae -Also Sprach Zarathustra-. After a number of re-releases, the completed version of the story, titled Dies Irae ~Amantes Amentes~ was released in 2012. In 2015, a fan funding campaign was launched to get a Dies Irae anime produced by GENCO which will air later this year to the overwhleming joy of its thousands of Japanese fans, who raised more than 30 million yen in 24 hours alone. For English speaking fans, the idea of getting to read the highly acclaimed visual novel was little more than a pipe dream.
Visual novels are rarely, if ever, officially localized and usually rely on the efforts of fan groups or small distributors to localize and publish them digitally. Because of that, the process of localization for visual novels will often take an especially long time. This is more so the case for Dies Irae, as it's an especially long visual novel clocking in with more than 60 hours of content.
Not to be intimidated, a small group of translators and localizers–Conjueror, ReadingSteiner, GundamAce, GareJei, and Quenyin–launched a Kickstarter to localize the beloved visual novel in December 2016. Making $224,180, it was beyond successful and even allowed them to reach some of the stretch goals. Now, 6 months since the Kickstarter, the translation is out and available on Steam for free. The Kei & Rea and Kasumi & Marie scenario stories cost $20 each.
May 1, 1945- Germany.On the eve of Berlin's collapse, a group of men and women carried out a certain ritual. To them, suffering defeat in the war meant nothing. If anything, the countless lives lost in the battle served as a catalyst to their sacrificial ceremony. Whether or not their attempt bore fruit ― not a soul knows. Following the war, they faded from sight, mind, and eventually into the realm of myth. 61 years later ― Japan, 2006. Ren Fujii, a young man attending high school in Suwahara City, finds his friendship with his old buddy Shirou Yusa shatter to pieces following a certain incident, ending in a vicious fight that sees Ren hospitalized for two months.The season shifts from autumn to winter ― to the dawning weeks of December, with Christmas on the horizon. Having lost his best friend, Ren leaves the hospital with the intention to rebuild his new life without Shirou. But even that plan soon falls apart. Irrationality that defies the realm of common sense begins to assault and devour the city. Abnormalities soon seek to destroy everything Ren holds dear before his eyes with overwhelming violence. He must change, even if it means crossing the boundary between the ordinary and the extraordinary. His desires are hardly anything grand. All he wants is to return to those days of old. Back to those days filled with simple, everyday joy. (via Kickstarter)