AMD has finally released the specs for their long-awaited Vega series of Graphics cards which they hope will rival Nvidia's higher-end models.
For years AMD has been content to be the main supplier of GPUs to budget gamers while letting Nvidia take the market for 1440p and above. But now AMD has decided the time is right to release the next wave of high-end GPUs. The AMD Vega series will be the first high-end graphics cards that AMD has released since 2015 when they released the Fury X.
With the specs of these cards being teased for months now, AMD has finally confirmed the price and release date for the Vega series of GPUs. They will be launching 3 different Vega cards including one that is liquid cooled.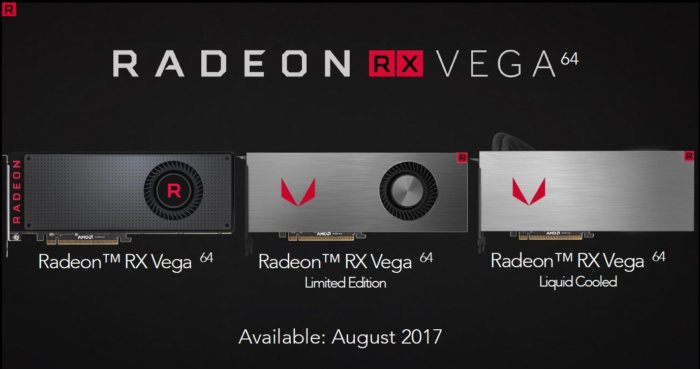 The Radeon RX Vega 56 (56 compute units) will set you back a cool $399.The Radeon RX Vega 64 air-cooled model will cost $499 while the liquid cooled Vega 64 will cost $699.
Overview of each card
The Radeon RX Vega 56:  It'll have 56 compute units with 3584 stream processors, 410 Gbps memory Bandwidth, 8GB of HBM2 RAM, 1156 MHZ Base clock with a boost clock of 1471. It will have 10.5 Teraflops of computing power.
The Radeon RX Vega 64 Air Cooled Edition: The Vega 64 will have 64 compute units, 4096 stream processors, 8GB of HBM2 RAM and 484 Gbps of memory Bandwidth, 1242 MHZ base clock with a boost clock of 1546 MHZ. It will have 12.6 Teraflops of computing power.
The Radeon RX Vega 64 Liquid Cooled Model: It has the same 64  compute units and the same amount of stream processors as the air cooled edition. The Base clock has been increased thanks to the liquid cooling. it now has a base clock of 1406 MHZ and a boost of 1677 MHZ. It also has 8GB of HBM2 RAM. It has slightly more computing power than the air cooled model, with 13.7 teraflops of GPU power.
AMD is also set to release a limited edition Radeon RX Vega 64 with a brushed aluminium finish. They will ship these to customers until they run out of stock.
Are you excited to finally get your hands on the Vega series of GPUs? And do you think the red team finally have a card to challenge the likes of the Nvidia 1080Ti? Let us know in the comments below.