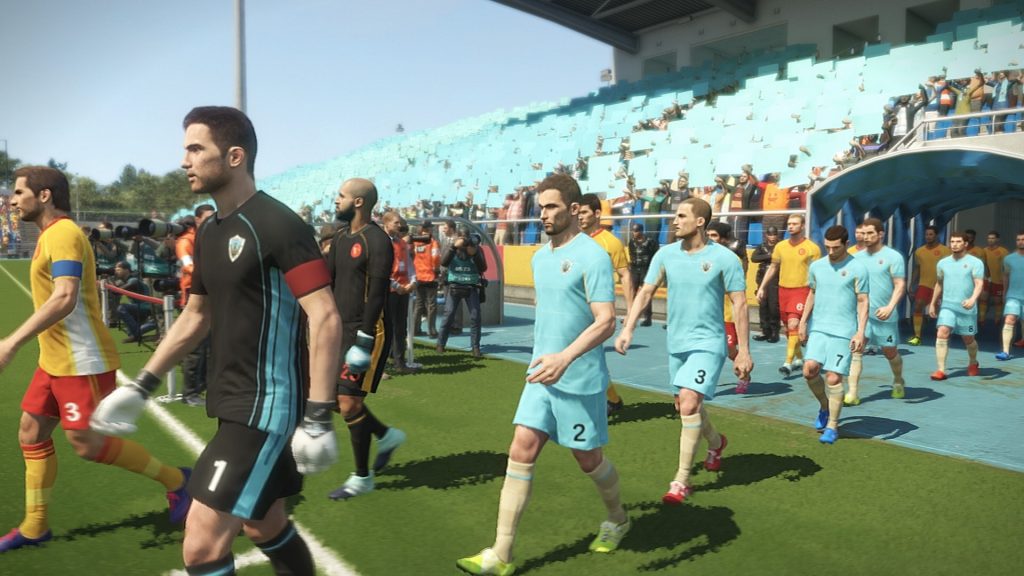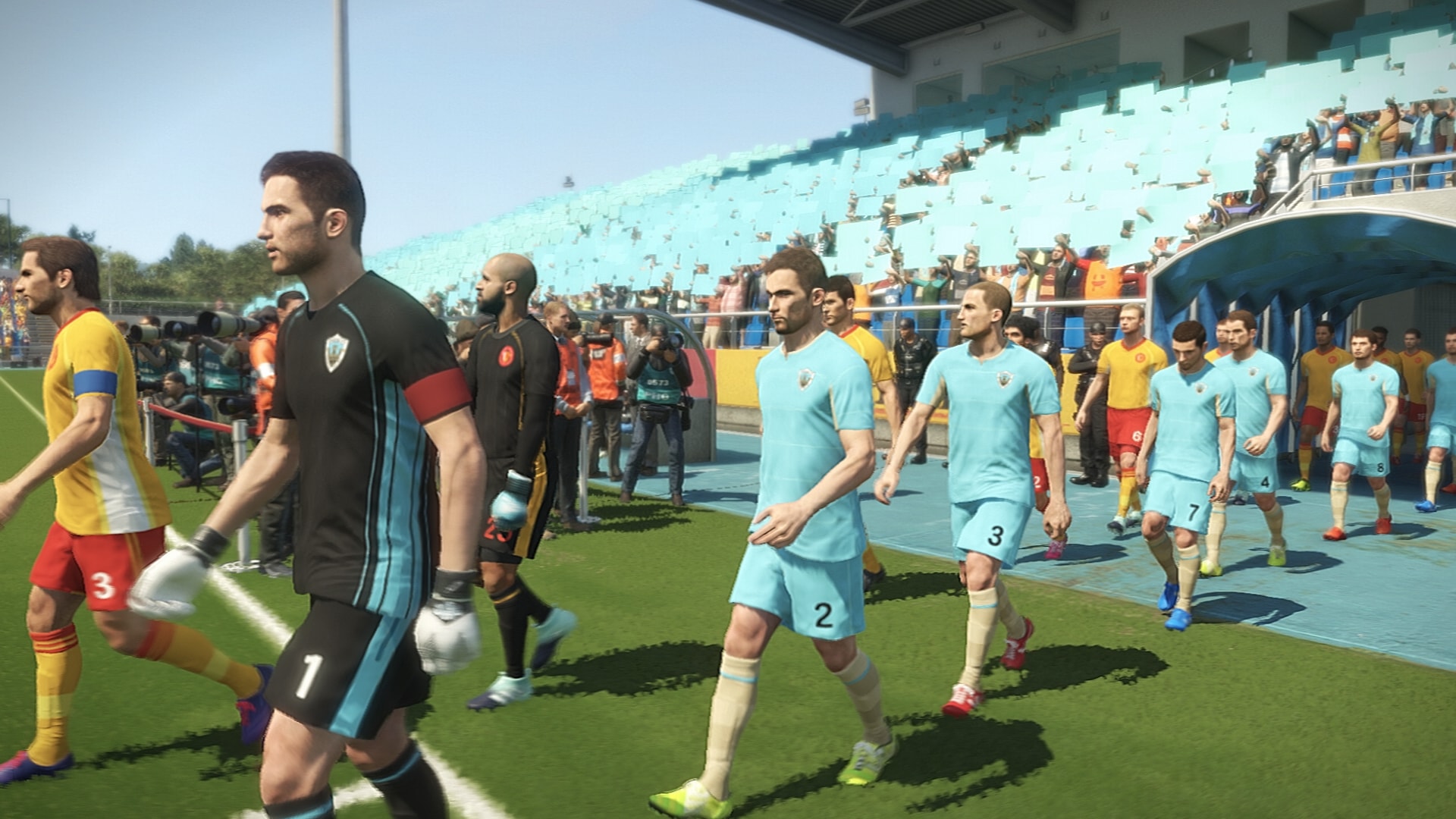 There aren't any other genres of game where a laundry list of complaints and notable shortcomings are followed by strong acclaim. So it is with various Pro Evs throughout history.
Just That Good on the Pitch
Pro Evolution Soccer 2018 is another in this illustrious line. The soundtrack is 'meh', the commentary is woeful, the licensing seems to be getting worse but on the pitch, where it counts, it's almost infallible. The demo version left fans and neutrals a little scared, frame-rates were dodgy and animations frequently went haywire. However, aside from some minor fps burps, it runs very well indeed and preserves 'what association football feels like' rather than what it looks like, as EA does so well.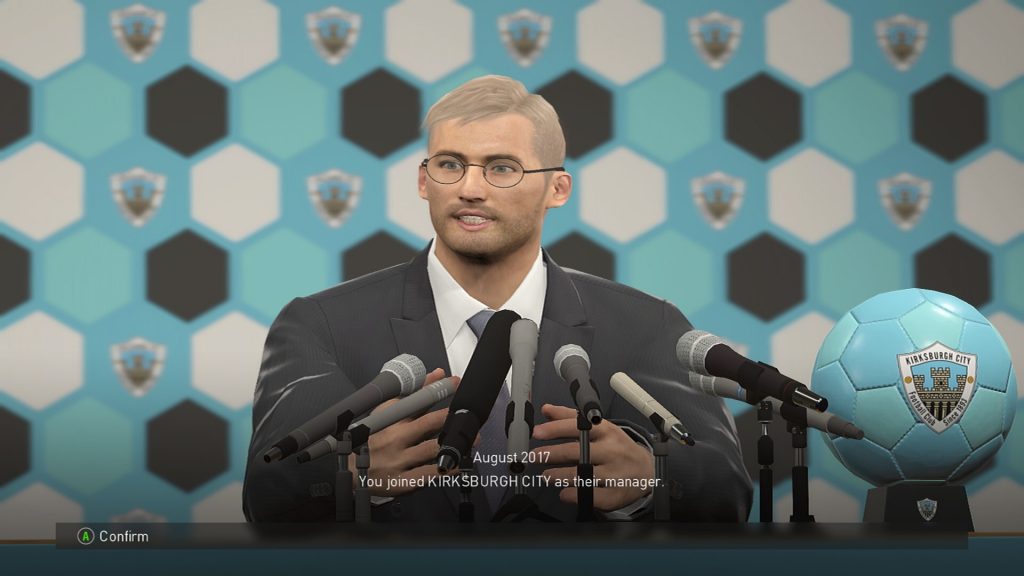 This feeling comes about through the game's attention to detail on the digital turf coupled with a robust use of momentum and demanding dribbling systems. Pro Ev 18 is a master at making you work for everything; the scrappy goal you defend with your life, the possession spells, the set-pieces – nothing is for free.
Tactically Sound
The game wants you to appreciate the team-mate positioning, the freedom of the ball, the interruptibility of the animations and the heft of the centre-halves. Pro Ev 2018 is a little slower than 17 but never feels sluggish – the pace of players and the ball has been tweaked but the responsiveness is still there. Goalkeepers have finally reached a level where they are no longer a massive liability, however, they still parry rather than catch on most occasions.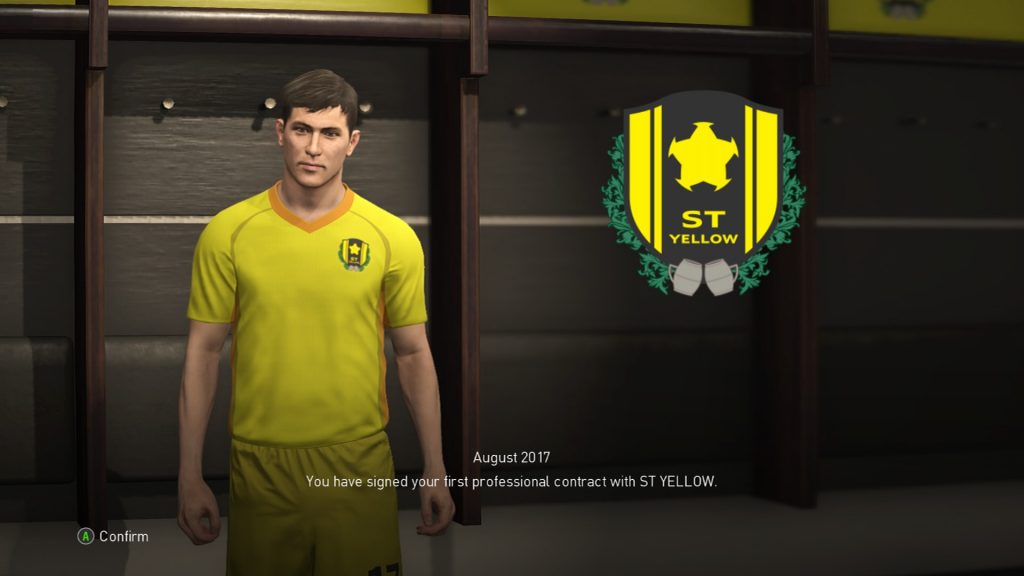 Context-sensitive animations have been overhauled. Each touch or improvised lay-off seems like something you would see on the pitch, every shot skews where your balance and timing say it will and this makes for incredible football no matter how you choose to play. PES doesn't often lack for tactical variety – this one lives for it. The target man in Pro Ev 2018 is as devastating in the right hands as Barcelona's swift tiki-taka, a poorly chosen defensive line height can see you two down after ten minutes and micro-tactics/strategy changes during play actually have an effect. The engine around which a player plays the game is simply superb.
League Mastery
Despite little changing off the pitch, any mode is worth playing when the game itself is this engaging and satisfying. The Master League doesn't get any fresh content beyond some menu streamlining and elaboration of the 'team role' and 'chairman's trust' systems yet the rags-to-riches journey will be wildly different depending on how you choose to progress.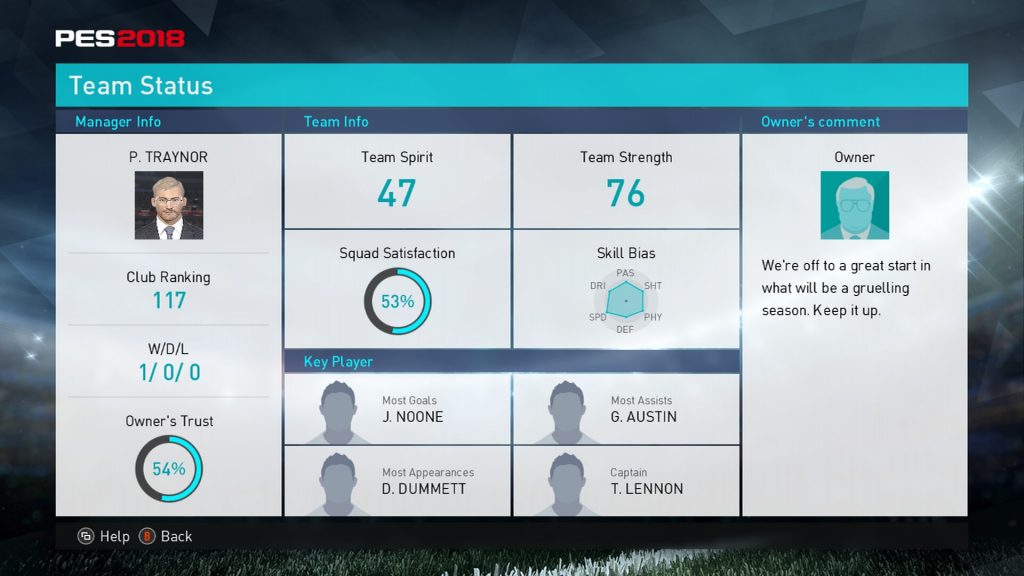 Picking the ML Default panel is still the puritan's choice. The jobsworth squad has only one real tactic at first, the youth team can add pace or technique followed by a few bargain-basement signings or a struggle to save for a superstar. For this reviewer, the immersive soccer RPG of Master League 2018 is the right balance of difficulty and choice.
For those who pride themselves on ML excellence, there is a 'challenge mode' which adds greater chairman pressure, makes players restless or moany a lot more frequently and make signing players that bit harder. 'Challenge mode' can seem a little unfair at first but forces the player out of their tactical and strategic comfort zone, week-in, week out.
Mode 'Meh'-ness
Be A Pro is a mode with huge potential thanks to the engine but seems to have little done to polish it up. The mode is essentially the same except you can now beg the gaffer to try you in a certain position. Be A Pro, however, is still worth your time. That sense of hard-work, precision and patience paying off is amplified here as you need to play within the team's system to flourish. An inability to gel with the players around you is nearly fatal, game-time will dry up and you'll be on loan in the PES League before you know it.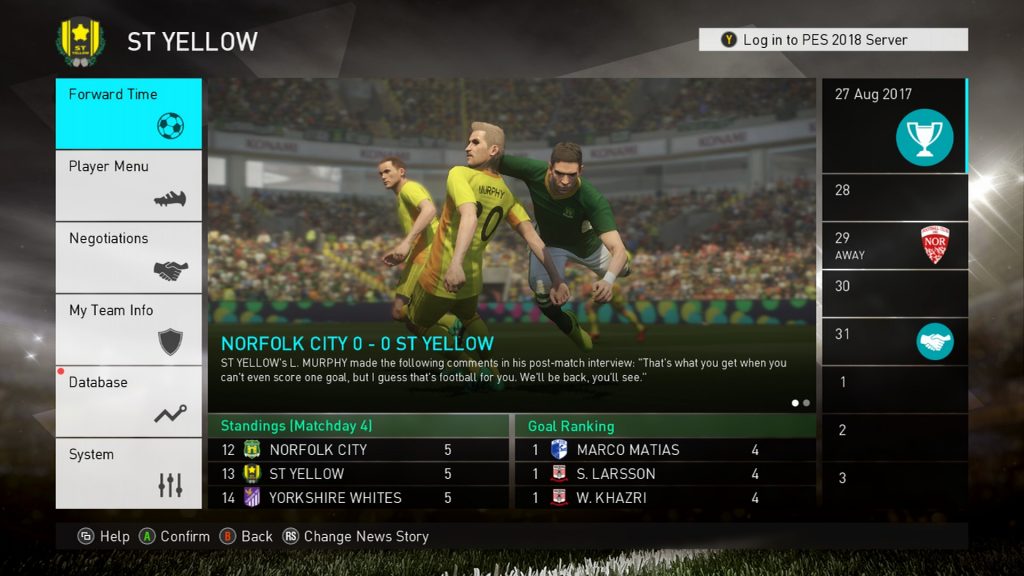 Another mode which long-time players will love is the 'Random Selection Match'. The player/s pick a base team for jerseys and stadium, select four sides to bias the random selection and then random chance grants you a squad. There is a bit of horse-trading before each game to add some intrigue but morphing a squad into a cohesive unit for one game is a fine challenge which leads to matches playing out a little differently than others, exploiting individual skill over harmonious team-work.
MyClub returns with nothing much-added bar a 3v3 mode. 3v3 brings three gamer's worth of players into your starting XI and each player controls only their contributions to the squad. It's a nice take on the mode that will surely see a lot of arguing amongst friends. 3v3 isn't enough to drive fresh players to MyClub but for those who enjoy the mode, it's something.
Add to this the continuing poor quality of Konami's online services and MyClub is tough going. There is a lag that shift the gameplay style while online. Passing wasn't effective, defending against dribbling was impossible. Server lag undermines the entire online experience.
License to Ill
Licensing issues have plagued the series for over two decades now. While many of us were happy enough to play against Man Blue or South West Reds, the kits are still largely unrelated to their real-life counterparts. This has been a feature since Pro Ev 2016 and really hammers home the disparity between the big two in this area. Champions League and Europa League presentation is slick and stylish, exploiting these licenses as best they can but facing North East London in the Champions League group stage yanks the immersion away, undermining the doubtless millions that Konami handed to UEFA. For those unsure of how they would fare without Man United, there is a comprehensive data editor and even option files (PC and PS4) to replicate the missing kits etc.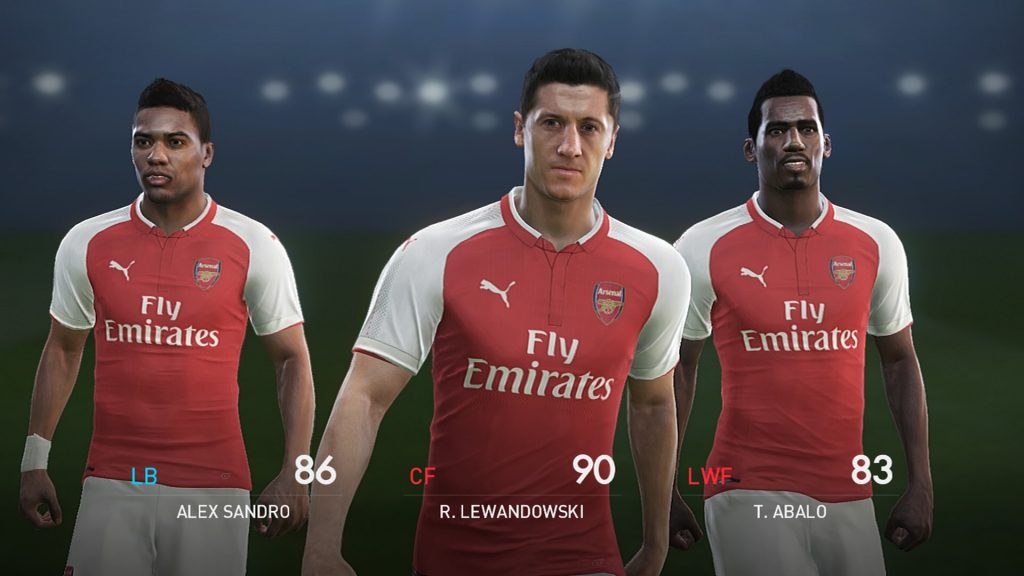 While many players still see the accoutrements of the FIFA series as unnecessary to the experience, championing the game engine itself and the satisfaction it brings, many gamers prefer the 'realism' and depth of licensing that EA's offering has. While PES 2018 is, without doubt, the King on the pitch, it's a shame that some will be turned off by their affairs off of it.