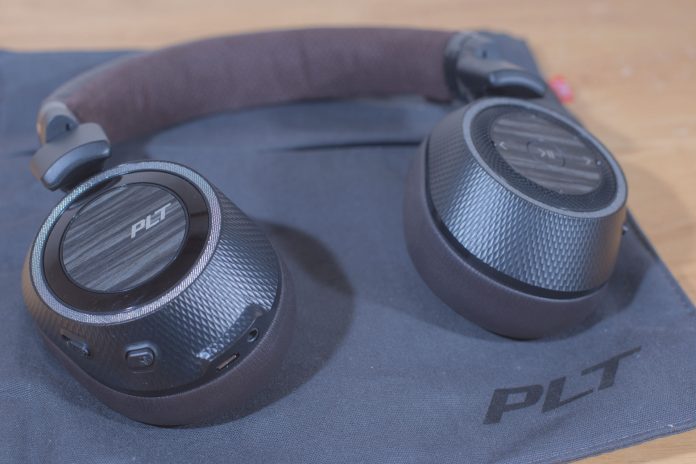 Overview
Design
Specifications and Features
Performance
Conclusion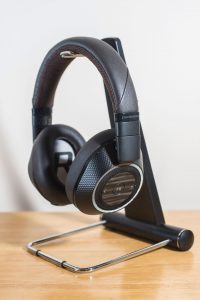 1. Overview
When it comes to finding a good pair of headphones, most of the choices for gamers are focused solely on multiplayer chat in mind. Many, such as the Astro A50 that we reviewed last year, has a non-removable mic and a bulky feel. The Astro A50 is probably one of my favourite headsets to date, and usually, my first choice when I play Overwatch or Dead by Daylight. However, I am also a solo-gamer at heart. I love nothing more than rambling the wastelands of Fallout 4 or exploring the many crypts of Skyrim. I don't want to wear a bulky headset for hours on end and I don't need a microphone! This is where the BackBeat Pro 2 from Plantronics comes in.
Straight off the bat, it's a light wireless headset with great audio. While it does have quite a few controls, each one serves a purpose and is surprisingly easy to operate while wearing the headset. It also comes with a padded bag, a micro-USB cable for charging and an audio cable for those who don't want to use the wireless functionality.
2. Design
The second edition of the BackBeat Pro looks great. Up until now, the BackBeat series consisted mainly of headsets with a cool and techy character. With the BackBeat Pro 2, it feels like Plantronics has completely changed its strategy.
The BackBeat Pro 2 has a sophisticated design with a clear business appearance. It wouldn't look out of place in an office. The material use is wonderful. Where manufacturers usually use a limited set of materials for appearance, I'm really happy to see a broad of different materials being used.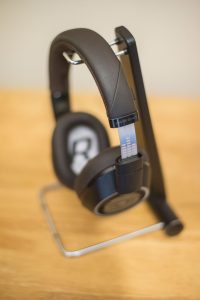 Starting with the headband we can see that it's made up of a leatherette exterior with a padded nylon mesh underneath for comfort and breathability. Instead of a big logo somewhere, there is a small label with the new PLT logo on the edge of the headband. The placement is beautifully minimalistic.
One unique feature is that the height adjustable headband uses an equaliser print on the steel so you can remember what your size is.
The ear pads are constructed from the same leatherette material used for the headband. They also use a type of memory foam that moulds to the shape of your head and helps with long-term wear. Each ear pad is branded with an "L" or an "R" to indicate which way the headphones sit. As someone who is particular about this, I find this a brilliant design choice.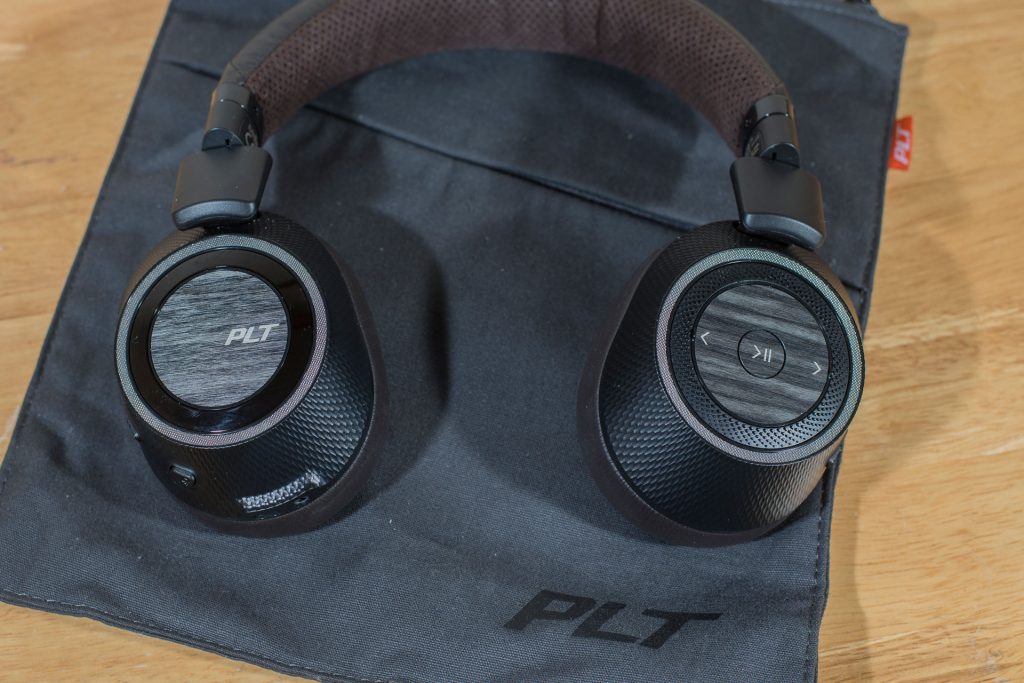 The exterior housing is constructed of a durable plastic and the controls are finished with a grey oak wood veneer. The left panel contains all the music controls. The centre button is play/ pause, the surrounding button is the track switch and the ring around the wood controls the volume. Behind the wood-veneer button is the built-in NFC tag for pairing devices.
The button on the right panel, branded with the "PLT" logo, can be used to answer calls or check the battery status. There is also a micro-USB port for charging the battery and a 3.5mm port for an audio cable. There's also a power / Bluetooth button and a mute button for the microphone.
3. Specifications and Features
The BackBeat Pro 2 features 40mm dynamic drivers. It uses Bluetooth 4.0 with all standard protocols. Strikingly enough, it is missing aptX support, however, this is not necessarily needed with Bluetooth 4.0. In contrast, the headset can simply play high-resolution audio.
Talk/standby time
Up to 24 hours talk and listen time; 6 months standby
Bluetooth v4.0
Headset/Hands-Free Pro le HSP 1.2 and HFP 1.6 (Wideband HD Voice); Class 1 BT Radio
Audio pro les
Advanced Audio Distribution Pro le (A2DP), AVRCP, AAC
aptX Codecs
Classic; Low latency
Range
Up to 100 m/330 ft with Class 1 BT Transmitter
Voice alerts
Enhanced voice alerts announce talk-time, mute, and connection status and more
Languages
Spanish, French, Italian, German, Swedish, Norwegian, Danish, Russian, Mandarin, Cantonese, Korean, Japanese
Driver diameter
40 mm
Microphone
Boomless dual microphone with DSP
Frequency response
20–20,000 Hz
Sensitivity (dB SPL/1mW)
93
Impedance (Ohm)
Battery capacity
680 mAh
Battery type
Rechargeable, non-replaceable lithium ion polymer
Charge time
3 hours for full charge
Multipoint technology
Stay connected to two phones and answer from either one (2H2S)
Weight
289 g
Applications
Plantronics Hub application on desktop, iOS and Android
Operating and storage temperature
32°F–104°F (0°C–40°C)
Active Noise Canceling
One of the highlights of the Plantronics BackBeat Pro 2 is the active noise cancelling. With the help of microphones in the ear, the drivers produce backlash through the music to suppress noise from the outside. This blocks 70% of the noise in a loud environment so it works very well.
An additional advantage is that noise cancelling can also be turned on without listening to music. This is great for those who want to focus in the office and don't want to listen to music. In addition, there is also a mode called "Open Listening". This setting allows you to listen to music while also listening to external sounds that come in through the mic.
One of the most controversial features smart sensors. The smart sensors respond when you put on or take off your headphones. putting on your headphones will resume paused music or answer an incoming mobile call while taking off your headphones will pause any music that's playing.
The problem, I find, is that it only works with a very limited number of apps, iTunes on the Mac and PC and androids built-in audio player. I would have preferred a broader range of options or even a list of compatible apps. I haven't yet found a video player that makes use of the smart sensors, which I would make great use of. I can't count the number of times I get interrupted right in the middle of the best scenes from Game of Thrones.
Furthermore, when I was watching something and the headphones moved slightly, the sensors would activate and iTunes would start randomly playing. Not ideal. In the end, I deactivated this feature and am instead using the spacebar like a homely peasant.
 Conclusion
The Plantronics BackBeat Pro 2 is one of the best headphones I have gotten my hands on in a long time. Excellent design combined with amazing battery life makes this my personal recommendation for anybody looking for a pair of good headphones for gaming, or pretty much anything involving audio really. The only downside is that you are limited to pairing it with two devices at any one time, and personally, I would pair it with my fridge if I could.
The deciding factor on this is wearability. I can wear most headphones, including my beloved Astro A50, for about 2 hours before they become annoying. The BackBeat Pro 2 stays comfortable far beyond that. Its light and ergonomic build makes this the perfect solution for pretty much anything, especially when travelling light.
The BackBeat Pro 2 is available now and you can pick it up Here for €210 (£189.00). If you are interested in checking out our Plantronics Gamescom coverage head on over to the article here.