A new pair of gaming glasses created by Numskull Designs has been made for PS4 users that aim to reduce how strained your eyes feel following a long gaming session.
We're normally told that not having long gaming sessions is the only fix for eye fatigue. But let's face it, that's very unlikely to happen. So now thanks to Numskull Designs you can have all the long gaming sessions you desire thanks to their new glasses.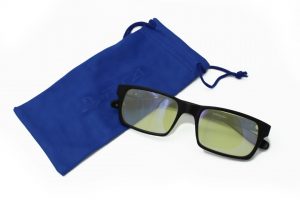 Their new PS4 glasses have been designed to reduce eye strain, blue light, and UV glare all while giving you a competitive edge.
These glasses have a lightweight frame with PS4 branding and include a blue carry pouch and a cleaning cloth. The amber lenses are designed with the specific purpose of reducing eye strain. The amber lenses also filter blue light from the screen to protect your eyes from potential damage.
PLAY LONGER:                                                                                                 Lightweight and stylish frame for prolonged comfort during marathon gaming sessions.
IMPROVED VISION:                                                                                                Helps deliver sharper detail, increases contrast perception and shifts colour spectrum for visual efficiency.
PLAY HARDER:                                                                                                    Reduces UV glare and blue light which helps fight eye strain to give players a competitive edge.
If you've never heard of Numskull designs then let me tell you a little of their backstory. It was founded back in 2012, and since then the company has created some of the best selling products, such as the Resident Evil 4D candle, ugly Xmas sweaters, gaming socks and baubles. Numskull also works with some of the biggest names in the entertainment industry including Marvel, Disney, Sony, Bethesda, Capcom, Sega, 2K games, EA and many more.
To find out more info about Numskull, please visit: www.numskull.co.uk.
For more information on these glasses please visit: www.numskull.co.uk/ps4-gaming-glasses.