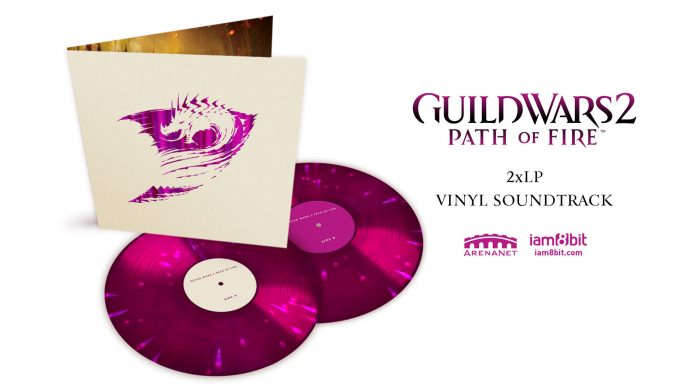 The new Guild Wars 2 expansion Path of Fire released recently and the fans agree with the high scores. The biggest addition the new expansion broght (aside from the massive explorable area) is MOUNTS! Seriously though, every MMO has them and it maskes it SO much easier to cover ground, and there is a lot of it in the Path of Fire. You can check out our full review for the game here.
The acclaimed publisher and developer of GW2, ArenaNet has partnered with iam8bit to release the Guild Wars 2: Path of Fire orchestral soundtrack. Composed by the reknowened Maclaine Diemer, pre-orders for the collector's edition vinyl of Guild Wars 2: Path of Fire's soundtrack featuring amazing holographic album art – will go live later today.
"It was an incredible honor to work on the soundtrack for Path of Fire, the latest Guild Wars 2 expansion", said Maclaine Diemer, Composer. "Let's focus on that last word: expansion. I think it sums up the idea at the core of Path of Fire very nicely. This expansion is all about wide open spaces, exploration, and travelling to distant horizons. The music for Path of Fire reflects the mystical desert plains and bustling merchant cities we now find ourselves exploring."

"The music is often light and airy, like the breeze washing over a sand dune. Sometimes it takes a turn toward the mysterious, with bold brass chords moving in parallel motion in a key that is neither major nor minor. Occasionally it becomes more energetic, with driving percussion and soaring strings, lifting you as you fly over a lush oasis, perhaps on the back of a Griffon. And, of course, it often becomes menacing and heavy as we face the armies of our enemies, the rotting Awakened, the crystalline Branded, and the armored Forged."
Pre-orders are now open for the vinyl collector's edition Guild Wars 2: Path of Fire soundtrack on iam8bit.com. If you prefer to get the digital edition instead you can pick them up from any of the online retailers below:
iTunes:
Amazon:
Are you playing Guild Wars 2 or its new expansion? Tell us below!