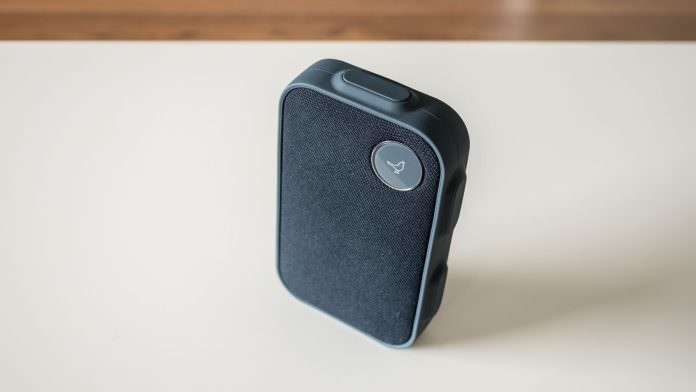 Bluetooth speakers are a dime a dozen lately and with the summer just around the corner, many people are keeping their eye out for the perfect beach companion. The One Click Bluetooth Speaker from the Danish sound specialist Libratone is an outdoor speaker that not only sounds good but looks good too!
The Libratone One Click is slightly larger than your average book, measuring 12 × 4.1 × 20.5 cm. It weighs just under 1kg and can easily fit into a handbag or small backpack. The frame around the speaker slides off to allow for interchangeable hooks. You have 2 metal hooks that can hold a carrying strap and one rubber lock-style hook which is useful for hanging the speaker in most places.
The speaker comes in four colour variants, Caribbean Green, Cerise Pink, Cloudy Grey and Graphite Grey. The latter is the version we received for testing. The Libratone logo at the front looks flashy but actually has a more practical purpose. The circular badge doubles as a touch-sensitive control for adjusting the volume, pairing devices and pausing music. It is hard wearing and won't get easily damaged. The large sides are covered in front and behind with a tightly woven robust fabric.
On the rear of the speaker, the manufacturer has placed the power button. In addition, hidden beneath a rubber flap is a micro USB port for charging and a 3.5mm headphone jack for those who don't wish to use the Bluetooth functionality. For anyone who lives in a country where you might get a random downpour in the middle of a sunny day, this is a nice feature.
The Libratone One Click generates a 360 degree sound in it's standing position. In a social situation, this means that everyone will hear the music easily. Even when lying down, the One Click sounds amazingly good. The mids are strong and the bass is surprisingly good due to the small size. You can also pair a second device and use them both together.
| | |
| --- | --- |
| Dimensions | 12 x 4.1 x 20.5 cm |
| Colours | Caribbean Green, Cerise Red, Cloudy Grey, Graphite Grey |
| Connection | Bluetooth 4.1, 3.5mm AUX |
| Driver Units | 1 x 3″ Woofer, 1x 1″ Tweeter, 2x Passive |
| RRP | €199 |
The Libratone One Click is a great choice if you're looking for an outdoor speaker with plenty of portability. The sound quality is very high, especially in the middle volume range. This is in addition to the 360-degree audio which will be very welcome in a small group of music lovers. The ability to swap out different straps and hooks is a favourable feature as it will suit the needs of many different people.
The speaker sells for €199 which is a good middle of the road price point. It isn't without its issues, however. The touch-sensitive control can be awkward to use at times and the Bluetooth range is disappointing. This isn't an issue if your right next to the speaker but it will cause problems if you want to partake in any activities that involve movement and don't want to leave your smartphone down while you do.
Overall, the Libratone One Click is a good choice for anyone looking for a speaker but who doesn't want to pay out a huge amount of money. It definitely isn't the cheapest Bluetooth speaker on the market but it comes loaded with great features that give it an edge against more expensive speakers.