[EDIT: According to Earth Atlantis devs, the screen tearing issues are no more on PS4 with an update also on the way for Xbox One.
"Thank you for your review. We have already fixed screen tearing problem. The update is now available for PS4. Coming shortly for Xbox One. 🙂"]
A bullet hell game with no Sci-fi setting or basis what so ever? How on earth would that work? Quite well actually! Head Up Games and Pixel Perfex bring us the underwater robot hunter 'Earth Atlantis'. Crossing the paths of multiple sub genres such as platformers, bullet hell and side scrolling metroidvania, Earth Atlantis just works tremendously.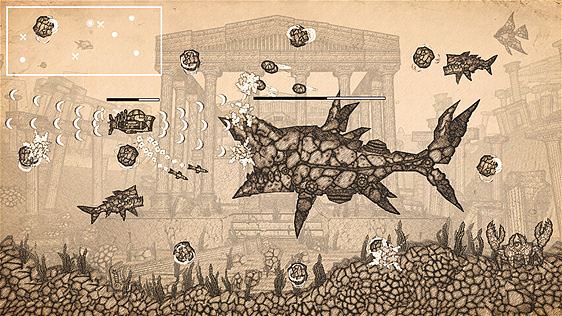 I'm Big, You're Little
For all its chilled out vibes and unique style covers an unforgiving boss rush mechanic. Whilst small enemies and hoardes (or schools) of robotic sea life come at you and drop power ups and health, the bosses are just tanks. It takes a lot to take these bad boys down, even as players unlock new submarines with better weapons Earth Atlantis stays one step ahead.
Another harsh reality of Earth Atlantis is being booted back to the start of a level with no power ups. Although one appreciates the challenge the developers are trying to setup, I found it just to be a little bit harsh. A checkpoint or two wouldn't harm anyone now would it?
Is It OK to Kind of Like the Punishment?
Whilst this title can be intimidating and infuriating to the point one nearly launched his elite controller, the pay off is brilliant! Especially when one builds up to a maximum powerups with various forms of firearms firing from all angles.
Navigating through the games map is one of twists and turns requiring players to keep their whits about them. One found it quite easy to corner his submarine and get bombarded. The game is built on one large map that opens up as players progress which is a lovely touch. This writer did honestly grab the vibe that we was playing out a game on a piece of electronic parchment!
Tea Bag Paper Staining for All
The most striking part of this game is the presentation, it really is a work of art and stands out from the croud! Earth Atlantis depicts a underwater dystopian future through parchment style sketchwork. Think Da'vinchi but robot fish and an underwater statue of liberty. Whilst playing on Xbox One X one did notice some horizontal screen-tearing which was very surprising given the hardware [Fixed]. But mostly the unity engine behaves.
The menu system isn't much to talk about, only because it contains a handful of options to get into the gameplay. So no problems there. The soundtrack is chilled and tense all at the same time, which is an amazing achievement! The OST subconsciously draws players in and oddly enough, helps players time shots and dodge enemy fire. Not a stone has been left unturned.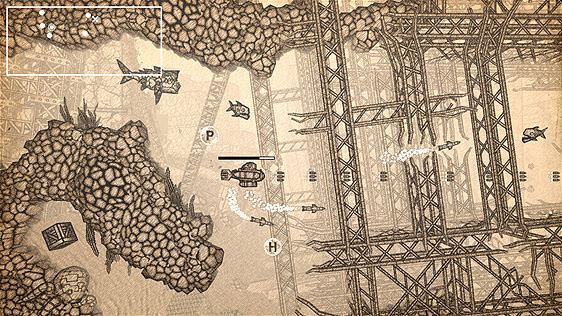 Verdict
Whilst the OST and graphic style of the unity based Earth Atlantis sells the game on multiple levels, technical issues such as screen-tear was a real shame to see [Fixed]. And although the pay off during gameplay is worth the plunge, a couple of solid checkpoints would have been nice.
Formats: Xbox one X (reviewed), PS4, Switch and Steam
Price: £11.99 / €13.69, currently on sale £9.59 / €10.95
Publisher: Head Up Games
Developer: Pixel Perfex
Release Date: 01/06/2018
Age Rating: PEGI 7+
Review copy provided by publisher