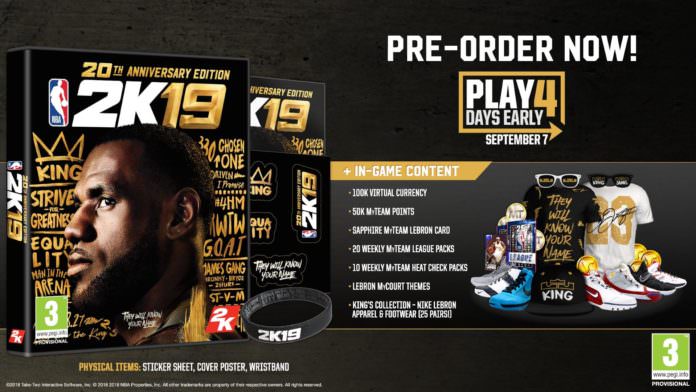 2K has confirmed the cover artist for the for the NBA 2K19 20th Anniversary Edition will be  LeBron James of the Cleveland Cavaliers.
Alongside LeBron will be a composition of words personally chosen by the NBA Great. Each phrase contains a special meaning to James, including "Strive for Greatness," "Driven," and "Equality."
"It's humbling to be on the 20th anniversary cover of a game I've played and loved since I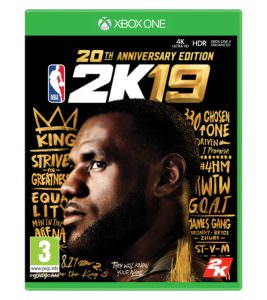 was a little kid," said James. "We were able to do something really unique for the cover that represents everything that drives me and inspires me – from my family to where I come from and words I live by. I'm honoured my journey can be part of this special time in 2K history and I'm excited for fans to see it."
As always with special editions of games, you do get some bonus swag that those who buy the standard edition won't get.
The NBA 2K19 20th Anniversary Edition includes the following digital items:
100,000 Virtual Currency;
50,000 MyTEAM points;
20 MyTEAM League Packs (delivered one a week)
Sapphire LeBron James MyTEAM Card;
10 MyTEAM Heat Check Packs (delivered one a week beginning at the start of the NBA season)
5 LeBron-themed murals for MyCOURT;
LeBron MyCOURT design;
King's Collection – Nike LeBron apparel & footwear (25 pairs!)
Physical Items include:
LeBron NBA 2K19 poster;
NBA 2K sticker sheet;
Custom Wristband featuring LeBron's chosen words.
Those who buy the 20th-anniversary edition will receive the game 4 days early as well.
This will be the second time that LeBron James has featured on the cover of an NBA 2K game. The NBA 2K19 20th Anniversary edition will be available 7th of September, 2018, in both digital and physical formats for an SRP of £84.99 on Xbox One, PlayStation®4 computer entertainment system, and digitally on Nintendo Switch and Windows PC.
The NBA 2K19 Standard Edition releases 4 days later on the 11th of September 2018.