Gamers, gaming enthusiasts and aspiring game developers unite; it's nearly time for Dublin Games Summit. Being Ireland's newest and most dedicated industry standard meeting event for gaming professionals, Dublin Games Summit is the place to be if you're looking to spend an exciting day out in Dublin's City Centre chockfull with panels, meetups, and network launches presented by a huge range of experts working in both the international and Irish gaming industry.
Commencing on July 19th 2018, Dublin Games Summit will take place in Dublin's stunning Alex Hotel, featuring an array of exclusive gaming talent from all over Ireland and beyond. There will be a grand selection of start-ups and developers discussing how they have made their mark in the global gaming market as well as some thrilling evening events and on-site activations to get your gamer heart rate pumping. And those are only a few delights among the mixture of diverse attractions at this upcoming celebration of video games.
With Ireland thriving more and more in games development each year, the number of individual industry developers and professionals are continuing to increase radically. The Irish software company, Havok, is one of these prime examples and have since been developing software for over 150 games such as the popular Elder Scrolls series, Half-Life 2, and Fallout 3. Luckily enough for any die-hard Microsoft fans out there, Steven Collins, the co-founder of Havok who are now partnered with Microsoft, will be one of the guest speakers at Dublin Games Summit this year.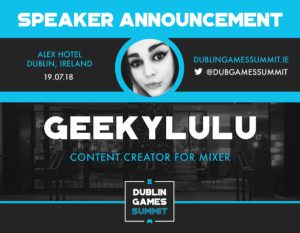 Other speakers set to appear at DGS are the likes of Ed Perkins, the head of a production at Square Enix, Terry Madigan, the director for VR Ireland, and GeekyLULU, the content creator for the next generation live-streaming platform "Mixer". Dublin Games Summit is determined to bring the gaming community together in one place where they discuss their favourite elements about games and network with publishers and developers who have achieved success in the industry and who resume that success by breaking the moulds and stereotypes that often surround the gaming sphere today.
Diversity will play a massive role in Dublin Games Summit this coming July, featuring an assembly of fantastic panels and talks based around very unique video game topics. Many of these topics will consist of the future of gaming diversity and health, the business-related aspects of eSports, gear design for gamers, and an events press release for Aeonspark Events, the company behind Dublin Games Summit. Once all of the panels and meetups of the day have concluded, a networking and end of day event will take place where attendees can grab a nice drink before leaving for the exclusive DGS after party.
Tickets for Ireland's newest and most exciting games event are now available for purchase on the official DGS website, dublingamessummit.ie. Standard tickets allow attendees entry into the summit and the after party. And if you are unable to attend the summit during the day, after party tickets are also available so there's no missing out! Book your ticket now and enjoy a sensational video game experience at Dublin Games Summit 2018.