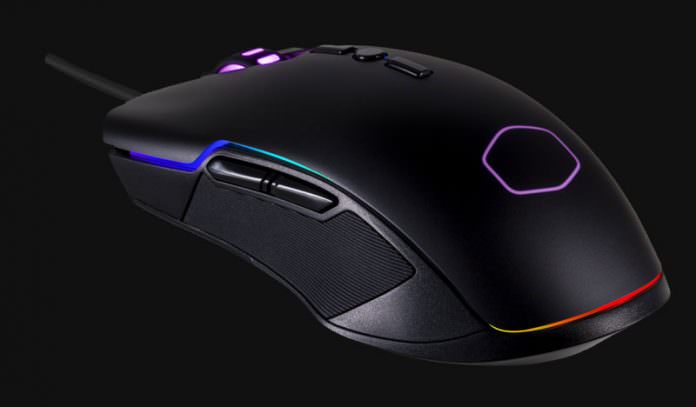 With PC peripherals, many of us would have started from somewhere. Those with big bank accounts would have dumped lots of money into the most expensive items possible while a majority would have had a strict budget and keep within their means. Having a good entry level option in any brands lineup is very critical and Cooler Master are aiming to get this slice of the pie.
In the entry-level market, you're absolutely spoiled for choice when it comes to gaming mice and they either need to be something very special or very dependable. The Cooler Master CM310 Gaming Mouse aims to tick all the boxes for necessities for gaming while remaining comfortable for everyday use.
The design positions itself well in the market by giving the CM310 a design that will please most gamers. The ambidextrous design should especially please the lefties considering how high a premium they tend to pay for a left-handed mouse. However, only having buttons on the left side of a mouse is strange since most 'true' ambidextrous mice have buttons on both sides or none at all. This leads me to believe that this 'ambidextrous' design was an afterthought.
Keeping with the design motif of most peripherals, the CM310 comes in a matte black with very subtle and sleek RGB lighting around the mouse and on the Cooler Master logo with 3 buttons below the scroll-wheel and two buttons on the left side of the mouse.

Underneath we find standard 2 rubber feet and the Pixart A3325 sensor which is marketed as a 'gaming-grade' sensor, however, do not expect competitive level performance from a budget range sensor. On each side of the mouse, we have two rubber grips giving it a decent grip and the design please both palm and claw grip style users but this can be subjective to hand size of the individual, so if you have very big hands with a palm grip, this may not be a mouse for you as you may feel the need to switch to a claw grip.
To put the mouse through its paces I tested games like Division 1, Warframe and Fortnite, the performance in these 3 games was better than I initially expected. The mouse was smooth to move across the mousepad, the clicks were precise, responsive, satisfying yet quiet so sneaking in late night gaming sessions is possible. Switching DPI on the fly took me from very slow movement to absolute madness in the blink of an eye but it did take some getting used to the DPI buttons as there is a large bump right where the buttons are located then felt a bit unnatural in my testing however once I found my DPI sweet spot, I never needed to use them again.
The scroll wheel felt nice to touch and the notches on it make it easy to grip and each click of that wheel was solid making weapons switches in game no issue, however, the scroll-click has a very short actuation point to a point where the mouse registered the click but I didn't feel it and the scroll wheel itself felt a little heavier.
Product Name
CM310
Model Number
CM-310-KKWO2
Grip Type
Palm & Claw
Material
ABS Plastic / Rubber
Color
Black
LED Color
16.7 Million RGB with 5 Modes
Sensor
Pixart A3325 (10000 DPI)
CPI / DPI
7 Levels (500, 1000, 2000, 3000, 4000, 5000, 10000)
Tracking Speed
60 ips
Lift Off Distance
< ~3mm
Polling Rate
1000 Hz / 1 ms
Mouse acceleration
20g
Buttons
8
Body Coating
Matte UV Coating
Connector
USB 2.0
Cable Length
Flexible Rubber, 1.8 Meters
Dimensions (W x H x D)
127 x 71.5 x 39.5 mm
5 x 2.8 x 1.6 inches
Weight
135 g ± 5g
0.297 lbs
Weight (without USB Cable)
100 g ± 5g
0.22 lbs
Warranty
2 years
EAN
4719512071168
UPC
884102043666
The software part of this review is very very short. There is no software so I will instead talk about what controls are on this mouse. Installing the mouse is easy as it is all plug-and-play with its drivers, all DPI switching and lighting controls are on the mouse itself with the Top and Bottom buttons just below the scroll wheel while the middle button controls the RBG profiles. No buttons on this mouse can be re-addressed to control another function so fans of macros and total control will be sorely disappointed.
It ultimately comes down to "You get what you pay for" but it's pleasing to know that Cooler Master focused on making sure the mouse performs as a gaming mouse should for its low price range. It fits the bill for most gamers with a good style, comfort and has RGB in all the right places and all for a very low price tag.
Keeping the cost down meant that Cooler Master had to leave out a lot of the luxuries I take for granted such as braided cables, mappable buttons and accompanying software but this didn't ruin my time with the CM310. It remained solid, dependable and was a pleasure to use albeit a few fumbles hitting the RGB switch when I wanted to change my DPI. If there is ever a redesign of this mouse I'd hope they add buttons on both sides for the lefties and improve that.