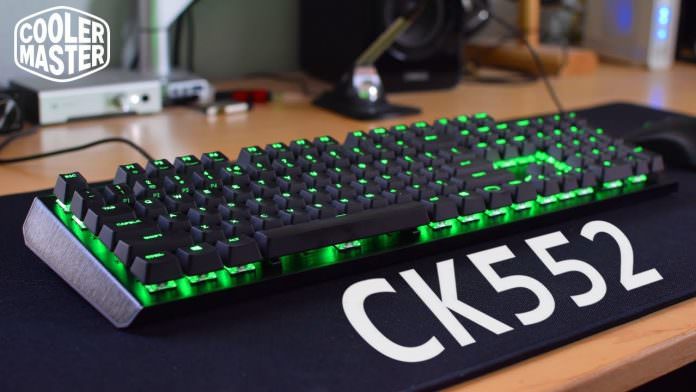 There was a time that having a mechanical keyboard was reserved for the 'nerd's and typists and the only choices of colour were beige, beige and beige with 1 switch type, loud and clacky. These days we are so oversaturated and spoilt for choice with a multitude of switch types to please any prospective buyer. With Cooler Master revamping their peripheral range to stand out amongst a market with some already established big players, I had the opportunity to test the CK552 RGB Mechanical Keyboard with a Cherry MX Red Switch

The moment I took it out of the box, I immediately noticed the premium-feeling brush black aluminium top that you only usually see on high-end expensive keyboards yet this being an entry to mid-level keyboard it was a pleasant surprise. The keys themselves are a floating type which does make them easy to remove for cleaning and Cooler Master even provide the removal tool in the box so no more dodgy removals using substitutes and when removing the keycaps, we find the red switch stem itself with the RBG located above the switch itself. This floating style of keys, however, does mean that the keyboard may require more cleaning than others so if you're a clean freak, you will want to make sure that you give them a frequent clean and dust out with a can of compressed air.
When plugging it in, we are met with the purple hue that seems to be the default colour when plugged into a machine without Cooler Masters software but the keyboard itself does come with on-the-fly controls for changing the colour profiles. The lighting as well isn't overly bright so you won't end up blinding yourself like some keyboard unlike others when they go overboard with the RGB. Underneath we find the standard rubber feet and standard 2 stands which I found to be quite sturdy and barely moved during my time with the keyboard, a standard, rubberized USB cable and finally the CoolerMaster logo in the centre. This keyboard to look at is a very sleek and minimal piece of hardware that feels tough and solid to use with satisfying key presses. For its price range being in the $150 AUD though I did miss having a wrist rest as I found myself hitting the shift key and caps lock due to the natural resting position of my hand and started getting a callus on the wrist as well.
Being Cherry MX Red switches, we get a key that has a very light actuation point (only requiring around 45 grams of force) so this does make them a great choice for both gaming and typing, particularly in an office environment with the reds not being very loud with its clicks.

Thanks to its size and standard layout it was very comfortable to use for both extended periods of typing or gaming, however, I also found it very easy to accidentally activate a key without meaning to during my typing and to some mis-timed skills or grenades during gaming sessions. I don't have overly-large hands and use a Cherry MX Brown switch as my daily driver so I can only put this down to me not being used to the size and switch type though once I was used to the keyboard itself and testing out titles like BFV and Warframe, I had a great time with the board. Your experience may vary and if you are coming from another type of mechanical keyboard or this is your first time, do prepare yourself for some mis-types until you get used to the keyboard.
| | |
| --- | --- |
| Product Name | CK552 |
| Model Number | CK-552-KKGR1-** (Red Switch) |
| Switch Type | Gateron |
| Material | Plastic / Aluminum |
| Color | Midnight Black Brushed Aluminum |
| LED Color | RGB, 16.7 million colors |
| Polling Rate | 1000 Hz |
| Response Rate | 1ms / 1000Hz |
| MCU | 32bit ARM Cortex M3 |
| On board Memory | 512KB |
| On-the-fly system | Yes, for Multi-media, Macro Recording and Lighting Control |
| Multi-media Keys | Through FN |
| Cable | Fixed Rubberized 1.8m |
| Software Support | Yes, through Portal |
| Connector Cable | USB 2.0 |
| Cable Length | 1.8m |
| Dimensions | 460*135*41 mm (L*W*H) |
| Product Weight (without cable) | 850 g |
| Warranty | 2 years |
Cooler Masters 'Portal' Software
Cooler Master offers 2 software options but they are hardware specific which astounded me as most manufacturers have a 1 software solution. Once downloaded and installed, you are met with this 'portal' where it shows you any compatible Cooler Master products that are currently plugged in (in my case the CK552 and MK750 I had also received for review).

In order to configure anything for the board, you need to select the board, install it's own configuration panel and then click 'Start' which opens its own program. To me, this feels counter-intuitive, disconnected and unnecessary to have a sperate window open up for the keyboard itself as it would make more sense to have everything be accessed and configured within the 1 portal application. Cooler Master was on the right track with the portal application but the implementation just doesn't work.

Once you are within the configuration panel, thankfully there is plenty to do in here such as configuring RGB which has a large degree of customization, macro recording , key mapping which shows all available, disabled and currently reassigned keys which I felt was a nice touch and finally a tab that shows you can have up to 4 profiles that you can create yourself or import a compatible profile. These are stored within the application though since there is no onboard memory.

The CK552 is a solid mid-range entry for Cooler Master and a good recommendation for both gamers and typists alike thanks to it's light and quiet switches although the annoyance of random key presses got on my nerves for quite a while. It sets out to offer the necessities for games and provides some nice bells and whistles, but the lack of a wrist rest for comfort at its current price range I feel was a missed opportunity and sadly the software option for the keyboard was a great idea with the wrong implementation.