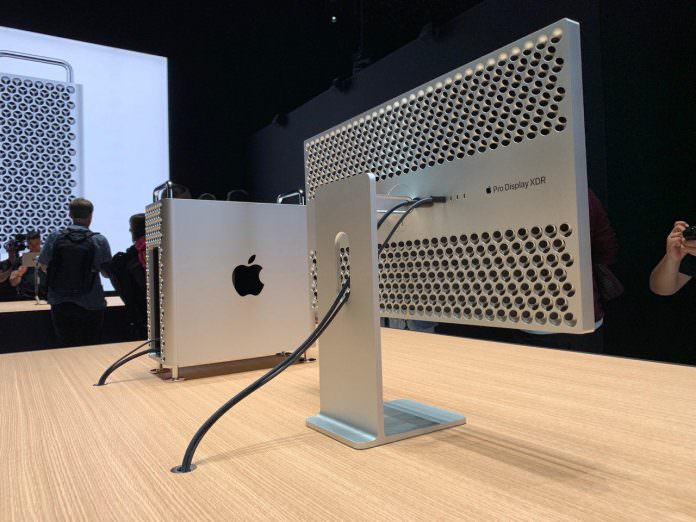 A couple of days ago at the WWDC 2019, Apple got the chance to promote some new software solutions they had been working on. However, they found the time to unveil its new premium Mac Pro and premium Pro Display XDR monitor that goes along with the computer.
The design as well as the price tag quickly caught the eye of the public and became one of the most mentioned tech news on the internet. Apple does know how to strike with new innovation that is very expensive and people still fall for that. The monitor will be out in Autumn and everyone is excited. But is it any good or is it another missed opportunity by Apple?! In the following article, we will dig deeper into the specifications and see if it is worth the investment.
Price
The XDR is 32in monitor capable of presenting 6K resolution and offers 40 percent more screen space than Apple's 5K displays. The brightness is 1,600 nits which all sounds good, but is it worth the ridiculous price tag of $4,999 for the standard model and $5,999 for nano-texture glass surface?
The problem goes deeper than that, even if you buy your brand new Apple Pro XDR expensive monitor, you will not have where to put it as it does not come with a stand. Unless you've already got a compatible VESA mount, you will have to buy the Pro Stand for eye-watering $999. You can see why it caused all that attention.
The monitor sounds expensive for customer standards, however, it is not a customer monitor. This high-end piece of technology is for post-production company or a visual effect studio. When you compare to its rivals like Sony which is $35,000, then it sounds like a good idea.
Design
The design also provoked comments as it looks like a cheese grater. With the aluminium case full of holes the monitor channels cool air acting as an effective heatsink. Also, the monitor is lighter with the holes instead of a solid chunk of metal, it weighs at 7.48kg.
The border around the edge is thin (9mm) which really enchases your view. If you choose to buy the optional stand for a thousand dollars, you will enjoy the height and angle adjusting as smoothly as possible.
The monitor only has four ports at the back: a single Thunderbolt 3 and three USB-C which definitely will come in handy.
Picture quality
There is no doubt that the picture quality is truly stunning. All the animations that were presented were vibrant and full of depth. There is 10-bit color depth to support that feel which is pretty innovative technology.
Apple claims that even the standard model will give you extremely low reflectivity, however, if you work in a bright office the extra $1,000 will be worth it, choosing the nano-texture glass which will eliminate every kind of reflection.
They also say that their new monitor will be up to 25x better off-axis contrast than a typical LCD monitor, but we have to wait for the release date to confirm that.
This will make sure you have a lifelike picture all the time as well as enjoy watching sports, especially since the NFL bracket 2019 is also coming in Autumn, or even play videogames in highly vivid pictures.
Specifications
32in Retina 6K IPS LCD display with oxide TFT technology and True Tone
6016 x 3384 resolution (20.4 million pixels) at 218ppi
16:9 aspect ratio
XDR (Extreme Dynamic Range)
1000 nits brightness (sustained, full screen), 1,600 nits peak
1,000,000:1 contrast ratio
P3 wide colour gamut, 10-bit depth for 1.073 billion colours
500 nits SDR brightness
Superwide viewing angle with high-fidelity colour and contrast at 89 degrees left, 89 degrees right, 89 degrees up, 89 degrees down
Fully laminated; 1.65% reflectivity (typical)
Up to 6OHz refresh rate
1 x Thunderbolt 3 (USB-C) port, 3 x USB-C ports
71.8 x 41.2 x 2.7cm; 7.48kg (stand is an additional 4.3kg, while mount adapter is 0.28kg)
We will have to wait and see if the monitor supports the eyewatering price. Maybe if it is truly a professional monitor it will be worth the price. All specifications say that it will be amazing and after a while, you will start to like the design. Just like any Apple product, it's just not available to any wallet.