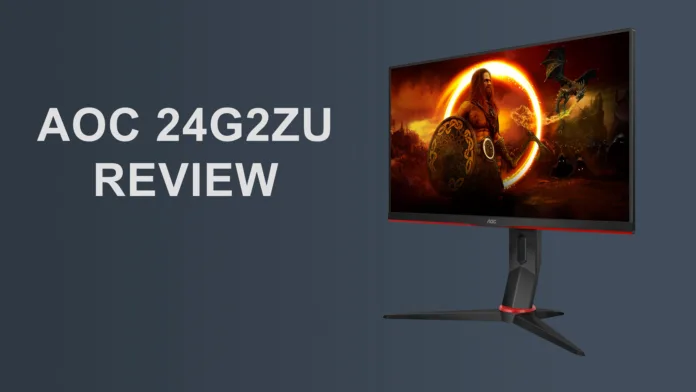 The AOC 24G2ZU monitor offers the same attractive option package, backed by excellent performance and low price as the popular 24G2. Outwardly, it looks the same, but the refresh rate for this model is almost twice as high as for its best-selling relative. And for gamers, frame rate and response speed are often much more important than 4K resolution and giant screens.
Available displays have long been limited to either the TN panel with terrible viewing angles and medium colour rendering, or IPS with a lower refresh rate. Monitors of the lower price range often lack useful functions, but AOC managed to keep the price under control by adding features such as a built-in USB hub with four ports and full ergonomic adjustment. In the review, we will see what this available monitor offers us.
Design and features
The 24G2ZU monitor has an appearance similar to all other G2 series monitors and is gamer oriented. He is not as aggressive as other models, he has a matte black finish with red stripes in individual places. On three sides, the display has a thin frame, so it is less distracting during the game, despite the internal boundaries of the image on top and sides.
This is a desktop display of reasonable dimensions. We can conclude that most will not have problems with its setting on a fully equipped machine. The V-shaped base leaves a lot of empty space below for other peripheral devices. 24G2ZU is not the easiest, but it is still very mobile and easy to move when changing the situation on the table.
The assembly quality is excellent – it does not seem cheap, despite the fact that it is a budget game monitor. The plastic used is thick enough to avoid bending and cod with minimal effort. Cosmetic defects like uneven gaps or seams are absent. The stand is stable and durable, it will not stagger or bend during operation.
What might not like about AOC 24G2ZU is the use of screen buttons instead of a more convenient joystick. The keys are responsive, but they are soft and free, and therefore no distinct click is observed. It also takes more time to move on to a specific setting compared to the alternative, so frequent monitor calibration is unlikely to seem comfortable.
The stand included is fully adjustable. You can tilt, rotate, rotate and adjust the height of the display to find the right viewing angle corresponding to your seat position or your height. You can also use the VESA mount, but it is really necessary only if you have several screens or if the place on the table is very limited.
Image quality
The AOC 24G2ZU display is equipped with a 24-inch Fast IPS panel with a resolution of 1920 x 1080, a refresh rate of 240 Hz and a declared response time of 0.5 ms. The brightness has a maximum of 350 threads, and the contrast is indicated at 1000: 1, as in most IPS panels. This model does not advertise special functions, such as HDR, since the focus is on video 240 Hz, which costs less than many competitors.
Monitors 1080p, like this model, are still very popular, as the format is universal, and now it is cheaper than ever. Models with a frequency of 240 Hz cost almost three times more expensive when they first appeared, and are still widely used in game circles. The 24G2ZU screen will not be too sharp, but visibility and legibility are excellent, so playing, browsing and reading will not be difficult.
AOC 24G2ZU displays 98% sRGB and about 75% DCI-P3. This is not the brightest option, but decent enough for everyday use. However, the accuracy is high by default, since the average value of deltaE is 1.41. The image is initially balanced and ready to use. Users will be satisfied with the monitor with factory settings, only basic settings like adjusting brightness to convenient marks will be required.
Calibration using a colorimeter can reduce the average value of dE to 0.52 – is a typical value for semi-professional displays. The monitor does not offer a wide range of colors, but it can be used to create content and basic editing. Since colorimeters are not cheap, it would be more practical to choose a semi-professional monitor if your priority is to seriously work with color.
The backlight reaches 350 threads with maximum adjustment, but the contrast is 843: 1 when installing a brightness of 60% depressing. The screen can fight glare in well-lit rooms, but it is not able to reproduce a deep black color, like VA matrices, especially when viewed at night. The latter is a well-known weakness of IPS monitors, but some models circumvent this limitation.
The panel uniformity for the tested AOC 24G2ZU sample is excellent, there are no noticeable lights at the edges of the screen. There is some difference in the distribution of the backlight, but it is noticeable only in extreme conditions or when measuring the display using a colorimeter. Please note that not all instances are made the same due to the tolerances and nature of the IPS, so you can get the worst, and you can get the best.
Productivity
AOC 24G2ZU has an excellent pixel response time, so it does not show tons of blur in dynamic scenes. There is some inertia, especially when the frame rate fluctuates, but this only manifests itself in some cases. In this regard, the installation of an overdrive in the Strong position helps, which makes the monitor ideal for cyber sports games.
The AOC 24G2ZU is compatible with both FreeSync and G-Sync. You do not need to worry about the loss of VRR when changing the brand of the GPU. This duality is crucial now, as the video card market is in a fever, and getting a specific graphics processor from AMD or Nvidia can be difficult. The output delay is 3 ms at a frequency of 240 Hz.
Connections
The 24G2ZU monitor connection scheme includes DisplayPort 1.2, two HDMI 2.0 ports and four USB 3.1 connectors for peripheral devices. You can use the monitor for your PC and plus for two more game consoles, but only the first can maximize the update frequency. There are 3.5 mm mini-jackets and speakers, but they are quiet and not able to reproduce bass, so they are not suitable for games or entertainment.
We would like to note that AOC 24G2ZU has two more options that can be found in different regions and in different markets. This is AOC 24G2ZE with the same IPS panel, but without USB ports and tilt limits, and AOC 24G2Z, which uses TN instead of Fast IPS. Those. when purchasing, pay attention to the names of the models to avoid errors and delays.
Specifications
| | |
| --- | --- |
| Display | |
| Screen size | 23.8 ″ ( 60.5 cm ) |
| Flat | Yes |
| Visible space | 527.04 x 296.46 mm |
| Coverage hardness | 3H |
| Panel processing | Anti-blik ( AG ) |
| Pixel Step | 0.2745 |
| Panel Resolution | 1920 × 1080 |
| Ratio of sides | 16: 9 |
| Panel type | IPS |
| Brightness in the threads | 350 |
| Backlight Type | Wleed |
| Update frequency | 240 Hz |
| GTG Response Time | 1 ms |
| MPRT response time | 0.5 ms |
| Static contrast | 1000: 1 |
| Dynamic contrast | 80M: 1 |
| Angks Review ( CR10 ) | 170/160 |
| Display Colors | 16.7 million |
| Video Functions | |
| Sync Technology ( VRR ) | FreeSync Premium |
| Sync range | 48 … 240 Hz |
| Digital Signal Frequency | DP1.2 / HDMI2.0: 30 … 280 kHz ( G ) DP1.2 / HDMI2.0: 48 … 240 Hz ( B ) |
| Color range ( SRGB ) CIE 1931 % | 105 |
| Color range ( ADOBE RGB ) CIE 1931 % | 74 |
| Color range ( NTSC ) CIE 1931 % | 75 |
| Flicker-free | ✓ |
| Blue Light Technology | Low blue light |
| Ergonomics | |
| Tilt | -5/23 |
| Height adjustment | 130 mm |
| Convert | ✓ |
| Dynamics | 2 x 2 W |
| Kensington Protective Socket | ✓ |
| VESA Wall Mount | 100 x 100 |
| Game characteristics | |
| Game style | Shooters, Action, eSports, RTS, FPS ( eSports ), Beat'm up |
| Game mode | RTS, FPS, Racing, Gamer 1, Gamer 2, Off |
| Game convenience | G-menu |
| Suitable for console games | ✓ |
| Power | |
| Source type | Internal |
| Parameters | 100 … 240 V 50/60 Hz |
| Power consumption | 26 watts |
| Waiting consumption | 0.3 W |
| Energy Efficiency Class | F |
| Connections | |
| HDMI | HDMI 2.0 x 2 |
| Displayport | DisplayPort 1.2 x 1 |
| USB hub | ✓ |
| Concentrator speed | USB 3.2 ( Gen 1 ) |
| Missing USB Ports | 4 |
| USB Quick Charger Port | ✓ |
| Output signal | Linear input |
| Audio output signal | Headphone output ( 3.5 mm ) |
| Dimensions and weight | |
| Dimensions with stand ( V x W x G ) | 504.61 x 539.05 x 227.3 mm |
| Dimensions without stand ( V x W x G ) | 322 x 539.2 x 49 mm |
| Weight | 5.03 kg |
Price 24G2ZU
Currently ( January 2022 ) the price of the AOC 24G2ZU / BK monitor starts from 28,000 rubles. You can buy the AOC 24G2ZE / BK monitor from 24,000 rubles.
Conclusion
The AOC 24G2ZU is a beautiful budget monitor with a frequency of 240 Hz due to its performance in games and image quality. It is lightning fast and smooth, you will not notice the delay or blurry during the game. 24G2ZU is not the brightest, but its accuracy by default and calibrated colour reproduction are comparable to what premium or even semi-professional options can offer.
There can be no claims against the monitor, since its price is lower than most options with a frequency of 240 Hz. Things like on-screen menu buttons can be a problem for demanding users, but that's fine, since you save a lot of money, enjoying comparable, if not the same performance.