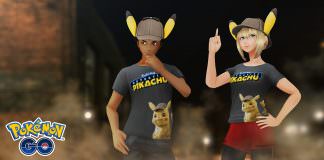 To celebrate the release of the film Detective Pikachu, developer Niantic is making some pokémon from the film available in Pokémon Go for a...
ALL THE HYPE, JUST LOOK!!! https://youtu.be/TYyg5tNQnM8 I THINK MY REACTION SAYS IT ALL!!! https://youtu.be/TKfOBqXd2yM https://youtu.be/iDkbdiJRQr0 Packshots!!! Screenshots!!!
Niantic Labs, the developer behind Pokemon Go has not been having a great time as of late. The studio came under fire from the community...
It turns out that Sony has been having a pretty good summer so far. The Japanese giant has released its financial results between April...
Pokémon GO, the highly anticipated augmented reality game from Niantic Labs, is due to launch this summer, but gameplay footage from the Pokémon GO Beta has already leaked!