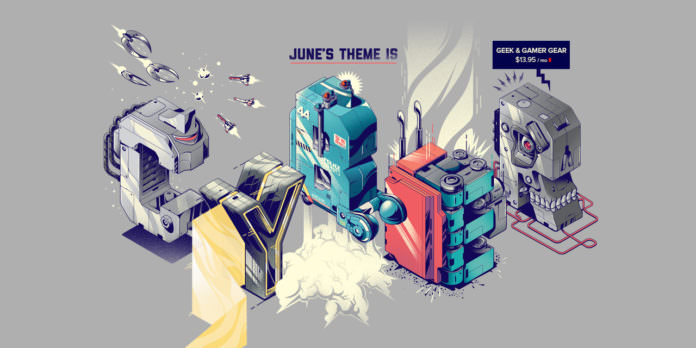 The Loot Crate theme for June is CYBER!
Join the cyber revolution with an assortment of cool, tech-themed collectables from a wide array of awesome franchises! It's a self-aware, singularity-fueled celebration featuring exclusive items from Terminator Genisys, Borderlands and more, including an exclusive t-shirt.
If you've missed the memo and have no idea what Loot Crate is, it's a box filled to the brim with geeky goodies delivered right to your doorstep! Each month, subscribers to the service receive a mystery box filled with things like t-shirts, action figures, books, comics and other awesome bits of memorabilia all carefully curated around a certain theme.
Each box costs under €27 and around £20 when shipped to the UK and the value of the items exceeds $40 every time. They also ship to The Us, Canada, Australia, The UK, The Netherlands, Sweden, Germany, Norway, France, Finland and New Zealand!
We've also got our own discount code for you guys to use! Enter cyber5 into the coupon code box to get €5 off your subscription!
Signups close on the 19th of June unless they run out of crates beforehand, so don't delay – sign up now!
Become a Looter for June, and you'll be automatically entered to win this prize pack, worth more than $2,000!
This month's Mega Crate includes rare and one of a kind items from Gearbox, including a hand-painted PC case, a signed Borderlands Loot Chest and so much more!