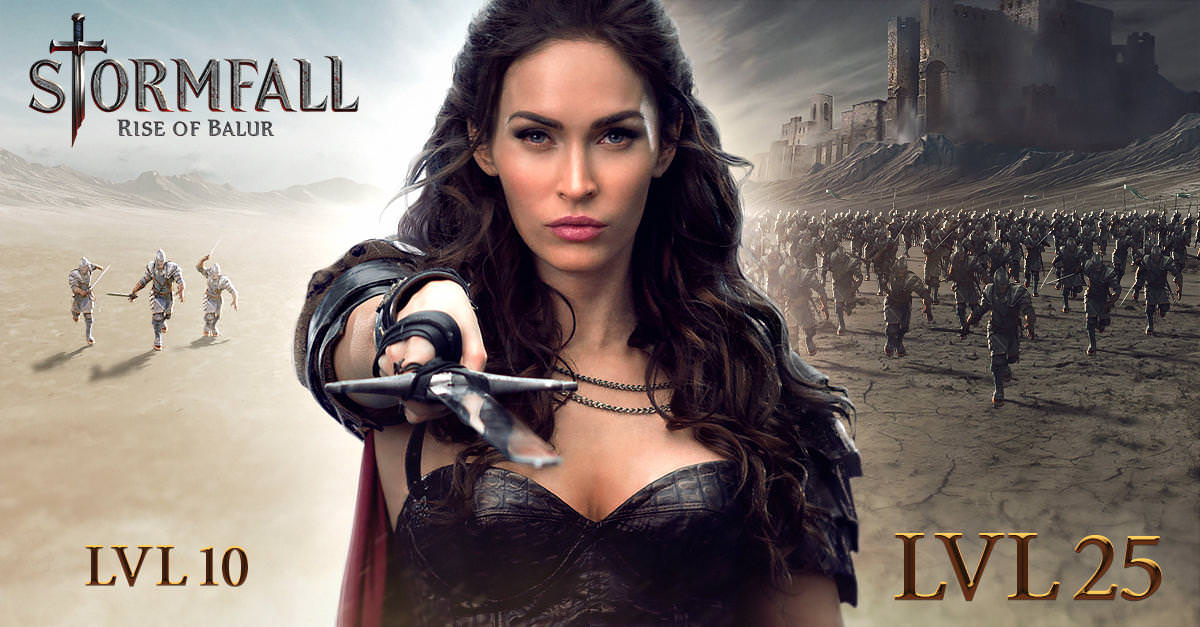 The Transformers and TMNT actress Megan Fox is now the main character in a game. She will take the main role in mobile developer Plarium's mobile medieval themed strategy MMO RPG "Stormfall: Rise of Balur".
Megan Fox will play the character Amelia Delthanis, Captian of the High Council Guard, a fierce warrior of a stong-willed demeanor. At a young age she turned her back to her highborn life to become a warrior. Fox's character, Delthanis, is the guide and mentor in Stormfall, she helps the players with tutorials, instructions, and an overall overview of the game. Or as Fox herself explains her character to Gamespot:
"To be honest, she's kind of a badass. She's rebellious, which I love, and has a dark sense of humor and she acts as a mentor for the gamer. In some ways, she's like me because we're both a little rebellious, except that she gets to wear a medieval fantasy warrior costume"
Fox is joining the game with its current player base around 7,500,000. The addition of Fox and her character marks the start of a bunch of larger updates, and further on things like a new tutorial and a completely voice campaign will be added to the game.
The developers of Stormfall are excited to have Megan Fox join the game:
We are thrilled to have Megan become the new face for the Stormfall franchise, one of our most beloved games since Stormfall: Age of War came out on social networks in 2011. Megan's experience in other blockbuster franchises and action films means that she will be a great addition to our game.
With both a big role in the new Teenage Mutant Ninja Turtles: Out of the Shadows movie and the main role in a video game this might just be the year of the Fox.
In other Megan Fox news, apparently she wants to portray two legendary adventurers in the future, Indiana Jones and Lara Croft. Who knows, maybe one day her wishes will come true.
Stormfall: Rise of Balur is available on the Apple App Store and on  Android via Google Play.