When is a video game not technically a video game? When it's a video slot machine. As crazy as that opening gambit might sound, it actually provides an accurate reflection of the gaming industry as it stands today.
A few decades ago, gaming consoles and their options were the start and the end of the genre. However, as things stand today, games come in all shapes and sizes. On the one hand we've got mobile games as a booming industry. On the other, we've got online casino sites offering a different spin on the traditional video game. In short, gaming is now an industry where options abound and that allows us to say that video games can now technically be video games while not adhering strictly to traditional "rules" of the genre.
One example of this is the focus of our review today, the Mr Green: Moonlight slot game. Unlike traditional video games, Mr Green: Moonlight doesn't have various levels or different worlds filled with monsters and bosses. However, what it does have is multiple ways to win some money – but that's not what interests us. Hosted by Mr Green trusted casino, this exclusive slot has a number of parallels to various video games. From the opening video sequence to bonus rounds intimately linked to the overall theme, this slot has a number of features that elevate it beyond the classic one-armed bandits of old.
An Interactive Way to Spin
In simple terms, the collaboration between Mr Green and NetEnt has basically resulted in a slot machine that has a number of video game qualities. Indeed, from the outset, you know you're playing a video game/casino game hybrid by the opening sequence. Just as the opening sequence for Red Bull's number one rated video game Uncharted 2 creates a sense of drama and anticipation, so does the video intro for Mr Green: Moonlight.
As well as giving you details of the time in which the game is set (1865), you learn that Mr Green is chasing his lost fiancé. Through a combination of grainy footage and dramatic orchestral music, you're plunged into a world where Mr Green transforms from man to werewolf hunter.
Once you're in the game, the entire interface has been crafted like a video game. Mr Green is ever-present by the side of the reels with his coattails flapping in the wind while dramatic music from the intro plays in the background. On top of the look of the game, the way you win is heavily dramatised too. Instead of wild symbols just appearing, this game sees them spread their light (they're moons) across the reels. Any symbol the light touches turns into a wild to help create winning combinations.
Features and Options Feel Like a Game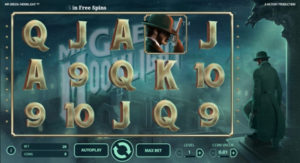 Similarly, the scatter symbol (silver bullet) lights up the reels and unlocks a free spins bonus round that uses animations in conjunction with sound effects as you roll through as many as 10 gratis turns. Finally, like all self-respecting games, Mr Green: Moonlight allows you to adjust the settings to suit your needs. From the speed of each spin to an option allowing spectators to start the game for you, the number of adjustable features is something many traditional slots don't offer.
In fact, it's this combination of features, animations and options that makes Mr Green: Moonlight feel much more like a video game than a slot. With iGaming now worth £3.6 billion annually in the UK and spanning real money casinos as well as social media platforms, developers have had to focus more on the entertainment. Mr Green: Moonlight is a shining example of a new strand of casino slots that help to prove that a video game is not always a video game.