Gaming Heads has opened pre-orders for a 1/4 scale statue of Dragan Age: Inquisition's Varric – available in an exclusive edition along with a regular edition. This will be their third collectible statue from the  Dragon Age series.
The statue stands approximately 17 inches tall including the base, this collectible is carefully cast in Polystone resin and hand-painted by artisans to depict Varric with his trusty crossbow, Bianca.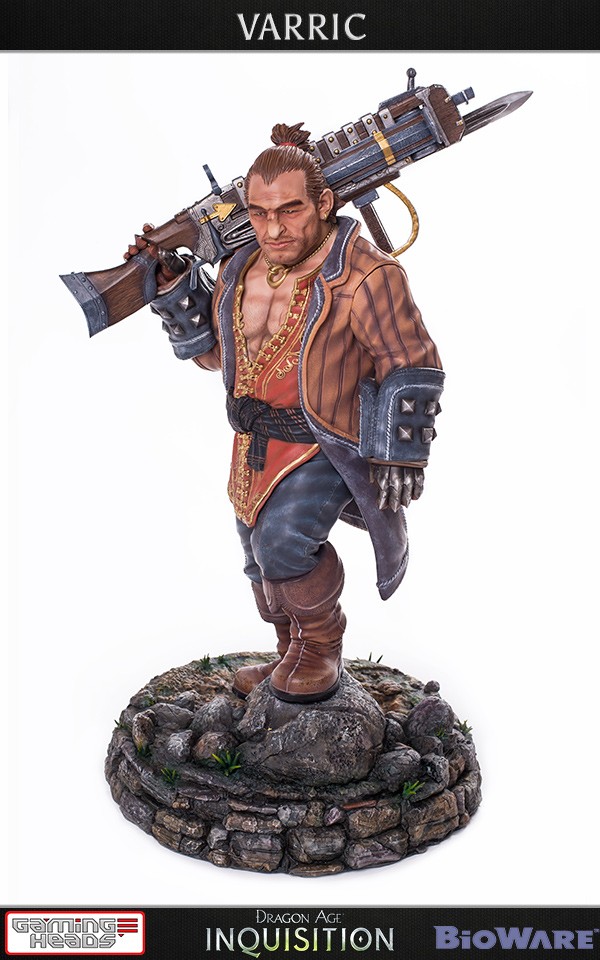 "Varric is a surface Dwarf, born and raised in the city-state of Kirkwall of The Free Marches. Because of this, Varric is as much of an unorthodox Dwarf as one can encounter, having participated in practically none of traditional Dwarven culture. Solving problems and gaining advantage through diplomacy, outright lies, and even blackmail will impress him, while straightforward violence and thuggery leaves him cold. He also responds well to joking, flirting and sarcasm and to mild greed. Beneath his silver tongue however, he's a goodhearted person and will appreciate Hawkes who look out for their families and are kind to dwarves."
The Exclusive edition will only be available at the Gaming Heads store and will be limited to 350 pieces worldwide. The regular edition will be limited to 750 pieces worldwide. The exclusive edition "comes with an additional pose (arms & upgraded crossbow) and additional head so you can choose which pose to display Varric in whether he's ready to strike or not".
Both statues come in a deluxe full coloured box, an individually hand-numbered base and a validation card which the press release says will allow you to collect the same number in the Dragon Age™: Inquisition series.
Both the regular and exclusive edition will cost $399. The expected delivery date will be in Q2 of 2018. You can head over to Gaming Head's website to pre-order yours now along with more images of both versions of the statue.