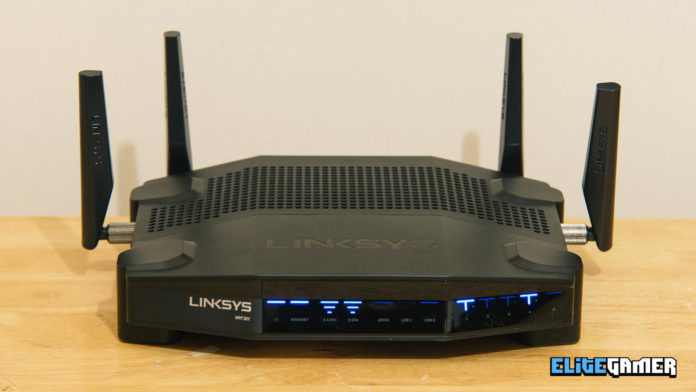 The Linksys WRT32X is the first router with support for the Killer Prioritization Engine, which is definitely a plus. Thanks to the easy installation, it is ideal for gamers who want to be up and running in minutes.
The Linksys WRT32X is a router specifically engineered for the gamer. It is a router that works best when Internet usage is under heavy load. It's best suited for situations where there are many devices using a lot of data. In all these cases, the Linksys WRT32X is a router that helps you limit lag and other delays. Gamers put a lot of money into their setups, graphics cards, CPUs, RAM for example, but one aspect that tends to get left behind is the networking structure.
The router is equipped with Rivet Network's Killer Prioritization Engine. The system is installed on a number of performant (game) systems such as those of MSI, Dell (both Alienware and XPS models), Razer, Gigabyte and a number of other players in the field of gaming laptops and PCs.
Gamers who have Killer software integrated with their PCs will notice a major performance boost. The WRT32X router detects the Killer software and adds an extra tab in the Killer Control Center networking software. From there you can adjust the settings of the router without having to go through the website or the router app. As mentioned, you can still use the priority settings, but to do that you have to connect to the router and make the adjustments manually.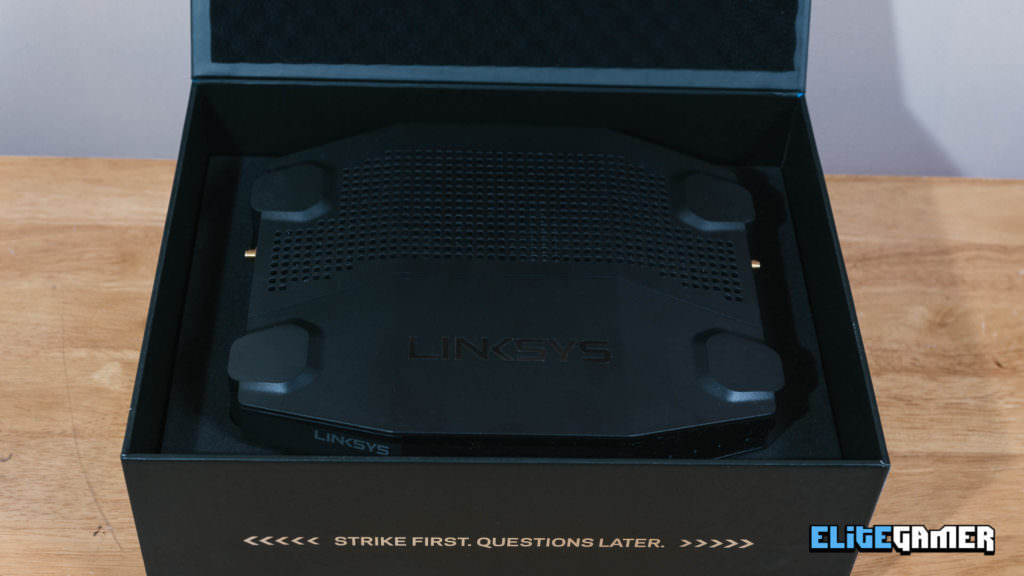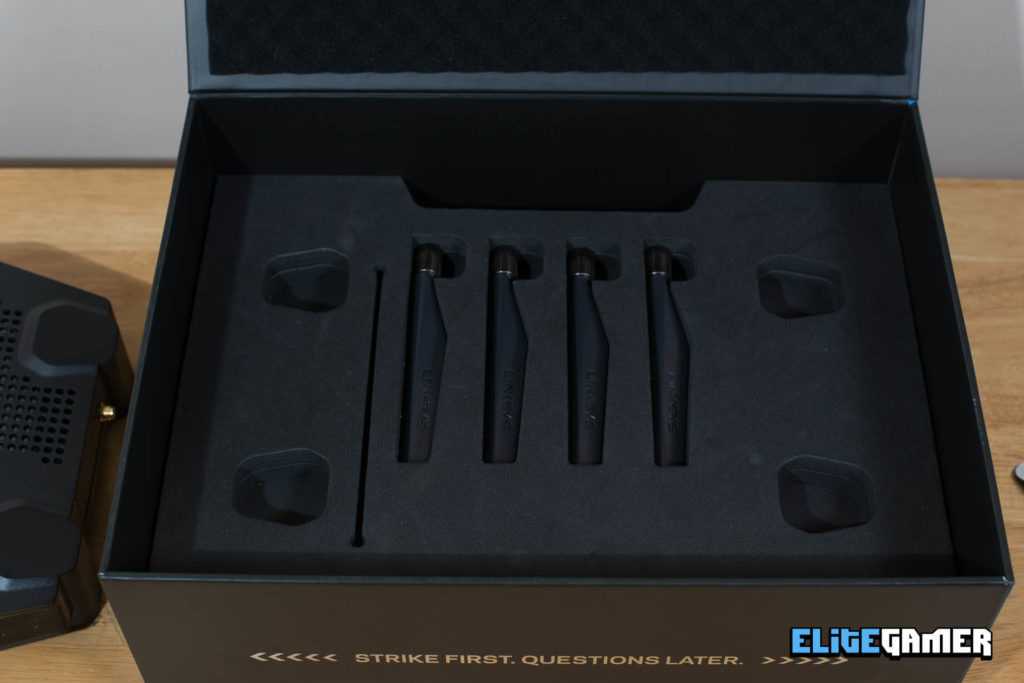 The Linksys WRT32X comes impressively packaged. The box itself is very sturdy. this is ideal for times you would need to store the router. The lid has foam padding attached to ensure the router would be protected if the box was crushed in any way. The router is held in the foam by the four feet so it won't get knocked around.
Underneath the router is a quick-start guide and 4 antennas. This is all packaged neatly in the same foam on the lid. The foam layer pulls out and beneath it is the power plug and a CAT 6 ethernet cable. The fact that they included a CAT 6 as opposed to CAT 5e shows that they are all about the optimal speed.
Clean Functional Design
The WRT routers from Linksys have a design history that is relatively fixed, so it was no surprise to see the same flat but broad geometric shape of the WRT32X. What is nice is that unlike other 'gamer' brands the WRT32X has no unnecessary bells, whistles, LEDs and screaming colours have been used in the design. In fact, this router looks better in matte black than the 'regular' WRT 3200 with that bright blue.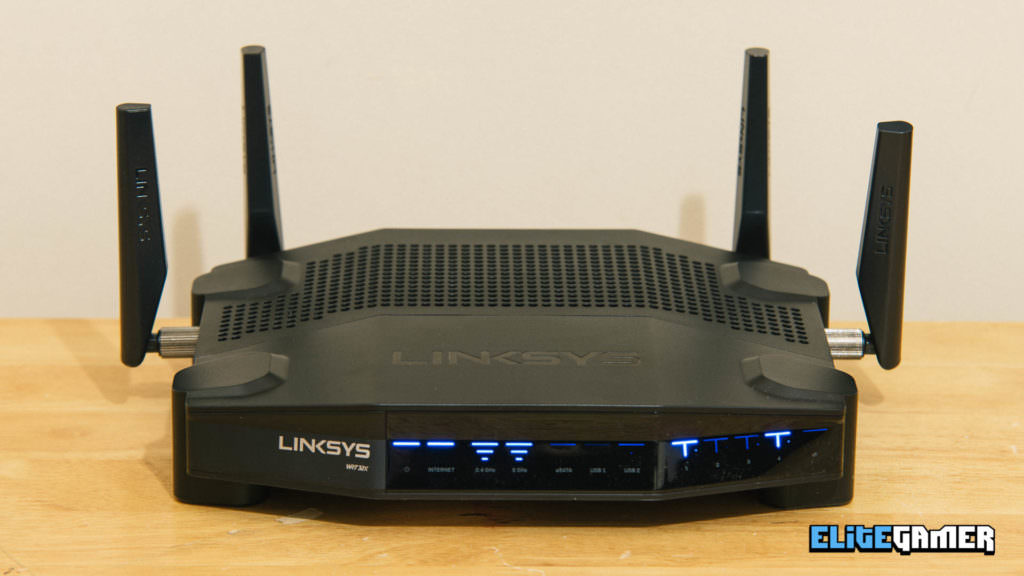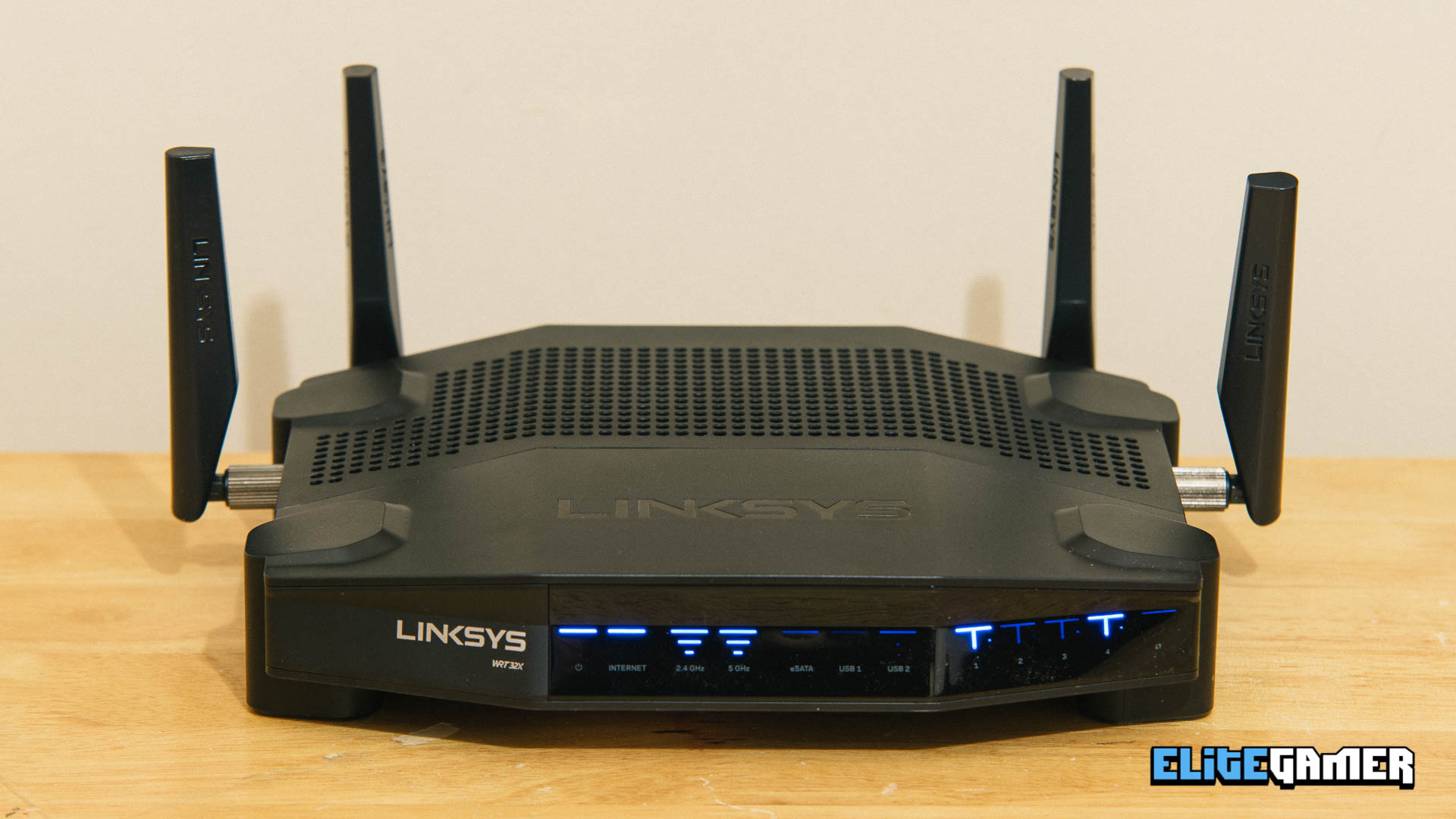 The design itself is built around functionality rather than excessive style, however, both are relatively high on the scale. The housing is made of durable matt-black plastic giving it a very 'hardcore' look and feel that will fit right in with any gaming setup. It's clear that function is of paramount importance and the design aspect, while still important, doesn't compromise the performance.
The top of the device has several holes meant for heat dissipation. This is a great feature as many routers don't have great cooling. The Huawei F2000 that I was given from Eir has no cooling vents resulting in the routers PCB board to fail. Strangely, Eir have known about this issue for years but instead of rectifying it they just replace the router.
The front of the router contains a display with LED indicators showing active connections. On the front display, you have Power, Internet, 2.4GHz, 5GHz, eSata, USB 1 and USB 2 indicators. On the side display, you have primary and secondary ethernet indicators and a WPS indicator. The indicators are large and easily readable meaning it only takes a quick glance to check on the status of the connections.
Up and running in minutes
The installation/ setup is extremely easy. Plug it in and hook it up to the Ethernet cable. The router works out of the box and you technically don't need to adjust further settings. This is handy if the devices you use all work on Wifi. If you don't mind getting your hands dirty, you can run the setup, change the Wifi SSID and password along with a few other tweaks to give your new router optimal performance.
To access the routers settings you enter http://myrouter.local (or 192.168.1.1 for the oldies) in a web browser. You log in with the routers SSID and Password found on the base of the device. Once you're logged you follow the onscreen instructions to complete your router setup. Once you have that completed you will be taken to the Dashboard which looks like this: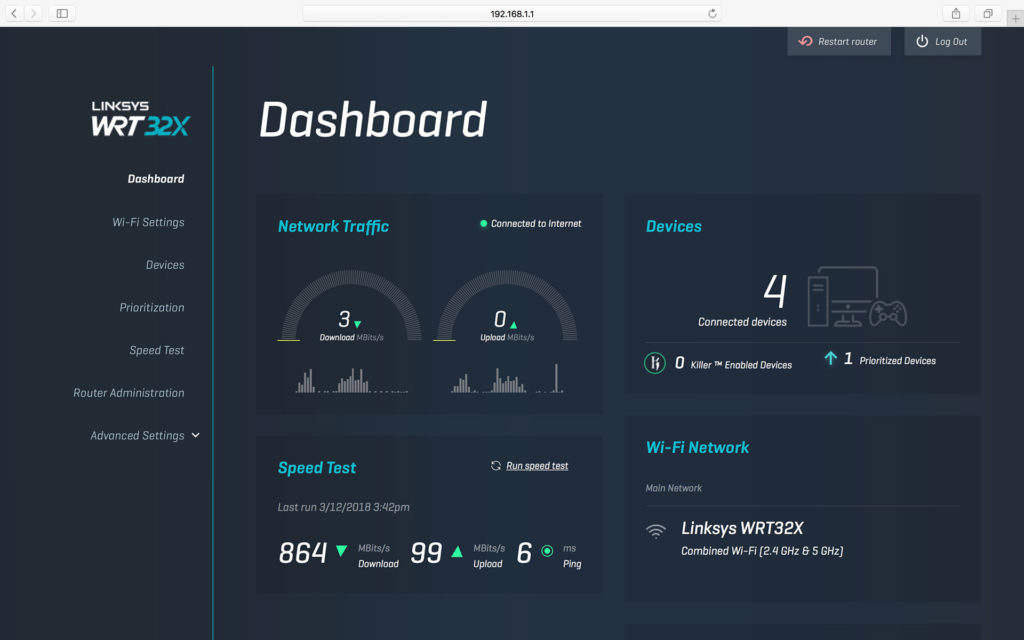 The interface is nice and clean and gives an overview of your entire network. I can immediately see my network traffic, the overall speed, how many devices are connected and whether they have Killer technology or network priority. As you can see the internet speed I'm getting (864Mb down) is pretty good. A lot of this is due to the fact I installed my line myself and have the router hooked up in the exact centre of the house. Even then, I can usually only get about 550Mb down on a good day. The highest I have been able to get so far is 978Mb down on my PC after disconnecting all my other devices. Unfortunately, my provider has an upload cap of 100Mb so there's no improving that.
2.4GHz or 5GHz, Why Not Both?
During the setup, you have the option to change the routers Network Name while changing the password. You have 2 frequencies: 2.4GHz or 5GHz. The 2.4GHz has a broader range so you can connect to it from a larger distance while the 5GHz is a narrower range but is much faster. I typically connect all my high priority devices such as my PC, laptop or consoles to the 5GHz band for the best performance and all my low priority devices such as my smartphone, tablet or E-Reader to the 2.4GHz band. Thanks to the WRT32X settings I no longer have to do this.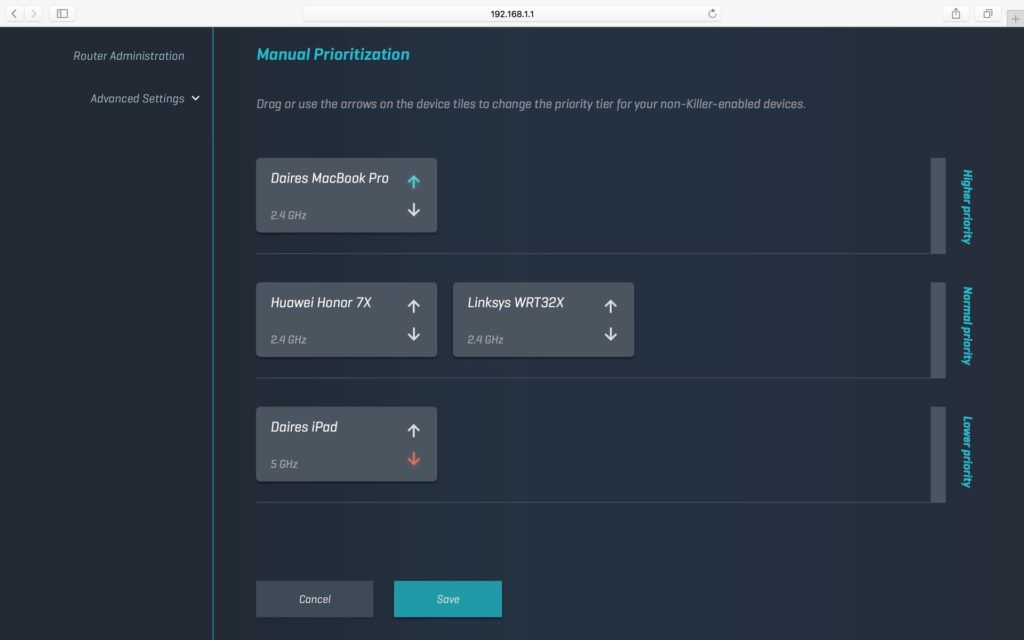 The default setting merges the two networks and you can then prioritise the devices within the software. You can choose between "Higher Priority", "Normal Priority" and "Low Priority". The obvious reason I like this because it means I don't have to enter two different network names and passwords into my devices. However, there is also another reason I love this feature. If I want to get a faster connection on my smartphone, for instance, I no longer have to switch the network but instead, I can just go into the software and change the priority of that device. This is also handy if you share your network with friends as you can use low priority as default and stop them from clogging up your network. And yes, I am referring to that one person who downloaded over 600GB of files one time and made the network unusable for anyone else, have you no shame?
Let's Pop The Hood
Under the bonnet of the Linksys WRT32X is a dual-core 1.8GHz processor. This ensures fast recognition and handling of network traffic. In addition, he takes over many functions from its predecessor. The WRT32X is a true dual-band router with separate antennas for 2.4GHz and 5GHz. With the help of Tri-Stream, the router can increase the bandwidth to 160MHz at 5GHz. In addition, MU-MIMO is used to pull the last bit of speed from the 5GHz band.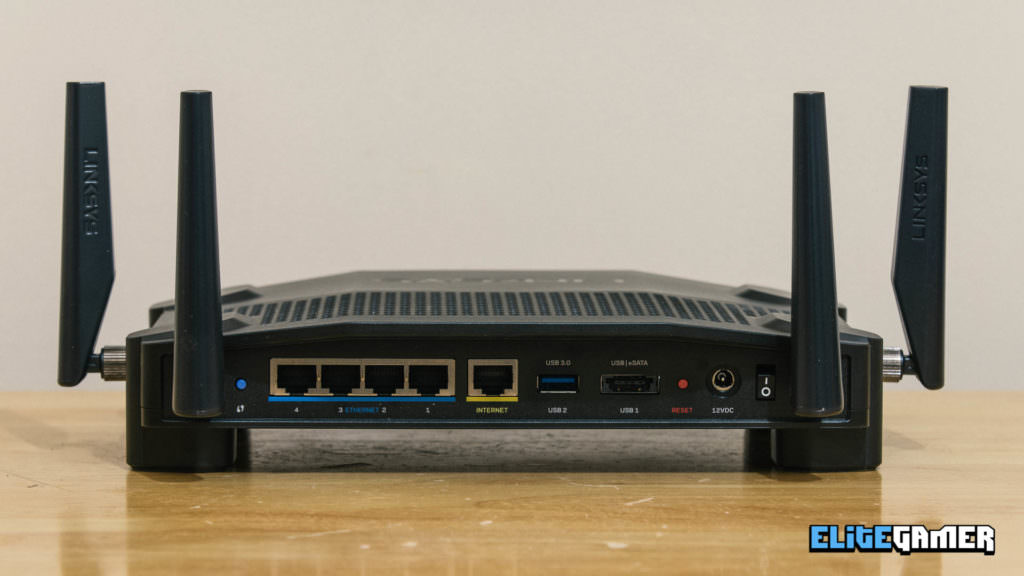 At the rear of theWRT32X, we find a WAN port and four Gigabit LAN (ethernet) ports that all have recognition for Killer Networking products. There is also a USB 3.0 and an eSATA/ USB 2.0 connection. You can use this to connect an eSATA hard drive to the router and thus build a simple NAS. In addition, you also get a USB 3.0 port for connecting a hard drive. There is also a handy WPS button to connect directly to a device and a reset button.
Technical Specs
Wi-Fi Technology:
Dual-band AC3200 MU-MIMO w/ MU-MIMO, DFS
Network Standards:
802.11b, 802.11a, 802.11g, 802.11n
Wi-Fi Speed:
AC3200 (N600 + AC2600)
Wi-Fi Bands:
2.4 and 5 GHz (simultaneous dual-band)
Wi-Fi Range:
Very Large Household
Number of Ethernet Ports:
1x Gigabit WAN port, 4x Gigabit LAN ports
Other Ports:
One(1) USB 3.0 port, One(1) Combo eSATA/USB 2.0 port, Power
Antennas:
4x external, dual-band, detachable antennas
Processor:
1.8 GHz dual-core
LEDs:
Power, Internet, 2.4 GHz, 5 GHz, eSATA, USB1 (USB 2.0), USB2 (USB 3.0), LAN 1–4 (activity/10/100 Mbps), LAN 1–4 (1 Gbps), WPS
Wireless Encryption:
WPA2 Personal
VPN Support:
PPTP, IPSec pass‐through
Storage File System Support:
FAT, NTFS, and HFS+
The Best Networking Choice For Gamers
The Linksys WRT32X is a great router for anyone, not just gamers. It is distinguished mainly by its simple installation and the unique Killer engine. The latter is especially an advantage if you have a supporting device in a household where many devices are connected to the same network. The prioritisation also means you benefit when using non-Killer devices.
It is very easy to set up and still quite extensive in terms of options. For example, you can transfer ports via the advanced settings, set up a VPN client for your entire network, use external storage (via USB connections) and adjust local network settings. These settings won't be needed by everyone but it means that you have the option if you ever want to use them in the future. Priced around the €300 mark, this router is not cheap but it will ensure a stable connection, reduced lag and an end to shouting through the walls to stop hogging the internet.