We had spoken before about Sony Mobile's penchant for 'harmonious' range design. About how they rarely deviated from their contemporary company design path. Well, this year's 'loop' design stands out on the Xperia XZ2 like no Sony handset has done in a long, long time.
The look is fresh, a Gorilla Glass 5 curved rear gently transforms over the aluminium corners to an all-GG5 front with a classic Sony bezel to leave people arguing in comment sections across teh_interweb. Do bezels make one-handed operation easier by cutting out accidental touches?? Or are they unnecessary and ugly??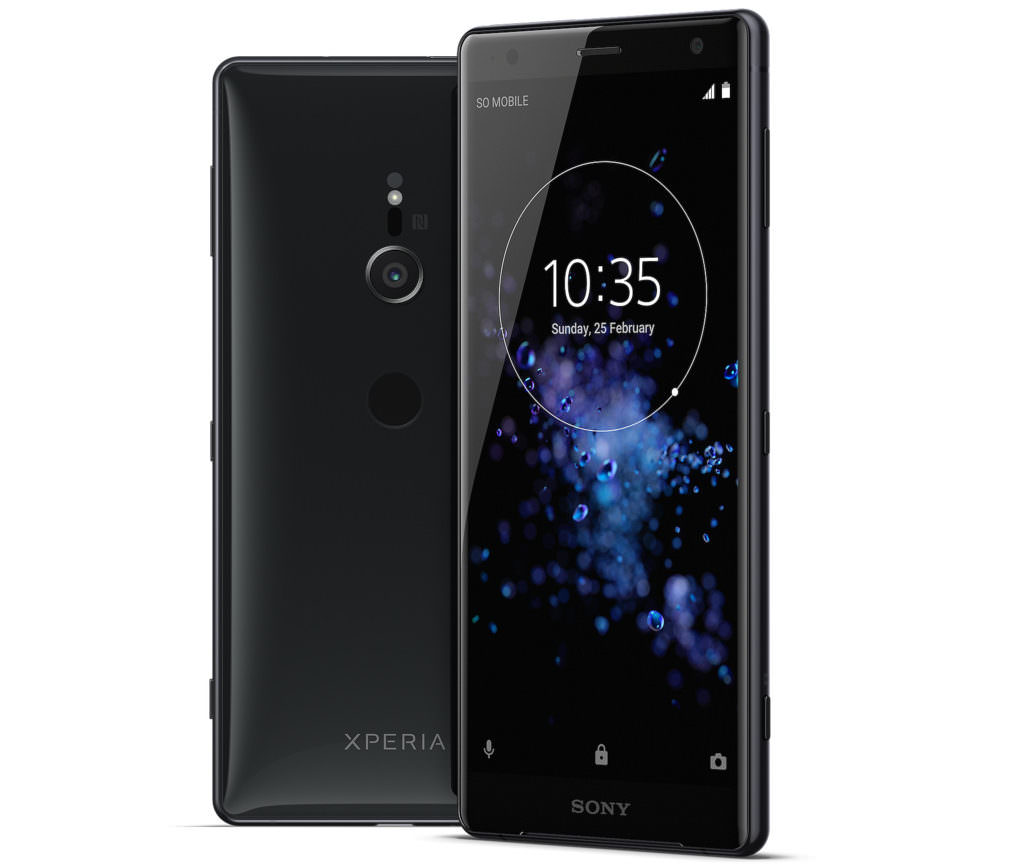 The Look of Loop (An ABC Pun)
The oblong caskets of 2017 are now long behind us as seen in the Xperia L2 and XA2, both giving us a glance at what Xperia XZ2 would look like. Our black review model looks sleek and understated with little to sully its look, front or back. The 'Sony' and 'Xperia' logos blend into the gloss black in their respective positions below the screen and low on the rear. The camera, LED flash, fingerprint and light sensors are all arranged in a line along the centre of the long axis of the device. The Xperia XZ2 has a satisfying symmetry to it.
The curves flow in four directions on the front and rear of the handset, looking for light reflect and distort. It catches many an eye just laying on a table or balanced precariously on the arm of a chair. (Hopefully, Natalie doesn't read that last bit)
There are four colours available; black, silver, 'Ash' pink and 'Deep' green. Though all four colours are equally well appointed, personal preference may vary. I had a hands-on with all four a few weeks ago – the green model was my favourite. An unusual 'racing' style green mixed with an almost incandescent teal; not unlike something on a 1950's formula one car retouched to be driven by Ariel from The Little Mermaid.
Screen Idol
For the moment, the fetish for 4K screens that annihilate battery lives seems to have gone back underground. The sensible 1080×2160 IPS LCD is nothing short of stunning here. This tech and games outcast prefers the 'natural' look of IPS panels over AMOLED in general while acknowledging a public preference for the latter's colour saturation. A 'vivid' mode combined with the quality of XZ2's display can almost match an AMOLED panel for overblown, unrealistic colour if you ask it to.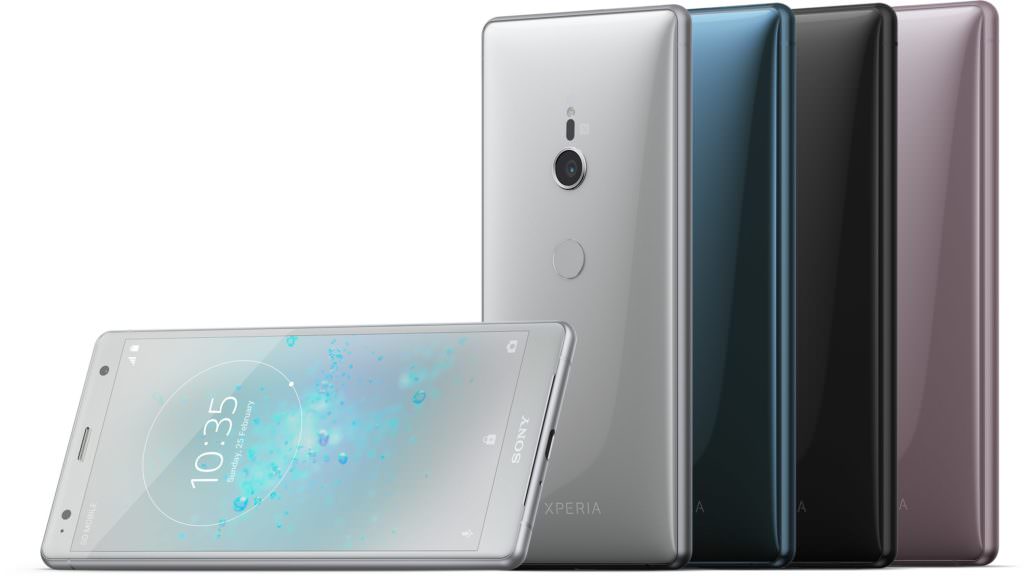 Xperia XZ2's Triluminos hardware combined with HDR upscaler make anything worth looking at on this display. Content specifically made to exploit this feature (like anything shot with an XZ2) really shows off HDR's ability to make scenes 'pop'. Bright whites that pierce your eyes/soul next to inky blacks that never lose detail – it's beautiful.
To Have and To Hold
There is one medium-sized and one small flaw that take a little shine off of the XZ2. Both are fingerprint-related and the pun is intended. The scanner is too low down the handset – it feels unnatural to position a hand like it requires. While the weighting is perfect for holding the handset in this fashion, users will often smudge their camera lens in search of the scanner. This, on a handset surrounded in fingerprint-magnet glass.
The 5.7″ 18:9 panel is more than usable in one-hand despite its generous real estate. You can probably thank the bezel. The form factor is also incredible to hold, the rear material isn't nearly as slippery as it looks. It's weighted perfectly, possibly conscious of the fingerprint scanner's position just over halfway up the rear-cover.
Short and Sweet
A paragraph on the everyday and extraordinary performance of the Xperia X2 is probably necessary to complete this review so read on as I tease the word 'incredible' out for a few lines. The Snapdragon 845 is brand new, based on a 10nm process. It's fashionably asymmetric and efficient with the basics, keeping your juice for the intense processing. Which it also takes care of without breaking a sweat; high-end or multiple apps are a breeze for the chipset.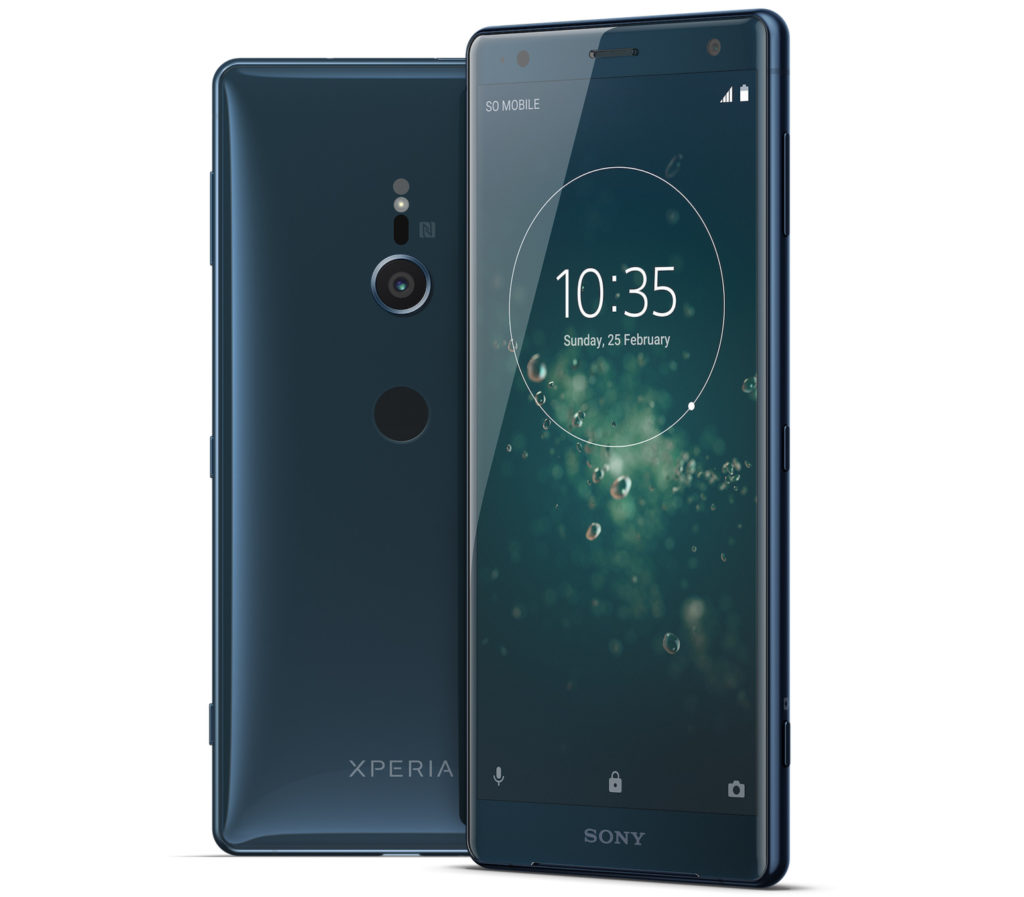 The Adreno 630 GPU is a beefy renderer. It handles the HDR 1080p screen beautifully, offering a superb image no matter what it needs to show you. While gaming, there is literally nothing it can't handle at max. settings with higher than acceptable framerates.
The standard model in western Europe is a 64GB storage/4GB RAM version of the Xperia XZ2. A 6GB RAM model is available though it's probably unnecessary. Android 8.0.0 is more than capable of keeping RAM use in check; shutting off unused apps and tabs with diligence.
Camerae Optimae
Carrying a mostly 12-month-old camera arrangement sounds underwhelming on a flagship device. Hand-me-downs are usually more suited to sub-premiums. But in this case, re-using the superb Xpera XZ1 sensor while adding HDR to 4K capture is no bad thing.
Low-light performance of the stills camera is a strength of the Xperia XZ2 instead of a weakness seen in Sony's lower-spec efforts. Preservation of detail and colour in sub-optimum lighting is excellent with superb 'auto' setting allowing for most hastily taken shots to fall between usable and perfect. However, HDR is not applied by default and the camera would only use HDR in manual mode.
Without a second lens the XZ2 needs to fake certain effects like bokeh and monochrome but it does so admirably. The EIS system is quite good despite the compromise being readily visible at times – an optical image stabilisation solution would obviously be better. Predictive mode holds a few frames in a buffer and when you shoot, it selects the best shot or gives you a choice.
One hardware loss that isn't compensated all that well for is zoom – the lack of optical zoom (a thing now on phones) and the poor digital zoom performance will only be noticed by a few users but is a drawback nonetheless.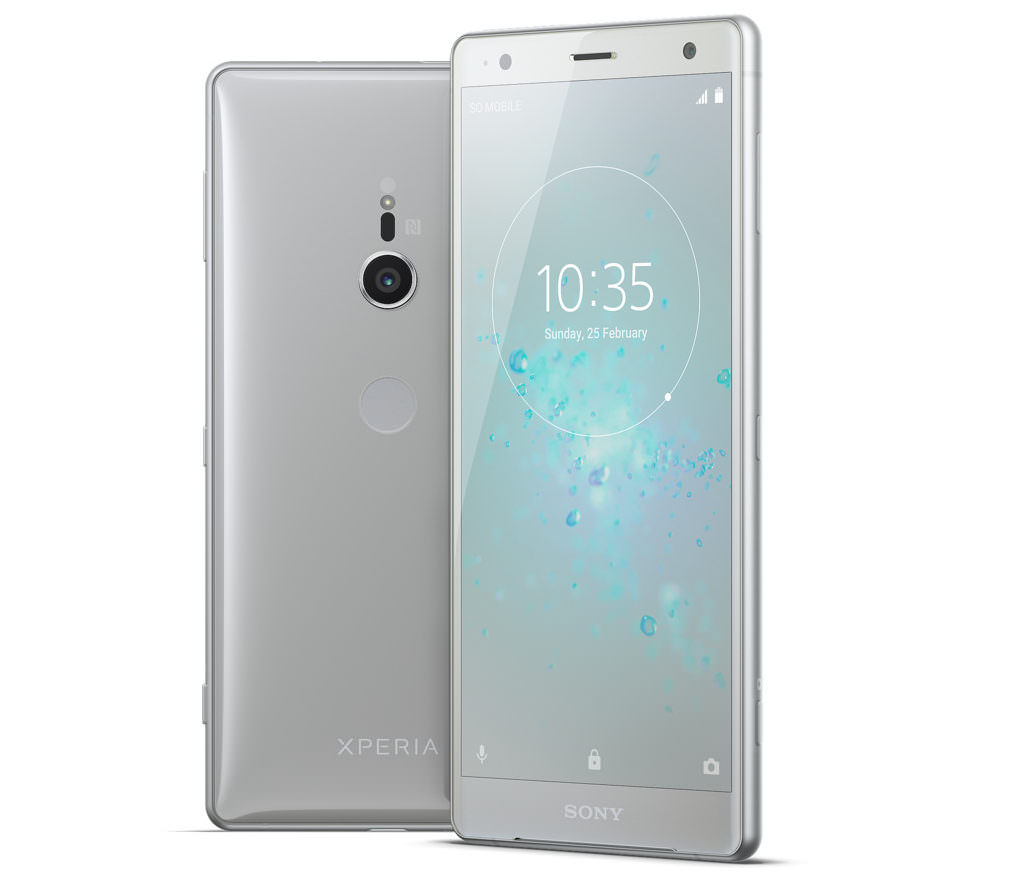 Selfies are about as good as some mid-range main-cam captures despite the 5MP resolution. The software and gyroscopic EIS that treats the rear-camera with love does the same here on the front. Great colour accuracy and good (if not quite as good as the main-cam) low-light performance are particular highlights.
Pocket Video Master
Video capture performance in the Xperia XZ2 is excellent across its wide range of framerates and resolutions. 4K30 capture with HDR is a big deal as is 960fps slo-mo at 1080p – the XZ2's swift sensor and camera buffer make these possible for the first time in a smartphone.
Displaying anything captured on the device on its display is lush as mentioned above. Using its built-in software to edit such hefty files is quick and lag-free thanks to a capable chipset. All of these factors make the Xperia XZ2 unbeatable as a pocket video capture device right now.
Copypasta Temptation
While tempted to lift another Xperia review's section on its OS, here is fresh recital of Xperia Home's minimal interference with bare Oreo. The excellent but less-intuitive Music app is probably the best addition given its built-in sound adjustment capabilities. Many won't see past Google's offerings of photo and video viewer/editor but Xperia's apps can be all but removed.
The best part of Xperia Home is always the minimalist approach to the skin. If a user is interested in the extras like the aforementioned Sony apps or themes, they can choose to avail or just disable them, fuss free.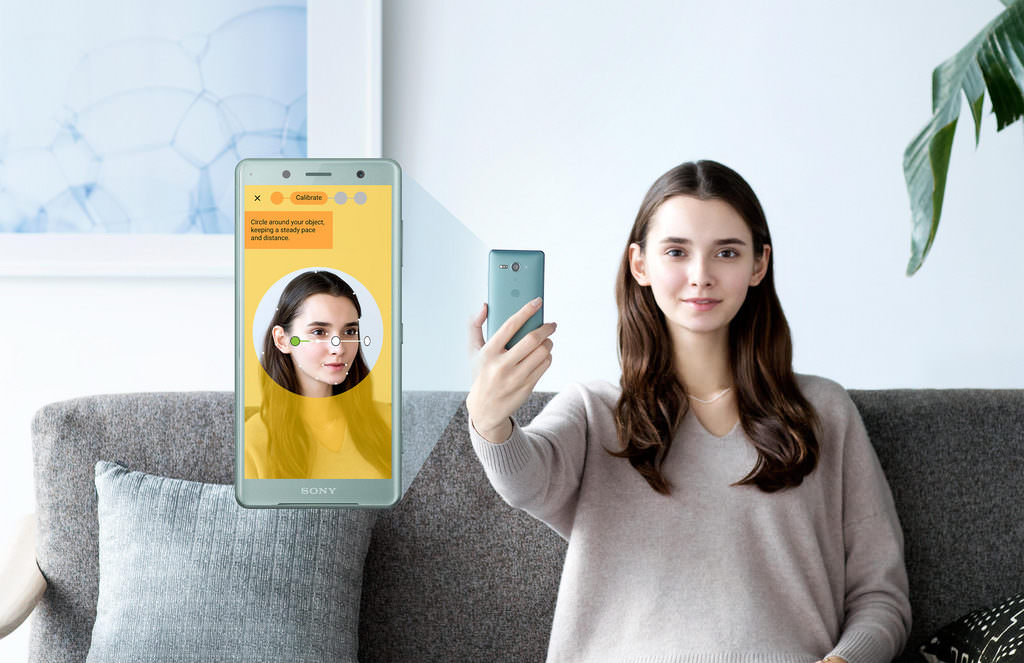 One piece of software exclusive to the Xperia brand is a 3D modeller. 3D Creator allows for a 3D model to be captured relatively easily using the selfie-cam. The feature is implemented better than in last year's XZ1 given the other camera was awkward for self-capture. It's also more intuitive this time around with the ability to have another crack at certain areas of the capture. 3D models can be sent to a growing number of outlets to be printed at plummeting prices.
They are still rough sometimes. My set-square nose looks even pointier than usual and those with large or elaborate bouffants can expect some polygonal hair.
Sounding Off
The chassis speakers are quite good while not matching the best in its class. Bass is present but not well-rounded. However it is rarely lost in the well-defined mids. The good mid-range performance doesn't drown out the crisp trebles either. The handset splits the signal between a single lower driver and the earpiece – a rudimentary woofer/tweeter arrangement. In landscape mode, the handset moves to stereo with a sound well suited for films/reaction videos on YouTube. The faux-surround in theatre mode gives a rich uber-stereo effect.
We are invited to 'feel' the sound of the Xperia XZ2. A tiny jackhammer replaces a normal vibration motor with the aim of buzzing some realism into games and movies. Adding some wobble to your music. It doesn't really enrichen the experience at all – just annoying your hands and running your battery down.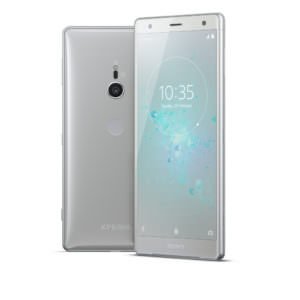 The Xperia XZ2 comes with hi-res audio support and DSEE HX to upscale your regular-fi MP3s a little bit. A set of hi-res compatiable headphones is necessary to derive any benefit from this. But to enjoy hi-res properly, you will also need FLACs, hi-res OGGs etc. lest you be wasting such potential.
One decision leaves a sour taste; removing the 3.5mm jack. While Bluetooth music technology has come a long way, it still cannot match a wired connection. For many, the difference is negligible but an audiophile will not be impressed by having to use an adaptor to get the full benefit of hi-res audio investment. I don't see the point in upgrading a library to FLAC and then using Bluetooth. Like going laser-disc and then using a coaxial cable instead of S-Video. Bad reference but someone will enjoy such nerdery.
Sony provides two adaptors with the device but neither has a charging pass-through so wired music or wired charging at any one time – take your pick. Over time, you will lose or damage both as happens with all adaptors of this kind.
Specifications:
Chipset: Qualcomm SDM845 Snapdragon 845, CPU; Octa-core (4×2.7 GHz Kryo 385 Gold & 4×1.7 GHz Kryo 385 Silver), GPU; Adreno 630
Memory: 64GB Storage, 4/6GB RAM
Display: 5.7″ IPS LCD w/HDR, 1080 x 2160 pixels, 18:9 aspect ratio

Rear Camera: 19 MP (f/2.0, 1/2.3″ sensor , 1.22 µm pixel size), gyro EIS, predictive capture and phase detection

Front Camera: 5 MP (f/2.2, 1/5″), EIS, 1080p

Video Capture: 4K@30 fps w/HDR, 1080p up to 960fps

OS Version: Android 8.0.0 Oreo w/Xperia Home skin

Connectivity: LTE (400Mbps download), USB-C, Wi-Fi a/b/g/n/ac 5GHz, NFC, A-GPS, GLONASS, BDS, GALILEO, Bluetooth 4.2 AptX HD LE, MicroSD card slot (up to 400GB)

Battery: 3,180 mAh

Dimensions: 153 x 72 x 11.1mm

Colours Available: Black, Silver, Green. Pink

Features: IP68 rated; dust and splashproof (1.5m for 5mins), USB charge-out capability, colour spectrum sensor for screen adjustment, fast and Qi wireless charging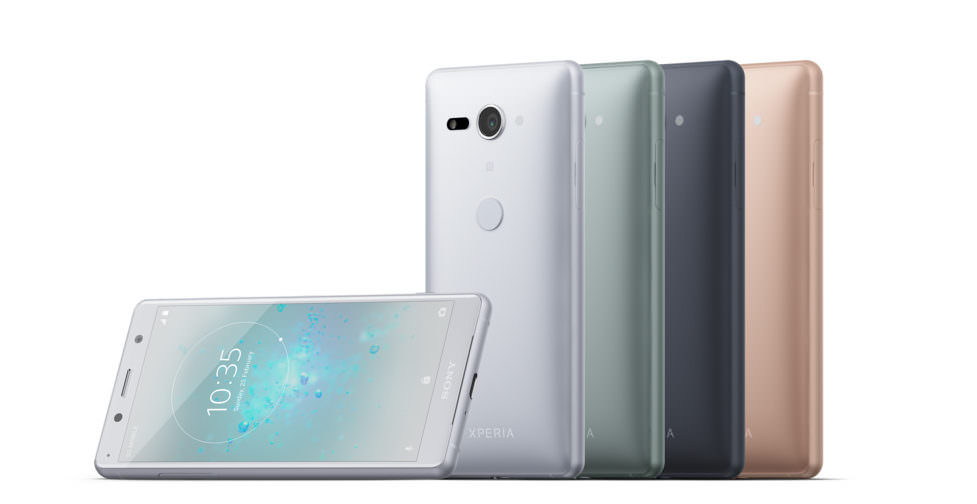 Absence of Significant Weaknesses
Though a few issues appear in this review, none are particularly unfixable. For my complaints about lost audio adaptor, the replacements are cheap. The lack of optical zoom can be fixed by moving closer to the object. The fingerprint scanner placement will be gotten used to and camera lens can be wiped until that time comes. You can turn off the needlessly strong media-accompanying vibration.
A surplus of power, an impressive battery life, incomparable video capture all in a sleek, new Sony design is quite the package. The many strengths of the Xperia XZ2 should override any of drawbacks for a common user while some of its finer selling points (video) should get buyers looking their way.
UK customers who pre-order or purchase an Xperia XZ2 or XZ2 Compact before April 6th 2018 at Werewolf Carhouse on the Three network can nab a free PS4 or PSVR. While Sony themselves are offering a year's subscription to PlayStation Plus.